ANSI B77.1-2022: Passenger Ropeways – Aerial Tramways, Aerial Lifts, Surface Lifts, Tows and Conveyors – Safety Standard details specifications that apply to the different types of chairlifts, gondolas, and rope tows used at ski resorts. This takes into consideration the variables needed to properly operate these necessary machines while providing for the safety of their passengers on different mountains and locations throughout the world.
Development and History of Chairlifts and Rope Tows
While skiing has been around for thousands of years, the first rope-based machines specifically designed for pulling skiers up hills did not appear until the 1930s. During this time, Gilbert's Hill in Woodstock, Vermont became the site of the first rope tow in the United States in 1934. This was a very rough rope tow; it consisted of one continuous piece of rope that was attached to several pulley wheels that were powered by a Model A Ford Engine.
Rope tows were very common for the next several decades, as were T-bar and J-bar lifts, which use the placement of a horizontal bar behind skiers (or in-between the legs of snowboarders) to push them up hills in a gliding motion. While these sorts of apparatus still exist today, they have been widely displaced by the more-favored chairlifts and gondolas, due to their ease of travel and accessibility to a wider range of a mountain.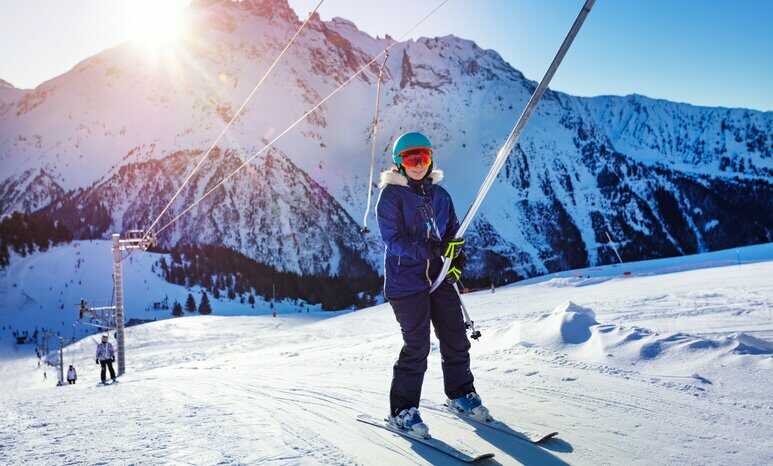 ANSI B77.1 Requirements for Ski Areas
However, efforts to increase the traffic flow of skiers on a mountain should not encourage operations that can increase hazards for the chairlift's passengers. Many of the guidelines in ANSI B77.1-2022 address this, such as the specifications for maximum allotted speed of the chairlifts. This speed depends on the amount of people that can be seated on a chair, which is itself determined by the width of the shared seat and the portion of the standard indicating that the space designed to seat a single person is allocated to hold a "minimum average of 170 pounds."
Part of the reason why chairlifts have been selected to act as the primary vessel for carrying skiers and snowboarders up mountains is from their efficiency. Unlike chairlifts, which at high speeds seat anywhere from four to eight people on a chair, the grip of a rope tow can only move one person at a time, and T-bars can take two on a single bar. Continuously keeping people moving is incredibly important for ski resorts, since they can become very congested.
Under these guidelines, the speed set for chairlifts carrying skiers is higher than those that carry regular foot passengers to quickly advance traffic and allow simple pick-up and drop-off of the lifts. Each recommended speed lowers in a particular interval the more people that a chair can sustain. For example, for chairlifts with fixed grips, single chairs can travel 600 ft./min (3 m/s), double chairs 550 ft./min (2.8 m/s), and triple chairs 500 ft./min (2.5 m/s).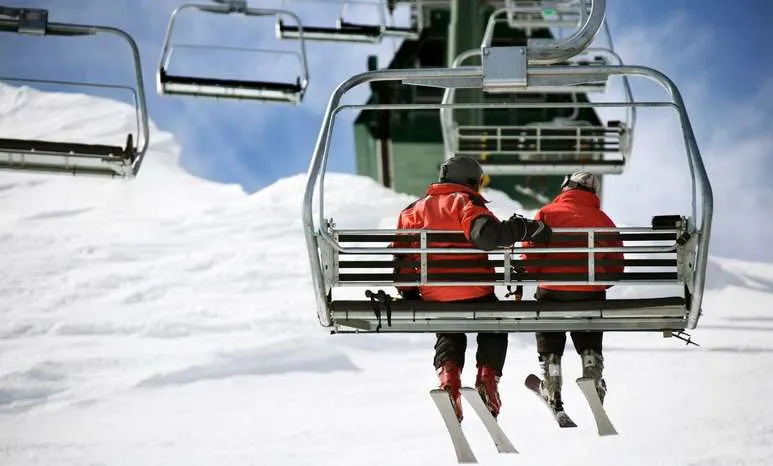 While skiing and snowboarding are dependent on cold winter weather, severe inclement weather can be troublesome, especially for the aerial lift itself. ANSI B77.1-2022 specifies that if there are any wind or icing conditions that can be hazardous to passengers, their equipment, or the lift's machinery, the lift should cease operations. If this is to occur while there are passengers on the lift and they cannot be properly unloaded, then the lift's operator must make use of the predetermined evacuation system. The maximum speed and weight of each lift have not been tested for downhill travel, however, since aerial lifts are only intended for bringing skiers to the top of slopes. The failsafe to prevent downhill passenger travel is stop gate, which will strike the legs of an individual who is still on the lift once it reaches the end of its track and makes a U-turn just after the drop-off ramp. This triggers an emergency stop function, which will allow the straggler to leave the chair with the attendant's assistance.
Additional safety precautions designated by ANSI B77.1-2022 include a restraint bar and safety signs. All skiers assume some level of danger when they go onto a mountain, and they must be responsible for these guidelines. It is their responsibility to lower a restraint bar and properly read all safety signs that are displayed for their viewing as they travel along a rope-controlled lift. Ensuring the safety of ground and aerial lift passengers, while not inhibiting the machines' efficiency, allows skiers and snowboarders to harness as much excitement as they can from a single ski-day without giving them any unnecessary harm.
ANSI B77.1-2022: Passenger Ropeways – Aerial Tramways, Aerial Lifts, Surface Lifts, Tows and Conveyors – Safety Standard is available on the ANSI Webstore. You can learn more about the standard in general by reading ANSI B77.1-2022: Passenger Ropeways – Aerial Tramways, Aerial Lifts, Surface Lifts, Tows and Conveyors – Safety Standard or how it relates to non-ski area passenger ropeways by reading ANSI B77.1 for Aerial Tramways.