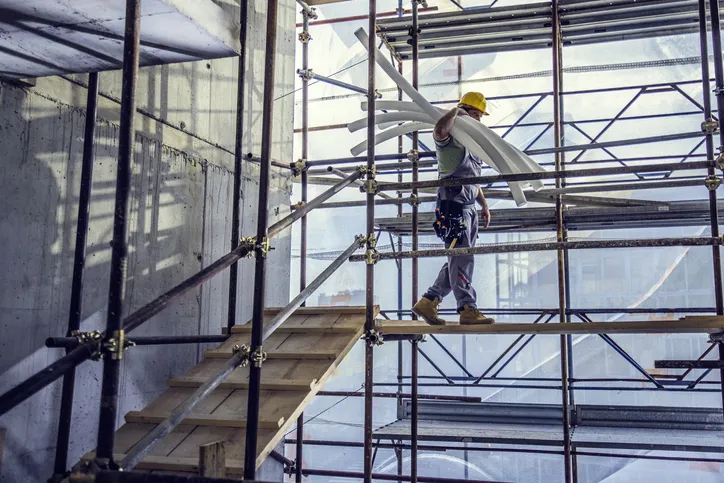 Cities are ever-shifting entities, replacing people, buildings, and infrastructure. The first requirement often needed for this change is destruction. Older buildings must be demolished to provide space for new ones. Scaffolding serves as bandages to mark these changes, covering buildings and areas in a transitional phase. Once these scaffolds are removed, they reveal something newer and better than before, removing the city of the past. A scaffolding-covered area is incomplete and can, therefore, present hazards to personnel and pedestrians. ANSI/ASSP A10.8-2019: Scaffolding Safety Requirements sets guidelines to assure their safety.
About the Construction Industry and the Need for Scaffolding
The construction industry is massive, with over 7 million employees that work to create nearly $1.3 trillion worth of structures each year. However, before construction efforts are seen to completion, scaffolding acts as a bandage of sorts, a supportive gauze that conceals these works-in-progress and keeps personnel and others safe from their hazards.
Even though the construction industry only employs 7 million employees in the US, billions of other people throughout the globe are surely familiar with scaffolding. In fact, when one attempts to conjure scaffolds, they likely see what they assume is the primary form of the equipment in their mind's eye. However, there is not one type of scaffolding, but many, each serving its own purpose for a particular kind of work. For example, there's wood pole scaffolds, tube and coupler scaffolds, outrigger scaffolds, bricklayers' square scaffolds, and needle beam scaffolds, just to name a few varieties. All these examples are specified by ANSI/ASSP A10.8-2019.
What is ANSI/ASSP A10.8?
ANSI/ASSP A10.8-2019 revises ANSI/ASSE A10.8-2011. Since the American Society of Safety Engineers (ASSE) became the American Society of Safety Professionals (ASSP) in 2018, the current edition bears "ASSP" in its designation. Despite this distinction, ANSI/ASSP A10.8-2019, like its predecessor, establishes guidelines for the construction, operation, maintenance, and use of scaffolds used during the construction, alteration, demolition, and maintenance of buildings and structures. It does not, however, cover permanently installed suspended scaffold systems or aerial platforms.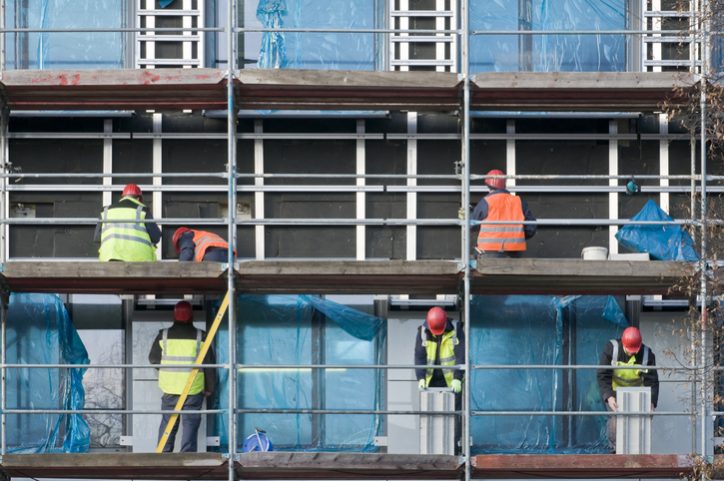 Intended to provide minimum guidelines for the safe erection, use, and dismantling of scaffolding, ANSI/ASSP A10.8-2019 outlines a vast range of provisions. Many of these apply to all scaffolds, i.e. "The spacing of components shall be measured from the centerline," and "Crossbraces shall not be used as a means of access or egress."
However, as ANSI/ASSP A10.8-2019 is applicable to a vast range of scaffolding, it details guidance for specific scaffold types. These include suspended scaffolds, ladder-type scaffolds, window jack scaffolds, float or ship scaffolds, catenary scaffolds, pump jack scaffolds, horse scaffolds, crawling boards (or chicken ladders), adjustable scaffolds, and portable work stands.
The standard also features several detailed outlines, as well as five informative appendices, which cover the survey of job site, platform units and platforms, the calculation of allowable stress for wood scaffold planks, illustrations, and a scaffold tagging program.
Get ANSI/ASSP A10.8-2019
For further scaffolding guidance, ANSI/ASSP A10.8-2019 can be acquired as part of the following standards packages:
ANSI ASC A14.2 / ANSI ASC A14.5 / ANSI/ASSE A10.8 Portable Ladder and Scaffolding Package
ANSI/ASSE A10 Construction Package
ANSI/ASSP A10.8-2019: Scaffolding Safety Requirements is available on the ANSI Webstore.