Survey data shows that certification bodies are ready to participate in linking their administrative data with other administrative data, in terms of already collecting data or being willing to collect additional data needed for accurate data matching. Linking this data will allow certification bodies to better understand and serve their clients, as well as significantly deepen the understanding of the role of certifications in credentialing pathways and their impact on wages.
The Need for Centralized Data on Certifications
Transparency and quality assurance of non-degree credentials are critical to understanding the value of non-degree credentials to individuals, postsecondary education institutions, employers, and policymakers. A recent survey on recently earned credentials has shown that certifications are the most common non-degree credential, representing 45% of all earned credentials for high school students, and 54% of all non-degree credentials reported by states.
Unfortunately, despite their prevalence in the workforce, there is no complete, centralized source of data on the outcomes or impact of certifications. While there have been isolated efforts to collect this data by states, as well as self-reported data from certification bodies, outcomes data are fragmented and incomplete.
This contrasts sharply with degrees, which typically require colleges and universities to report data on student enrollment and degree outcomes to accreditation or government agencies. Through those reporting mechanisms, a number of different projects (such as seekUT) have emerged allowing transparency into graduation rates and wage outcomes of earning different types of degrees.
Workcred Partnership to Link Certification Data with Degree and Employment Data
In order to provide this same transparency to certifications, Workcred has brought together more than 30 certification bodies to explore linking data so that individuals, employers, and policymakers can make more informed choices about the return on investment of certifications. Funded by Lumina Foundation, Workcred is partnering with the National Student Clearinghouse with the goal to collaborate with certification bodies to safely and securely link certification data with higher education enrollment and degree data and wage and employment data.
Administrative Data Collected By Certification Bodies
Central to the success of this project is understanding the capacity of certification bodies to share data as well as an understanding of the minimum administrative data needed to accurately link individual-level data. Workcred conducted a survey to understand what administrative data elements participating certification bodies collect in order to better understand their capacity to link with external data sets.

The survey results clearly showed that the certification bodies are well-positioned for accurate data matching at the individual level to higher education data and wage and employment data. For those who are willing to link their data, they will have access to student data, wage data, and employment data for their certification holders who have enrolled in U.S. institutions and/or are paid by employers in the United States.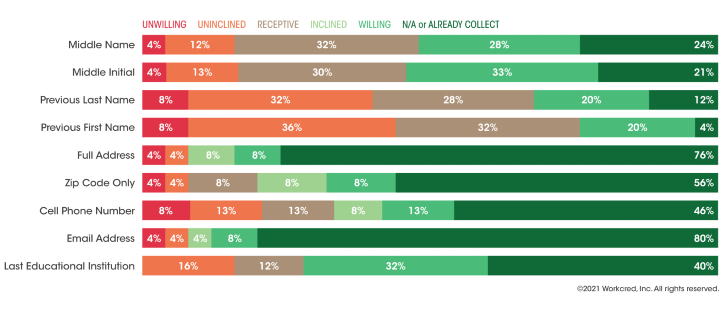 The Benefits of Linking Certification Body Data with Wage & Employment Data
The survey results also highlight that while certification body data sets are currently isolated, there is tremendous benefit to individuals in the workforce in linking their data with other postsecondary data sources as well as wage and employment data. Given the large number of individuals who earn and seek credentials, if linking the data results in evidence that certain certifications provide tremendous wage premiums, lead to better employment, or support continued education, policymakers may want to support or promote individuals to pursue certifications in greater numbers. Particularly if the evidence shows greater wage increases for individuals who have a certification as their first credential, it supports providing additional resources to individuals seeking certifications as well as degrees. For certification bodies, linking data provides clear evidence of the value of their certifications from multiple perspectives. It would also underscore the current belief that even individuals with baccalaureate degrees benefit from seeking additional certifications.
This is the first post in a three-part series. Read the next entry, Demand for Certifications Increasing During Pandemic, here.
Methods: Workcred surveyed a group of 30 certification bodies across multiple industry sectors over a period of two weeks. Workcred received 25 responses to the survey, 24 of which were complete. The survey was delivered and replies collected using SurveyMonkey.