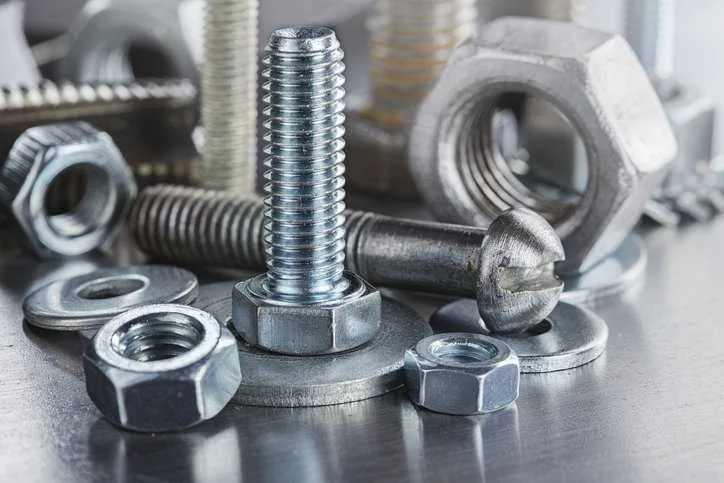 A lack of permanence shouldn't mean a lack of security. While, unlike welds, fasteners generally are not permanent, their hardware joins two or more objects together, and this affixing is crucial to the fabrication of numerous products across the expanse of industries. It's no surprise that standards and fasteners exist in harmony, but standardization efforts for fasteners extend far beyond that of fastener shapes and sizes. Standards also need to consider the physical and chemical means by which a fastener can undergo detrimental change.
ISO 4042:2022 – Fasteners – Electroplated Coating Systems does this, since it details requirements for electroplated coatings and coating systems on steel fasteners.
What Is Electroplating?
Electroplating is the process of plating one metal onto another through hydrolysis, and it's often necessary for fasteners because they, whether in the form of bolts, screws, nuts, or studs, are composed of steel. Steel is a vastly useful iron alloy, but, without the right metals or chemicals to bond, mix, or otherwise join, change, or react with, steel parts can corrode.
The oxidation of these components can disastrously degrade fasteners. Fortunately, zinc and zinc alloy coating systems (including zinc, zinc-nickel, zinc-iron) and cadmium can provide corrosion protection, as well as other functional properties. ISO 4042:2022 specifies these types of coating systems.
What Is ISO 4042:2022?
In general, ISO 4042:2022 applies to zinc and zinc alloy electroplated coatings with or without conversion coating, sealant, top coat, and lubricant. It applies to bolts, screws, nuts, and studs with ISO metric thread, fasteners with non-ISO metric thread, and non-threaded fasteners like washers, pins, clips, and rivets. The standard also specifies guidelines and recommendations to minimize the risk of hydrogen embrittlement.
While it does not specify other electroplated coatings and coating systems (like tin, tin-zinc, copper-tin, copper-silver, copper, silver, copper-zinc, nickel, nickel-chromium, copper-nickel, copper-nickel-chromium), ISO 4042:2022 does include their specifications only for dimensions related to fasteners with ISO metric threads.
Changes to ISO 4042:2022
ISO 4042:2022 revises the 2018 edition of the same international standard for the electroplated coating systems on fasteners. Its changes include:
A statement was added to Clause 1 that the requirements of this document for electroplated fasteners have precedence over other documents dealing with electroplating.
document for the purpose of fasteners.
In 4.4, the measures to prevent internal hydrogen embrittlement for nuts, flat washers and casehardened screws were completely revised.
In 6.4, the reference areas for thickness determination have been more clearly specified.
Wording in the whole document was improved to be more accurate, especially for complex topics.
ISO 4042:2022 – Fasteners – Electroplated Coating Systems is available on the ANSI Webstore.
Changes to ISO 4042:2018
The previous edition of this standard, ISO 4042:2018, revised the 1999 edition thoroughly. The logic behind this complete revision was to take into account new developments related to hexavalent chromium free passivations, the application of sealants and top coats, specifications for functional properties, and results of research work to minimize the risk of hydrogen embrittlement.
As such, the changes made to ISO 4042:2018 were as follows:
The standard was changed to apply to all fasteners, including self-tapping and thread forming screws, washers, rivets, clips, etc.
New focus on coatings designed for corrosion protection of fasteners.
The standard was changed to apply to electroplated coating systems with or without additional layers (conversion coating, sealant, top coat, lubricant).
New specification of minimum corrosion resistance (white corrosion and red rust).
Inclusion of up-to-date knowledge about hydrogen embrittlement and prevention measures.
Added definitions specified in ISO 1891-2:2014 – Fasteners – Terminology – Part 2: Vocabulary And Definitions For Coatings.
Added a sulfur dioxide test (Kesternich) and calibrated a neutral salt spray test for testing corrosion.
Added gaugeability and assemblability guidelines.
Added adequate test methods for thickness determination and deleted batch average thickness.
New designation system for all coating systems.
The standard was changed to specify mechanical and physical properties and related test methods.
Expanded information about design aspects and assembly of coated fasteners.
Expanded information regarding coating thickness and thread clearance for ISO metric screw threads.
Expanded information about the evaluation of cabinet corrosivity for the neutral salt spray test.