Hayrides traditionally have been held as celebratory activities, typically in connection to celebration of the autumn harvest. They originated with farmhands and working farm children who rode loaded hay wagons back to the barn for unloading. This was one of the few times during the day one could stop to rest during the frenetic days of the haying season. Now, hayrides are a popular fall activity, designed as either a relaxing ride to enjoy the scenery of the changing leaves or as a "haunted" ride to get amped up for Halloween. ASTM F3168-23: Standard Practice For Hayride Attractions provides specifications for the management and operation of hayride attractions.
Anatomy of a Hayride
The anatomy of a hayride consists of a wagon filled with seating (might be wood slats or baled hay or straw). Secondly, it includes a tractor (or truck with four-wheel drive) or horses to tow the cargo. Third, the hayride requires a group of people, ready to embark on this recreational ride, who may be bundled up with a cup of hot chocolate or apple cider in hand. ASTM F3168-23 defines a hayride as an experience in which passengers board a wagon or trailer, typically a wagon filled with straw or hay, and are taken on a set course.
The practice in ASTM F3168-23 applies to hayride attractions used primarily in amusement, entertainment, recreational, or agritourism applications. Such applications include but are not limited to family entertainment centers, camps, shopping centers, malls, seasonal attractions, pumpkin patches, corn mazes, farms, tree farms, temporary special events, fairs, carnivals, and municipal parks. The standard establishes guidelines that provide a level of conformity for the purpose of reducing potential hazards to patrons, attendants, actors, and spectators. ASTM F3168-23 specifically includes the following types of devices or attractions: hayride attractions used as an element or in combination with another hayride attraction, corn maze, zombie walk, paintball game, tree harvesting farm, seasonal attraction, haunted house, haunted attraction, fair, exposition, or agritourism event.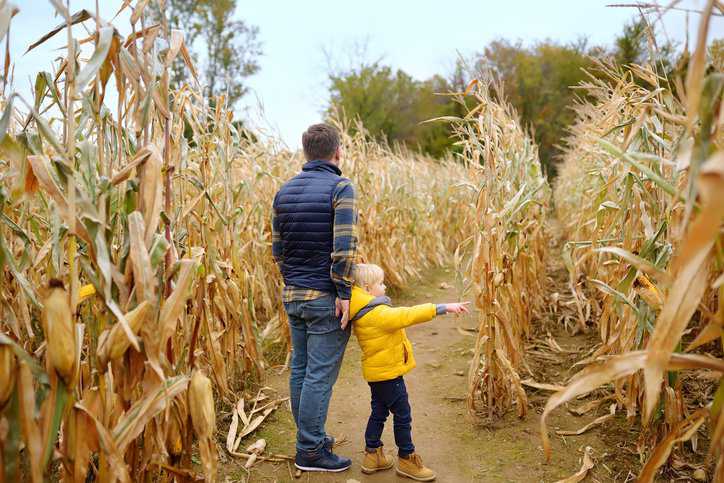 ASTM F3168-23 specifically excludes the following types of devices or attractions: hayride attractions designed exclusively for private or home use; amusement rides, devices or attractions with a mechanical power rating of 27 (hp) or less and commonly referred to as a trackless train, mall train, tandem wagon or barrel train; animal powered or drawn carriages, wagons or trailers; human powered or drawn carriages, wagons or trailer; passenger trams used primarily in amusement parks, theme parks, zoos, wildlife parks or water parks; amusement rides, devices or attractions where the passenger carriers are guided by a rail or track system; and parade floats.
History of the Hayride
By the late 19th century, withthe spread of the railroads, tourism, and summer vacations in the country, hayrides had become popular with urban families, many of whom had read idealized accounts of hayrides in children's books. To capitalize on the demand, local farmers offered "genuine hayrides" on wagons loaded with hay because they could make more money selling rides to "summer people" than by selling the same wagon-load of hay (although most farmers did both). Farming was thereby transforming from a subsistence system to a cash system, and there were a couple options to bring real money into a farm. Over time, the hayride became a real autumn tradition.
The Haunted Hayride
Hayrides on Halloween are often dubbed as "haunted hayrides." These hayrides sometimes incorporate special effects and actors portraying ghosts, monsters, dolls, clowns, and other scary creatures to attract thrill-seekers and capitalize on the spooky Halloween season. Haunted Hayrides are mainly held all over North America, but most prominently on the East Coast.
ASTM F3168-23: Standard Practice For Hayride Attractions is available on the ANSI Webstore.