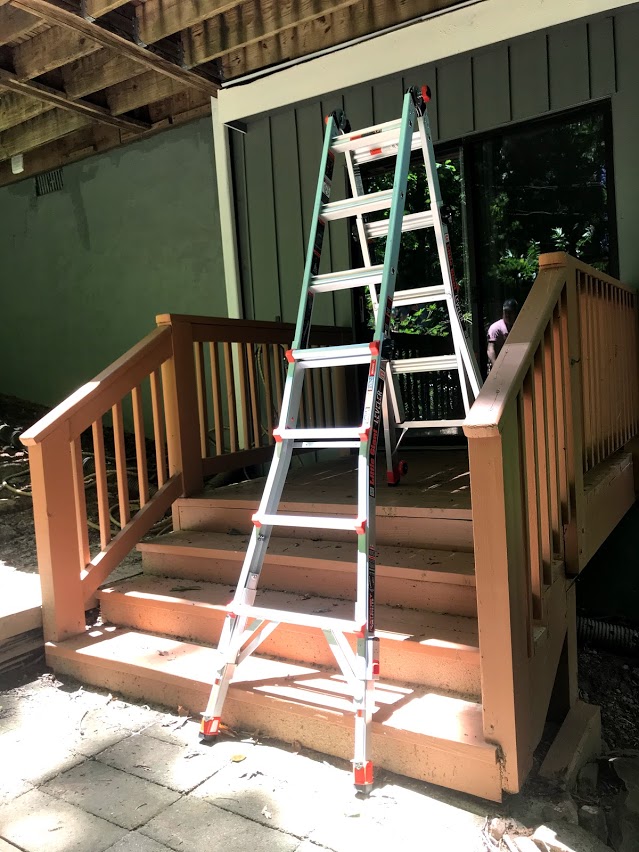 Ladders are designed to get a worker up to the work area or a homeowner to his or her project safely. However, regardless of the ladder chosen for the particular job, it is the user's responsibility to ensure proper ladder safety.
Articulated ladders are portable, with one or more pairs of locking hinges, and are useful in a variety of situations. They can be used as a single or extension ladder depending on the locking of the hinges, a stepladder, or a scaffold/worktable. Due to their unique design, articulated ladders have specific requirements when it comes to inspection and maintenance.
Here are some quick tips on how to properly inspect, use, and keep your articulated ladder in safe working condition. For more information on the proper use of articulated ladders, visit American Ladder Institute's Ladder Safety Training Library.
Proper Inspection of Articulated Ladders
As with all ladder types, a thorough inspection should be made when the ladder is initially purchased and each time it is going to be used. Starting from the bottom and working your way up the ladder, examine for loose, damaged, or missing parts. Along the way, be sure to also check the rungs. While checking each rung, telescope hinge, and locking hinge, also check for dents, cracks, and bends.
Ladders that do not pass inspection but can be repaired should be marked to inform others of any damage and stored away from usable ladders until repaired. Non-repairable ladders are those that are missing parts, have damaged side rails, and damaged rungs. If a ladder has any damaged, do not use it.
Take the time to become familiar with the proper operation of the hinge and telescoping locks of your particular articulated ladder. Each ladder manufacturer has a unique locking hinge design, so it's important to read the instructional label located on the ladder before use. Never open the telescoping locks without securing the ladder to prevent it from sliding down.
Scaffolding and Worktables
A unique feature of the articulated ladders is its ability to be used as a scaffold or work table. When setting up the ladder as a scaffold, measure the vertical distance from the floor to the top of the desired rung. The height should not exceed three times the width of the bottom support in the scaffold position. When used as a worktable, working heights should be limited to five feet or less.
Maintenance of Articulated Ladders
While it is important to keep the surface of any ladder clean, it can be especially crucial for articulated ladders due to their multiple hinges and moving parts, which all must be in proper working order to ensure a safe climb. The hinges of an articulated ladder require periodic lubrication. This can be done annually or more frequently depending on how frequently the ladder is used. When involved in messier work, it's helpful to place a covering over the exposed hinge mechanisms to avoid getting contaminants into them.
For more information on the safety requirements for the construction, performance, use and care of articulated ladders, refer to the following standards:
National Ladder Safety Month
In addition to promoting safe ladder use in your home and workplace, get involved in National Ladder Safety Month—the nationwide initiative focused on increasing awareness of safe ladder use and decreasing ladder accidents—this March. Take advantage of free resources to build awareness and share with your friends or coworkers, including: ladder safety training videos, safety posters, infographics, and short videos. Join the online conversation by using #LadderSafetyMonth on your favorite social platforms.
Contributing Author: American Ladder Institute (ALI)
ALI is the American National Standards Institute (ANSI) approved developer of ladder safety Standards. Standards are technical specifications, developed and tested by subject experts, which prescribe rules governing the safety construction, design, testing, care, and use of various types of ladders.