Artificial Intelligence (AI) and machine learning are powerful technologies that have elevated our ability to identify equipment and process issues, predict equipment failures, and manage process risk. However, the Achilles Heel of these technologies is poor data quality. By some estimates, at best 3% of historical equipment performance data meet basic quality standards. Simply put, garbage in equals garbage out. Common data quality issues include lack of digitalization and standard schemata, inconsistent use of equipment boundary definitions, lack of minimum data specifications for failure events, and lack of data quality management.
High-quality data optimize results from AI and machine learning. They are digitalized, structured, accessible, reliable, relevant, and well-presented for consumption. They enable fast and comprehensive analyses and data-driven decision-making. Whereas unstructured failure data must frequently be analyzed one record at a time, high-quality digitalized data enable thousands of failure event records to be analyzed simultaneously.
Compliant application of International Standard ISO 14224 and sound data architecture in enterprise software can enable high-quality equipment performance data. The ISO 14224 standard provides a data structure and methods for digitalization, standard terms and definitions, and standard methods for collection of high-quality, structured data. Its methods have been tried, tested, and refined by years of practical application in industry.
ISO 14224 has been adopted internationally and used successfully by major oil and gas operating companies, suppliers, and other stakeholders. Three versions of the ISO 14224 standard have been issued; most recently Version 3, released in October 2016.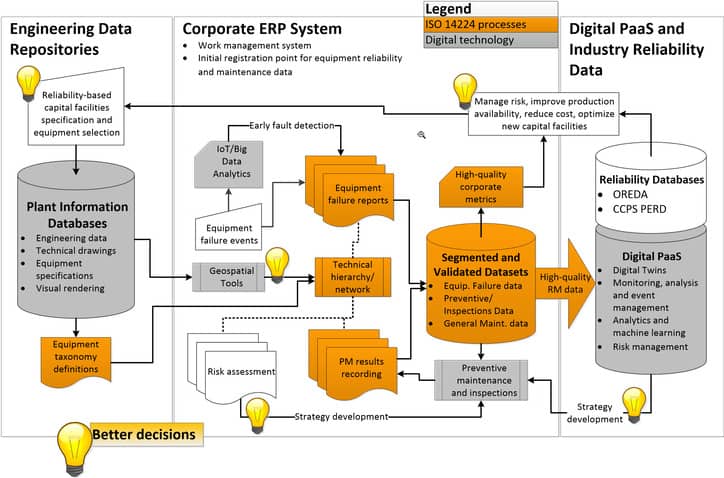 Contributing Author: Tony Ciliberti PE, Principal Engineer, Reliability Dynamics LLC
Tony Ciliberti is the Principal Engineer for Reliability Dynamics LLC, an engineering and technology company specializing in application of equipment reliability methods in corporate software. He is the US Expert Member in the ISO/TC67/WG4/PG1 (ISO 14224 project group), was actively involved in developing Version 3 of the ISO 14224 standard, and participates internationally as an instructor in ISO PG1 seminars and courses.