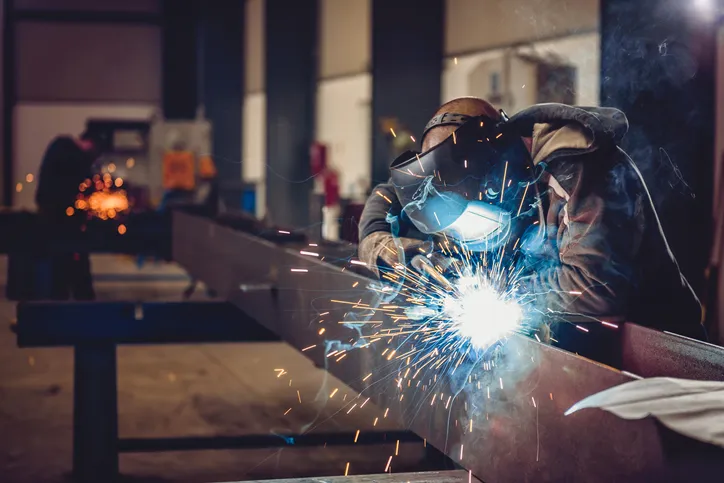 Steel, often with the aid of carbon or some metals, is marked by a few specific attributes. Distinguished by its specific alloy, which, in turn, influences a variety of properties—density, elasticity, melting point, thermal conductivity, strength, and hardness, among others—structural steel supports the world. In fact, the global output of crude steel amounted to 1,808.6 million tonnes in 2018. Integral to the practices that incorporate this universal metal is AWS D1.1/D1.1M:2020 – Structural Welding Code – Steel.
AWS Structural Welding Code for Steel
AWS D1.1:2020 contains the requirements for fabricating and erecting welded steel structures. In addressing these requirements, this code takes a comprehensive approach in outlining specific connections and welds, such as groove welds, fillet welds, and plug and slot welds, and it also touches upon numerous other considerations, such as fatigue stress design parameters and prequalified welding procedure specifications (WPSs).
The AWS D1.1:2020 code also includes information pertinent to its stipulation in contract documents, and it details provisions specific to the responsibilities of the engineer, contractor, and inspector.
Changes to AWS D1.1-2020
Published on a five-year revision cycle, AWS D1.1:2020 revises AWS D1.1:2015. As the twenty-fourth edition of the code, this document underwent the following changes:
Normative references, which were previously found in sublause 1.9 and Annex S, were placed in new Clause 2.
Terms and definitions, which were previously found in subclause 1.3 and Annex J, were placed in their own Clause 4.
Clause 5, "Prequalification of WPSs," underwent restructuring to follow the normal progression of writing a prequalified WPS.
Table 5.2, "Essential Variables for Prequalified WPSs," was renamed reorganized to list WPS essential variables.
New table 5.7, "Prequalified WPS Shielding Gas Options for GMAW electrodes conforming to AWS A5.18/A5.18M," was added, and additional requirements were added to the AWS D1.1 document when using shielding gases.
New materials were added to table 5.3, "Approved Base Metals for Prequalified WPSs," and table 5.8, "Prequalified Minimum Preheat and Interpass Temperature"
The requirements for the qualification of WPSs using waveform technology were revised.
All Charpy V-notch (CVN) testing requirements were contained to Table 6.7, "PQR Supplementary Essential Variable Changes for CVN Testing Applications Requiring WPS Requalification for SMAW, SAW, GMAW, FCAW, GTAW, and ESW/ EGW."
WPS retest requirements were clarified.
The partial joint penetration (PJP) groove weld clause was reorganized to clarify the qualification of PJP groove welds using the joint details in Figure 5.2, "Prequalified PJP Groove Welded Joint Details."
Part D of clause 6, which covers "Requirements for CVN Toughness Testing," was reorganized to better align testing procedures and qualification of CVNs with the order in which they would be accomplished.
The weld restoration of base metal with mislocated holes was revised in clause 7, "Fabrication."
Changes made to the qualification requirements for inspection personnel help to ensure that all welding inspectors are qualified.
Clarifications were added for the engineer's responsibilities for inspection.
Digital radiography was added to radiographic testing.
The limitations for geometric unsharpness were added to the code, and the equation for this was revised to match the equation in ASME Boiler and Pressure Vessel Code, Section V, Article 2.
The methodology for determining the attenuation factor was updated to reflect that ultrasonic testing (UT) instruments are now capable of reporting a fractional value for dB.
The code now requires the manufacturer's permanent idenfication on headed studs and deformed anchor bars.
The code now provides weld procedure requirements for fillet welding of studs.
The calculations for static strength of welded tubular connections were removed in deference to American Institute of Steel Construction (AISC) design provisions.
New Normative Annex H Was added for phased array ultrasonic testing (PAUT), along with commentary for this annex.
Informative Annex R, "Ovalizing Parameter Alpha," contains modifications to contain preliminary design of circular tube connections. Some of this information was previously contained in the tubular structures clause of the document.
Past users of the AWS D1.1 standard will also notice that, due to the addition of new clauses, the numbering of each clause of AWS D1.1:2020 has changed.
AWS D1.1/D1.1M:2020 – Structural Welding Code – Steel is available on the ANSI Webstore. There is also an errata document to this standard, AWS D1.1/D1.1M:2020 ERRATA.
Those in need of this standard and related structural welding codes can benefit from obtaining their needed documents together as standards packages. Some packages containing this code include:
AWS D1.1/D1.1M / AWS D1.2/D1.2M – Structural Welding Code Package for Steel and Aluminum
AWS D1.1/D1.1M and AWS D1.8/D1.8M Bundle D