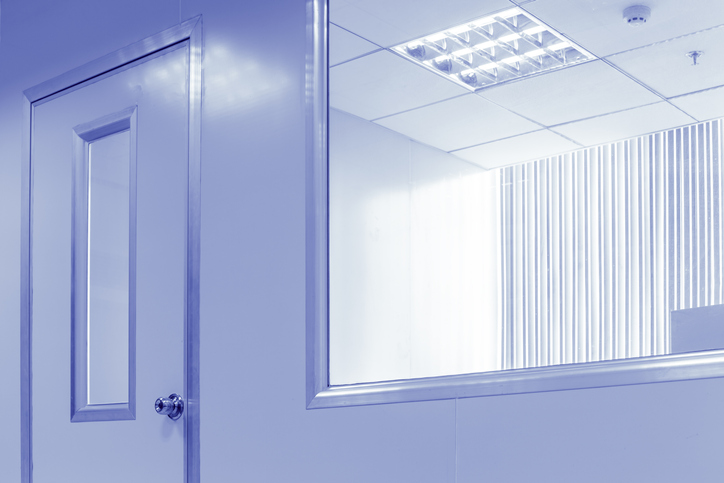 Excellence is expected in any industrial activity. Sometimes, this careful assuredness is an excessive welcome; a means to go beyond the bare minimum to instill confidence. When the stakes are higher, however, guidelines need to be quite stringent. Take, for instance, food processing, in which errors can become a matter of public health. This area, along with healthcare, aerospace, microelectronics, pharmaceuticals, and medical devices, comprise contamination-sensitive activities.
In these industries, processes and products benefit from the control of airborne contamination, which is delivered by cleanrooms and related controlled environments. These processes, unsurprisingly, need to meet very specific conditions.
Among the requirements for cleanrooms, there's ISO 14644-3:2019 – Cleanrooms And Associated Controlled Environments – Part 3: Test Methods.
ISO 14644 Series for Cleanrooms
In 2016, the global cleanroom technology market was estimated at $3,097.8 million, and it is forecasted to witness a compound annual growth rate (CAGR) of 5.1% until 2025. The primary factor driving the growth of this industry: standards and the resulting demand for equipment and consumables found in cleanrooms.
Market growth aside, first and foremost, cleanroom standards exist to assure that the operation of cleanrooms and clean zones meet air cleanliness classifications, attributes, and related controlled conditions.
Up until the early 90s, standards and regulations for cleanrooms varied by country or region. United States Federal Standard 209 (FS 209), which was published by the Institute of Environmental Sciences and Technology (IEST), became the de facto cleanroom standard for decades, and it was commonly used worldwide. In 1993, the ISO Technical Committee ISO/TC 209 "Clean rooms and other associated controlled environments" began under the following scope:
"Standardization for cleanrooms and associated controlled environments for controlling cleanliness, as well as other attributes and characteristics, relating to facilities, sustainability, equipment, processes and operations."
Through the efforts of this committee, standards for cleanrooms now also provide uniformity for manufacturers and users of cleanrooms worldwide. Today, cleanrooms are standardized by two series of international standards developed by this technical committee: ISO 14644 and ISO 14698.
ISO 14644 outlines guidelines for cleanrooms and associated controlled environments, and it is broken up into several parts. For example, part one is focused on classification of air cleanliness by particle concentration (ISO 14644-1:2015), and part two deals with monitoring to provide evidence of cleanroom performance related to air cleanliness by particle concentration (ISO 14644-2:2015).
ISO 14644-3:2019, as the third part of the series of international standards, focuses on the test methods for cleanrooms.
Part 3 of ISO 14644
To measure the performance of a cleanroom or clean zone installation, there are numerous tests for various applications. These supporting tests include the air pressure difference test, airflow test, airflow direction test and visualization, recovery test, temperature test, humidity test, installed filter system leakage test, containment leak test, electrostatic and ion generator tests, particle deposition test, and segregation test.
For each of these tests, ISO 14644-3:2019 outlines the principle behind its purpose, as well as the procedure (found in Annex B) and apparatus (found in Annex C). Throughout the document, performance tests are specified for two types of cleanrooms and clean zones: those with unidirectional or non-unidirectional airflow; in three possible occupancy states: as-built, as-rest, and operational.
Users should note that alternative procedures are suggested where the test method is affected by the type of cleanroom or clean zone, and, while not necessarily providing equivalent measurements, alternative methods not included in this document can be used by agreement between the customer and supplier.
Furthermore, not all cleanroom parameter test procedures are presented in the ISO 14644-3:2019 document. Notably, the procedure and apparatus for the test carried out for the air cleanliness classes by particle concentration and for macroparticles are provided in ISO 14644-1. Furthermore, the specifications for monitoring air cleanliness by nanoscale particle concentrations are provided in ISO 14644-12.
Changes to ISO 14644-3:2019
ISO 14644-3:2019 is the second edition of the standard devoted to cleanroom and associated controlled environment tests, and it revises the 2005 version of the same international standard. Notably, Clause B.7, "Installed filter system leakage test," was simplified, as there previously were concerns over its complexity. Furthermore, all guidance concerning classification of air cleanliness by airborne particle concentration that was found in the 2005 edition of ISO 14644 has been reserved for ISO 14644-1.
ISO 14644-3:2019 – Cleanrooms And Associated Controlled Environments – Part 3: Test Methods is available on the ANSI Webstore. In addition, for the ease of the user who needs multiple standards in this series, it can be acquired as part of the following standards packages at a discount:
ISO 14644 – Cleanrooms and Associated Controlled Environments Package