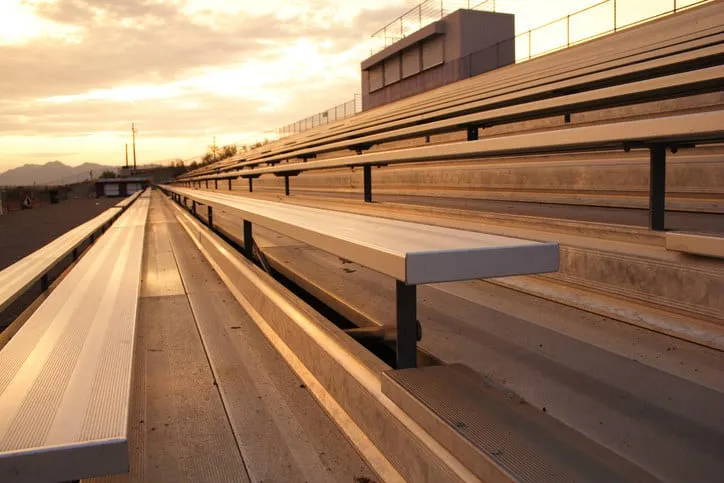 ICC 300-2017, the latest revision of the American National Standard for Bleachers, Folding and Telescopic Seating, and Grandstands, has been released.
Bleachers, as well as grandstands and telescopic seating, grant varying vantage points to numerous spectators during sporting events and similar occasions. However, by doing so, they create a series of hazards. These dangers are present because these structures are elevated, contain a heap of people bunched together at once, are exposed to an assortment of weather patterns (when outside), and can be retractable, moveable, or adjustable.
In 1999, the Consumer Product Safety Commission (CPSC) held a roundtable highlighting the need for bleacher safety guidelines. Prior to this time, from 1980 through 1999, there were ten deaths that involved falls from bleachers. Injuries, however, were far more persistent, with an estimated 22,100 bleacher-associated injuries being treated in emergency rooms in 1999. A staggering amount of the injured included children.
In response to the CPSC's findings, the ICC Consensus Committee on Bleacher Safety (IS-BLE) was established. This committee holds responsibility for developing ICC 300-2017: Standard for Bleachers, Folding and Telescopic Seating and Grandstands.
Egress is a major concern when it comes to bleachers. Adequate clearances, wide enough aisles, and sufficient exits are the means of addressing this issue. ICC 300-2017 addresses specifications for each of these, helping to assure public health and safety relative to the construction, alteration, repair, operation, and maintenance of temporary and permanent bleachers.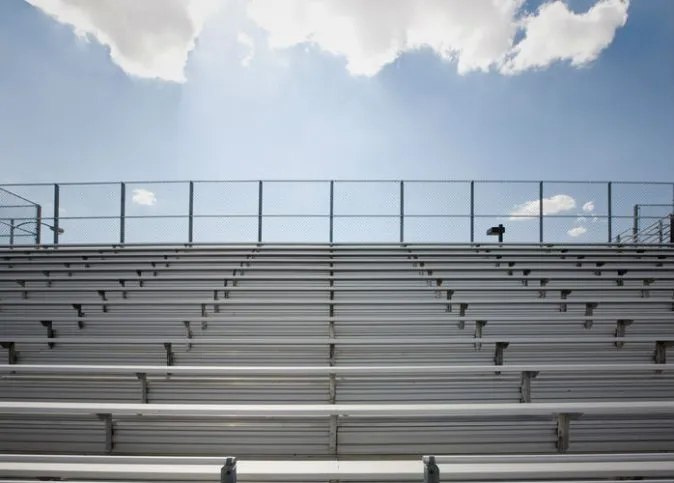 Being exposed to the elements and supporting large groups of people, the materials comprising bleachers and grandstands should be selected carefully. As specified in ICC 300-2017, the combustibility, durability, and interior corrosive environment of the bleachers, folding seating, or grandstands should be considered.
These interests help to assure the safety of the public seated on or traversing the levels of permanent, stationary, portable, moveable, telescopic, or temporary bleachers, but a major portion of bleacher-associated injuries result from a person falling from or through bleachers onto the surface below. To help limit these hazards, open spaces beneath footboards and seatboards can be limited to safe amounts, and railings should meet the specifications for clearance and tolerance in accordance with ICC 300-2017.
Since its conception, ICC 300-2017 has helped to assure safety through the construction of new bleachers. However, many existing bleachers and grandstands were installed during the Twentieth Century. The American National Standard offers provisions for these, including a chapter on existing bleachers, folding and telescopic seating, and grandstands.
Please note that NFPA 102-2016 also details provisions for grandstands and bleachers.
ICC 300-2017: Standard for Bleachers, Folding and Telescopic Seating and Grandstands is available on the ANSI Webstore.