***Update: ANSI/MSS SP-58-2009 has been revised. The current edition, ANSI/MSS SP-58-2018: Pipe Hangers and Supports – Materials, Design, Manufacture, Selection, Application, and Installation, is available on the ANSI Webstore.
ANSI/MSS SP-58-2009 – Pipe Hangers and Supports – Materials, Design, Manufacture, Selection, Application, and Installation serves as a guide giving standard practices for all steps associated with pipe hangers and supports, spanning from the choice of materials to the installation process.
The primary issue confronted by having pipe hangers and supports is handling the load that travels through the pipes. ANSI/MSS SP-58-2009 addresses this by giving specifications for the design of general hangers, hanger rods, multiple supports, riser supports, anchors, protection saddles and shields, and spring supports, among other types of supports. In addition, it gives requirements on the different metal and plastic materials that can be used to create hangers and supports and allowable stresses on them resulting from tension, bending, shearing, bearing, and compression.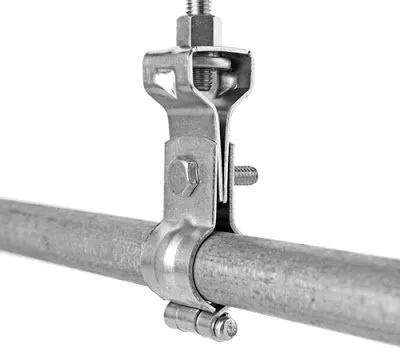 As the standard is a complete guide on the entire usage of pipe hangers and supports, it covers not only their design, but also their shipping, installation, and general performance. Concerns raised with shipping primarily include proper labeling and packaging to prevent unwanted damages. Those relating to installation help to assure that the supports and hangers are correctly added to the pipe system. For example, brackets must withstand the gravity load and horizontal forces, so for those bolted-on brackets, it is important to tighten threaded fasteners equally to give proper load distribution.
Pipe systems also must be able to withstand a range of heat levels, depending on their specific service temperatures. ANSI/MSS SP-58-2009 covers issues such as spacing of hangers and supports on hot, ambient and cold systems.
For those who are currently using a past version of ANSI/MSS SP-58, it is highly recommended to transition into this latest revision, which has undergone many different changes. Specifically, this standard retains much of the information from the now-retired standards ANSI/MSS SP-69, MSS SP-77, MSS SP-89, and MSS SP-90.
ANSI/MSS SP-58-2009 is a standard published by the Manufacturers Standardization Society of the Valve and Fittings Industry (MSS). MSS is a standards developing organization that oversees the manufacturing and installation of valves, pipefittings, pipe supports, flanges, and associated seals.