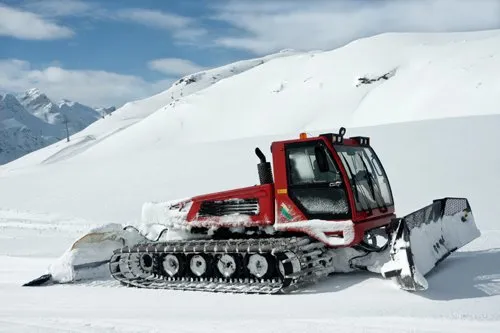 Snowcats are the large tracked vehicles that you might see traveling on or around the slopes of a ski resort. Powered by a large diesel engine and equipped with hydraulic systems for movement and other functions, snowcats move on large tracks consisting of five rubber belts bound together by the aluminum growser bars that help it keep ski resort snow uniform. They are essential on mountains for grooming, in which the blade of the trail groomer presses against the snow base as it travels, allowing the snow drag to leave the signature corduroy pattern that some skiers can see if they arrive on the mountain early enough in the morning.
The name "snowcat" originates from the 1940s trademark of Tucker Sno-Cat Corporation, and the brand name has become synonymous with all of the groomer machines. However, their durability and ease of movement in heavy snow makes them applicable for the practice of cat skiing. Cat skiing involves the use of a snowcat to transport skiers and snowboarders into areas that are inaccessible by regular chairlifts and gondolas. In the United States, some of these are located in ski resorts, such as Copper Mountain, where it is included with the price of a lift ticket, while others are independent stand-alone cat skiing operations. In Canada, where cat skiing was pioneered, the activity is often a multi-day trip.
Most snowcats serve the same purpose, but greatly vary in performance, since the snow conditions differ between ski resorts and snowy areas throughout the world. Because of this, not all snowcats match the makeup of the original Tucker model, and many have been largely customized. However, it is important to incorporate standard practice in the design of snowcats so they are able to withstand usage in subzero winter conditions.
The construction and design of snowcats should conform to some automotive engineering standards and fastener and adhesive standards. However, the conditions in which snowcats are intended to travel are relatively rougher than those for a common road vehicle are, and considerations must be taken to mitigate hazards. ISO 5700:2013 – Tractors for agriculture and forestry – Roll-over protective structures – Static test method and acceptance conditions provides a testing method for establishing protective structures that is applicable to the cabs of snowcats.
Snowcats also need to be designed with care in their hydraulic systems. To learn more about hydraulics and other fluid power standards covered by the National Fluid Power Association (NFPA), please read our post on The Advantages of Fluid Power.
In addition, since they are located in mountains surrounded by biodiverse wildlife, snowcats should not be contributing to unnecessary pollution. ISO 15380:2016 – Lubricants, industrial oils and related products (class L) -Family H (Hydraulic systems) – Specifications for categories HETG, HEPG, HEESand HEPR serves as a guide for users and suppliers of hydraulic fluid to prevent the use of fluid material that will be detrimental to the environment.
No matter what efforts are placed into their construction, they are rendered practically useless if operated carelessly. To prevent snowcat accidents, operators should be certified through a program that meets OSHA requirements.
Search the ANSI Webstore to learn more about standards that apply to snowcats and other vehicles.