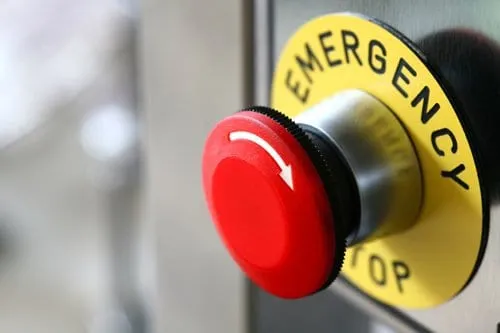 ISO 13850:2015 – Safety of machinery – Emergency stop function – Principles for design puts into effect guidelines that are based on the idea that instantly disengaging something will put an end to all hazards that it might be causing. This latest revision of the standard was released on October 6, 2015, updating the 2006 version.
No matter how well personnel safeguard machinery, daily exposure to sharp edges and other hazards creates the possibility for injuries to occur. According to OSHA, there were 312 fatal workplace injuries deriving from manufacturing in 2013. In many of these instances, the use of an emergency stop function could have put an instant end to danger deriving from equipment in motion. ISO 13850:2015 specifies functional guidelines for these emergency stop functions in machinery, independent of the type of energy used to power the machine. This function can be either a pushbutton activated by the palm of the hand, a wire, rope, or bar, a handle, or a footpedal without a protective cover that would prevent access to the activator.
The emergency stop function is activated by a single human action and should be available and operational at all times for quick access to instantly eliminate hazards. After an individual activates it, the machinery must not be able to operate again until they reset the function. This will ensure that any hazards that are being eliminated by the emergency stop will not accidentally return to continue the hazard that elicited the need for the stop. ISO 13850:2015 also states that the switch that activates the emergency stop function should not interfere with the performance of the machinery or create additional hazards.
Even though some emergency stop functions can deal with functions such as the reversal or limitation of motion, deflection of emissions, shielding, breaking, or disconnecting, ISO 13850:2015 does not cover these functions, instead focusing primarily on the functioning of the activation switch itself. It does not apply to hand-held or hand-operated machines, and should not be applied to any kind of machinery that would not benefit from an emergency stop. For example, machines that present hazards related to electric shock, trapping, entanglement, or burn do not have those hazards eliminated from completely shutting the machine off. The requirements for the realization of the emergency stop function based on electronic technology are covered in IEC 60204-1 Ed. 6.0 b:2016 – Safety of machinery – Electrical equipment of machines- Part 1: General requirements.