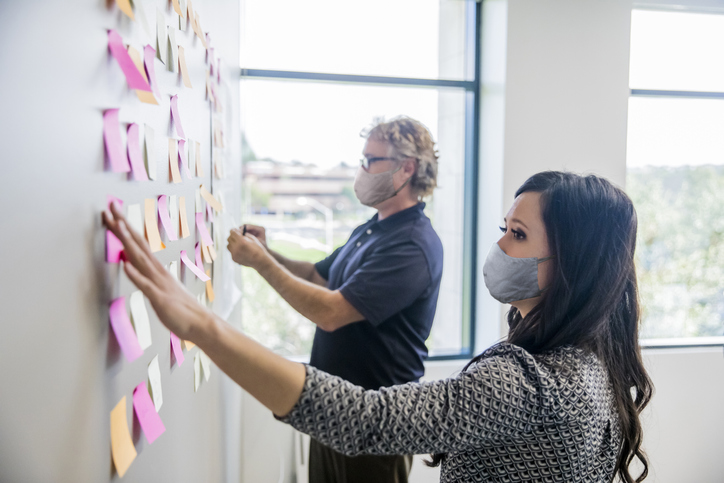 A project marks a future accomplishment, although, until it reaches that stage, it remains a work-in-progress. According to ISO 21502:2020 – Project, Programme And Portfolio Management – Guidance On Project Management, a project is a:
"temporary endeavour to achieve one or more defined objectives"
As such, projects are not routine operations, but comprise unique tasks necessary to achieve a singular goal. Often inclusive of personnel from a range of teams, a completed project can mark a major milestone for a business. To guide projects toward realized benefits, project management makes use of the necessary knowledge, tools, skills, and techniques.
Guidance on Project Management
According to the Project Management Institute (PMI), an ANSI-accredited standards developing organization, there are 16.5 million project managers throughout the world. However, project management is not a lone endeavor. As such, ISO 21502:2020 finds usage not only by project managers and project team managers, but also executive and senior leadership, project sponsors, project boards, and auditor, among others.
Furthermore, ISO 21502:2020 is applicable to any organization and any type of project, regardless of purpose, delivery approaches, life cycle model used, complexity, size, cost, or duration.
ISO 21502:2020 gives guidelines for project management, detailing high-level descriptions of best practices for producing good results. Under this broad scope, in addition to outlining general project management concepts and guidelines, the standard details prerequisites for formalizing project management, integrated project management practices, and management practices for a project. Under these vast groupings, within the contents of ISO 21502:2020, users can find project governance framework, help in managing the delivery of a project, and benefit, scope, resources, cost, and quality management practices, among a multitude of other relevant guidance.
Changes to ISO 21502:2020
While the project manager takes a leading role, they are not the sole individual responsible for the successful execution of a project. As such, the new ISO 21502:2020 covers the roles of all individuals needed to drive the project toward success.
ISO 21502:2020 is a new international standard, and, although it is the first edition of the document, it revises ISO 21500:2012. The previous edition of ISO 21500 is being cancelled and superseded by ISO 21502 and an upcoming revision with the designation ISO 21500.
Specifically, ISO 21502:2020, when compared with ISO 21500:2012, has undergone the following changes:
The concept of project management was expanded to include project-related oversight and direction activities of the sponsoring organization.
Information was added detailing how projects can deliver outcomes realize benefits.
Consideration was added for the organizational context of projects.
Descriptions were added of additional project roles and responsibilities.
To reflect current practices in project management, new topics were added. These include:

Creating a project environment that is conducive to success,
Project life cycles,
Decision points and gates,
Additional project practices, such as benefits management and change control

Pre-project and post-project activities were added
The format of the standard was changed from process-based to practices and narrative-based (this is detailed in informative Annex A, "Project management processes based on practices")
ISO 21502:2020 – Project, Programme And Portfolio Management – Guidance On Project Management is available on the ANSI Webstore.