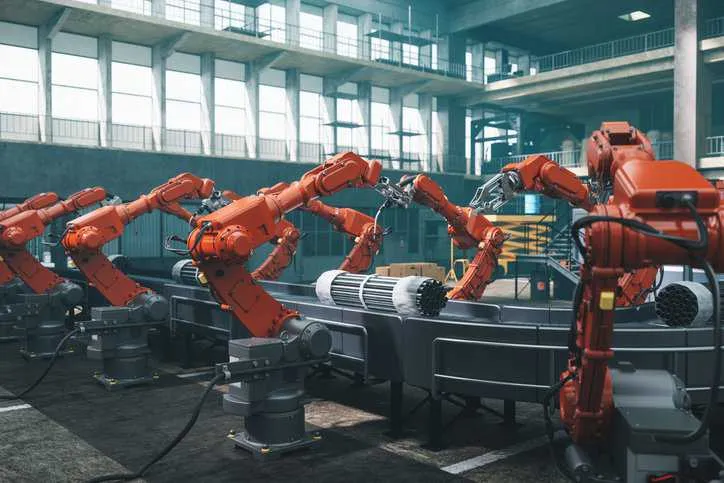 Manufacturing challenges like labor shortages, rising costs, higher consumer demand, and global marketplaces have renewed the push for companies to be automated. Industrial robots are therefore vital in the manufacturing industry. ISO 10218-1:2011—Robots And Robotic Devices – Safety Requirements For Industrial Robots – Part 1: Robots provides safety requirements and guidelines for the use of industrial robots.
What Defines an Industrial Robot?
An industrial robot is one that is an automatically controlled, reprogrammable multipurpose manipulator that can move along three or more axes. It is mainly used in manufacturing settings as its purpose is to automate intensive production tasks—such as those required by a constantly moving assembly line. Industrial robots are multipurpose meaning they can automate multiple tasks. As large, heavy robots, they are placed in fixed positions within an industrial plant and all other worker and production-related tasks (i.e., robot applications):
Arc Welding
Assembly
Gluing, Adhesive Sealing, and Spraying Materials
Machine Tending
Materials Handling
Material Removal
Mechanical Cutting, Griding, Deburring, and Polishing
Painting
Picking, Packing, and Palletizing
Soldering
Spot Welding
Waterjet cutting
ISO 10218-1:2011 specifies requirements and guidelines for the inherent safe design, protective measures, and information for use of industrial robots. It describes basic hazards associated with robots and provides requirements to eliminate, or adequately reduce, the risks associated with these hazards.
ISO 10218-1:2011 does not address the robot as a complete machine. Noise emission is generally not considered a significant hazard of the robot alone, and consequently noise is excluded from the scope of this standard. It also does not apply to non-industrial robots, although the safety principles established in the ISO 10218 series can be utilized for these other robots. Examples of non-industrial robot applications include, but are not limited to, undersea, military and space robots, tele-operated manipulators, prosthetics and other aids for the physically impaired, microrobots (displacement less than 1 mm), surgery or healthcare, and service of consumer products.
Requirements for robot systems, integration, and installation are covered in ISO 10218-2:2011 and both Part 1 and Part 2 of ISO 10218 are available in the ISO 10218 – Robots and Robotic Devices Safety Package .
The Invention of the Industrial Robot
In, 1954, American engineer George Devol filed U.S. Patent No. 2,988,237 describing an autonomous machine that could store commands and move parts. This patent describes a programmable robotic arm called the Unimate (a combination of the words "universal" and "automation"). The robotic arm moved with six degrees of freedom and stored step-by-step digital commands. It was designed for high-speed handling of parts up to 500 pounds and could perform a variety of tasks.
While Devol invented the robot, his entrepreneurial partner Frederick Engelberger is credited with the successful marketing of the Unimate to manufacturers. In 1961, the Unimate 1900 model was unveiled to the public in Chicago during a trade show, and in the same year, the two Americans established Unimation Inc., a venture company specializing in industrial robot development. The machine undertook the job of transporting die castings from an assembly line and welding these parts on auto bodies. US car manufacturers already working on factory automation at the time showed interest in the Unimate, and with the deployment of the robot in the General Motors Company (GM)'s die-casting factory, the practical use of industrial robots commenced.
Operational Modes for Industrial Robots
Industrial robots can be widely used, thanks to their various operational modes. As per safety standards, an industrial robot has three distinct modes of operation. These are Teach (also called Manual), Play (also called Automatic), and Remote. Switching between these modes is performed using a key switch on the teach pendant and is called Mode Switch.
ISO 10218-1:2011 details that operational modes should be selectable with a mode selector, which can be locked in each position (e.g., a key operated switch which can be inserted and extracted in each position). Each position of the selector should be clearly identifiable and exclusively allow one control or operating mode. The selector can be replaced by another selection means which restricts the use of certain functions of the robot (e.g., access codes). Moreover, the standard specifies requirements for automatic, manual reduced speed, and manual high speed operational modes.
ISO 10218-1:2011—Robots And Robotic Devices – Safety Requirements For Industrial Robots – Part 1: Robots is available on the ANSI Webstore as well as in ISO 10218 – Robots and Robotic Devices Safety Package.