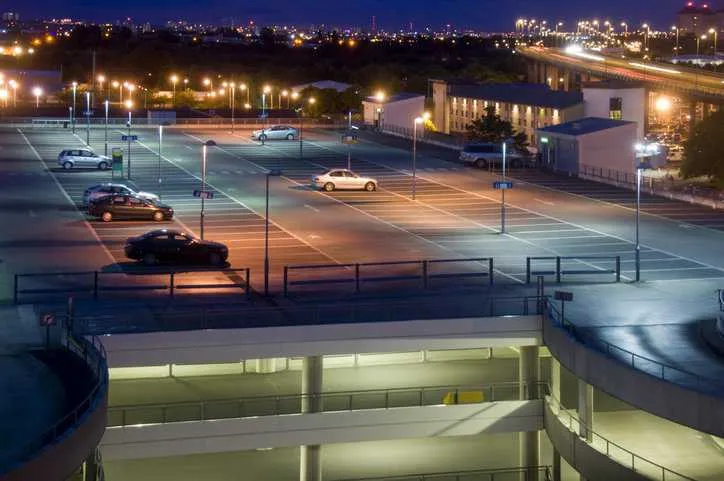 Public street lighting arose in 1417 when the Mayor of London (Sir Henry Barton) issued an order for people to place oil lanterns and hang lamps outside their homes during the dark winter nights in London. This initial form of street lamps has since advanced with the inventions of electric, automatic, solar, and LED street lighting for security in private and public spaces. Recommendations for security illumination are specified in IES G-1-22: Guide For Security Lighting For People, Property, And Critical Infrastructure.
What Is the Purpose of Security Lighting?
Security lighting is installed to help protect people, property, and vital infrastructure from criminal and terroristic activities; it is used to create a perception of a reasonably secure environment for known or perceived threats. Security lighting is the most significant crime deterrent because it enhances natural surveillance, delineates private and public spaces, marks access, and limits fear in legitimate users. IES G-1-22 makes clear that the term "security lighting" is distinguished from "lighting for safety," which is intended to provide secure working conditions, secure passage, and identification of hazards or obstructions.
IES G-1-22 details lighting recommendations for critical infrastructure and homeland security. This standard provides specific guidelines for situations when security is an issue: not only lighting but other measures and system components deserve consideration and integration into the final design of a property. The primary purpose of IES G-1-22 is to help users understand when security is an issue and provide guidelines for the design, evaluation, and implementation of appropriate security lighting for the private and public sector.
This publication is for the use of property owners and managers, crime prevention specialists, law enforcement and security professionals, risk managers, lighting specifiers, contractors, homeowners, and those responsible for the protection of critical infrastructure who are concerned about security and the detection and prevention of crime and terrorism.
When Is Security an Issue?
IES G-1-22 recognizes that security does not always mean installing lighting designs and systems.  In other words, not all properties, centers of activity, or gathering places require special consideration or enhanced security with illumination. The standard specifies that law enforcement, security staff, designers, management professionals, and facility owners should consider security an issue when one or more of the following eleven conditions exist or can be expected to exist:
Persons and/or property present a desirable target to potential criminals or terrorists
There are especially vulnerable members of society on the property (e.g., high-profile leaders, the elderly, children, or the physically or mentally challenged)
The property is a critical security or defense infrastructure (e.g., key government facilities, bridges, airports, checkpoints, and border installations, as determined by emergency planners)
The property has a history of crime or significant increases in crime
Crime in the surrounding area is high in comparison to other adjoining neighborhoods
Results of a physical security survey or threat analysis indicate a meaningful threat to security
Conditions have changed, exposing persons to new security hazards or increased risk. This includes changes to adjacent properties (e.g., re-lighting) that make the subject property look poorly lighted and thus more vulnerable to attack
There are physical signs of destructive behavior near or on the property (e.g., graffiti, broken windows, trash buildup, gang activity, vagrants, trespassing, or loitering)
There are reasonable resident or customer concerns about security
The property is a high profile or troublesome enterprise or activity (e.g., a bar, nightclub, gambling hall, or other high-activity gathering spot)
It is a restricted-access area (e.g., industrial or government infrastructures)
Where Should Security Lighting be Installed?
Here are some high-risks areas where security lighting should be installed in order to prevent crime and attacks:
ATMs
Cluster mail boxes
Pay phones
Vehicle entrances
Parking areas (e.g., garages)
Pedestrian routes
Exterior entrances
Pools, patios, and decks
IES G-1-22: Guide For Security Lighting For People, Property, And Critical Infrastructure is available on the ANSI Webstore.