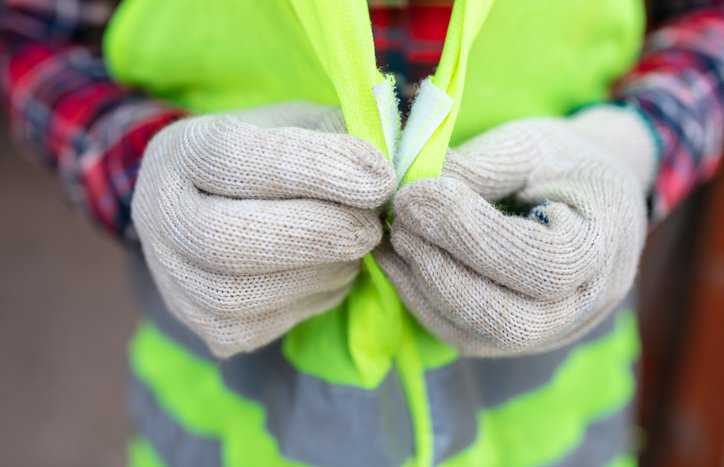 High-visibility safety apparel (HVSA) is clothing that workers wear in order to be more visible in their surroundings, both to co-workers and members of the public. HVSA is a requirement when working in certain types of environments, such as construction sites, areas with heavy machinery and vehicles, or places where work is carried out in dark or poorly lit environments. HVSA includes various items of workwear and clothing, including reflective vests, hard hats, bibs, and coveralls.
HVSA is used in various kinds of workplaces, including:
Road construction
Utilities
Railway and trucking industries
Crossing guards
Emergency services
Hoisting and rigging, crane work, and signaling
Traffic control
Airport ground operations, such as baggage handling, plane movement, and fueling
Maritime operations
HVSA also has a variety of uses in other situations, such as hunting, car breakdowns, cycling, and other nighttime activities.
What Does High-Visibility Safety Apparel (HVSA) Mean?
High-visibility safety apparel refers to clothing designed with both a reflective tape and bright background color, such as bright yellow or orange. This means that it is both visible in darker environments and shows up when light is shined upon it, such as from a vehicle headlight. To ensure that your HVSA is effective and approved for use on worksites, you need to look for standard marks, such as for ANSI/ISEA 107-2020, ANSI/ISEA 107-2015, or ANSI/ISEA 107-2004. This will mean the apparel meets the most recent or past editions of the American National Standard for HVSA and is approved for use on site or in public areas.
Laws Requiring HVSA
In many cases, wearing HVSA is not just a matter of personal choice. Depending on the location of your workplace and the conditions in which you work, there may be mandates from your state and the Occupational Safety and Health Administration (OSHA) that require the use of HVSA or reflective clothing.
Colors Used in HVSA
The way HVSA works is all to do with the human brain functions and the way we see colors. In fact, green is the color the human brain sees most easily, so you might assume that all HVSA should be this color. But it's not quite that simple. It's all about creating contrast. Brighter colors like orange and yellow will show up better against darker backgrounds and attract attention. Materials with luminescent or fluorescent qualities are especially useful. And reflective or retroreflective materials are ideal when working with vehicles and machinery that use artificial lighting—especially in darker working environments or at night when bright background colors might not be visible.
The Importance of HVSA in Workplace Safety
High-visibility clothing is beneficial to anyone working in an area of high risk. These include construction sites and workplaces that involve the movement of vehicles, such as road traffic areas, warehouses or ports. It can also include industrial premises such as oil refineries or heavy manufacturing where large-scale machinery is being used. With one in five construction workplace fatalities being the result of being struck by equipment or vehicles, being as visible as possible on site is always essential.
HVSA offers a degree of enhanced protection by making workers visible to other colleagues, especially in areas where heavy machinery or vehicles could pose a significant risk to health and safety. HVSA is particularly important in workplaces with low levels of visibility, such as underground sites or when working around vehicles. HVSA also enhances the safety of workers in areas where there is a high chance of being obscured, such as in wooded areas. HVSA also has many applications across the public or leisure sphere, such as hunting, cycling, motorsport, and more.
Factors to Consider When Selecting HVSA
Choosing the right HVSA for the working environment can make a huge difference in enhancing the safety of any site. While it is true that any high-visibility clothing is better than none, especially for leisure pursuits such as cycling, in the world of work there are other factors at play. These include the legal requirements of the site and the health and safety of workers, equipment, and the wider public. 
In order to choose the right HVSA for your operation, you should ideally carry out a hi-vis risk assessment to help identify your needs. This will include factors such as:
The contrast between the worker and site or equipment
If HVSA is required not only to enhance visibility but also to help identify workers
The likely weather conditions (rain, fog, snow, etc.)
Sight lines, heavy equipment, moving equipment, and traffic
The time of day
How much body coverage is required
Different Types of High-Visibility Safety Vests
Different working environments will also require specific types of HVSA. The ANSI/ISEA 107 hi-vis classification outlines the following requirements:
Type O Garments: For off-road workers who don't work near roadway traffic
Type R Garments: For workers exposed to roadway traffic
Type P Garments: For first responders and emergency personnel
HVSA is also given rating for its level of coverage. These are:
Class 1: Lowest body coverage and good visibility.
Class 2: Moderate body coverage and enhanced visibility
Class 3: Superior body coverage and visibility. This is the best option for poor light conditions and for providing good visibility at distance
HVSA reduces the amount of workplace accidents, but it can fade over time and lose some of its effectiveness. Items that are worn everyday should ideally be replaced every six months. Items that are not in everyday use can last up to three years.
Contributing Author: Nick Warrick, Sales Manager, All Seasons Uniforms
Nick Warrick is the sales manager at All Seasons Uniforms, a professional workwear company based outside of Chicago that has been in business since 1991.