Although exercise equipment was invented to provide a safe alternative to free weights, it is arguably inherently dangerous since it can put an individual's body in unnatural positions. According to the National Safety Council (NSC), in 2021, exercise equipment accounted for about 409,224 injuries—the most in any category of sports and recreation. ASTM F1749-15(2020): Standard Specification For Fitness Equipment And Fitness Facility Safety Signage And Labels specifies required signage and labels for fitness equipment.
ASTM F1749-15(2020) establishes requirements for safety signage and labels for fitness equipment. It provides specifications for the required design, placement, and minimum wording. A facility safety sign is intended to prompt users to read the warnings on the equipment, obtain instruction on use, and be alert to the potential for injury when using or being near fitness equipment. This standard to set guidelines for warnings and signage to be placed on fitness equipment and in fitness facilities where the intended users are 13 years old and older.
Fitness equipment: a product designed for use in exercising specific or multiple muscles of the body.
Fitness facility: a location where people go to use institutional fitness equipment
What Was the First Gym Equipment Invented?
In 1857, Dr. Gustav Zander, a gymnastics instructor from Stockholm, first systematized the use of mechanical exercise in therapeutics. Zander realized he that he did not have enough time or energy to teach all of his students properly. So, his solution was to build a number of appliances made of wood, which he equipped with weights, levers, and springs to provide a force of resistance. Zander's vision of regular exertion using machines to honor health and well-being was a novel idea at this time as rising industrialization and mechanization moved millions of people into a more sedentary life, allowing for less exertion. Zander's innovative approach to physical therapy was based on machines that used weights and levers to vary resistance; it was suited to the strength of each individual user. The lever, sliding the weight towards the its end to increase resistance and consequently muscle workload, worked as an extension of the muscle group being exercised.
In 1865, the first Zander Institute opened in Stockholm for use by both women and men who came for exercise, strength-training, and for rehabilitation. The gym was divided into two separate sections: women exercised in corsets and stays and men exercised in waistcoats and suits. The Zander Institutes were successfully exported worldwide. In 1911, there were 300 Zander Institutes around the world. Even on the doomed Titanic, there was an exercise room featuring Zander's gymnastic apparatus.
Fitness Equipment Signage
ASTM F1749-15(2020) alerts users to potential hazards associated with institutional fitness equipment. To do so, the standard emphasizes that fitness facility sign(s) should be designed in accordance with applicable American National Standards:
Additionally, the standard maintains that for hazard classification product safety signs and labels should be classified according to the relative seriousness of the potential hazards. The classifications are noted by the signal words DANGER, WARNING, and CAUTION. Fitness facility signs are classified as general safety signs and, according to ASTM F1749-15(2020), they use signal words such as safety first, be careful, and think.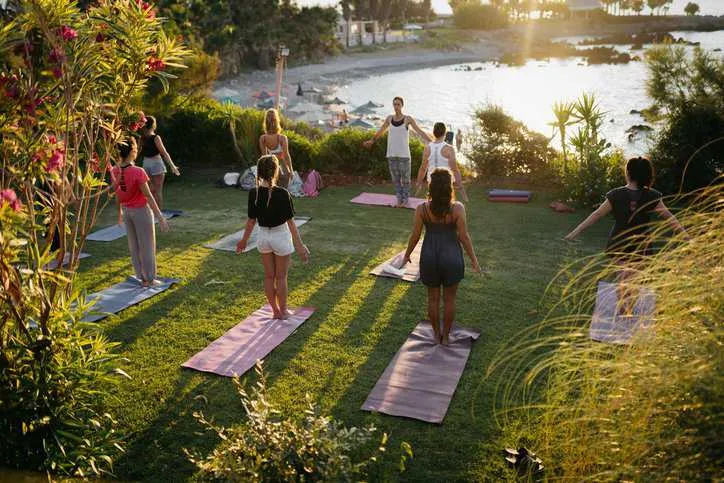 What Is the Most Popular Fitness Class?
A study has revealed that yoga is the most popular fitness class across the US. The study was conducted by Fitness Volt and analyzed Google trends to discover the most searched fitness classes in each state, with 16 states searching for yoga classes more than any other fitness class, including Arkansas, California, and Illinois. Further, the practice was favored in the Northeast, in states such as New York, Connecticut, and Massachusetts. Pilates came in second place, having gained popularity in recent years, and currently receives 9,000 searches a month across the country. Pilates is the most Googled fitness class in 11 states, including Florida, Oklahoma, and Washington.
Why Is Yoga So Popular?
Yoga is popular because when practiced carefully and consistently, it improves our well-being. The purpose of yoga is self-fulfilling as enjoying your practice means to be mindful and present. The only essential fitness equipment you need for yoga are a mat and typically yoga blocks, but the benefits of practicing yoga go way beyond the mat:
ASTM F1749-15(2020): Standard Specification For Fitness Equipment And Fitness Facility Safety Signage And Labels is available on the ANSI Webstore.