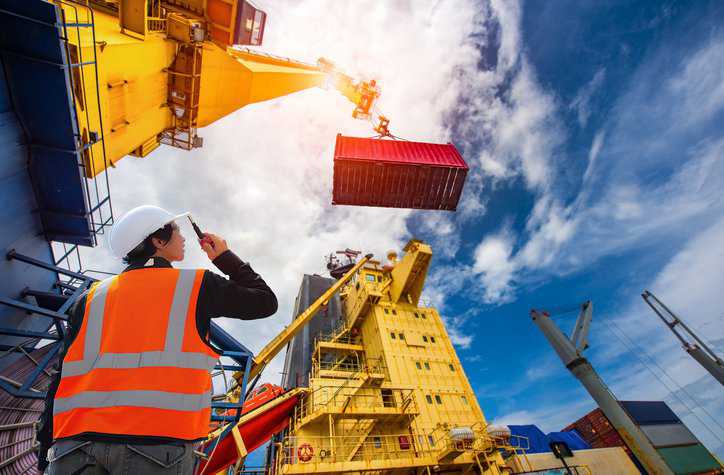 The shaduf, the first type of crane, was invented circa 3000 BCE in Mesopotamia, and it had a lever apparatus with a bucket-like structure on one end and counterweight on the other. This device enabled lifting water for irrigation and retrieving water with little effort from a riverbank. Cranes now lift thousands of tons (over 2,000,000 pounds) and hence require specifications like ASME B30.2-2022: Overhead And Gantry Cranes (Top Running Bridge, Single Or Multiple Girder, Top Running Trolley Hoist).
What Is the Difference Between an Overhead and Gantry Crane?
A crane is a machine equipped with a hoisting mechanism (rope, wire rope, chains, or sheaves) for lifting, lowering, and moving a heavy load horizontally. Cranes work by using pulley systems to change the direction of the force needed to lift a load and distribute that force over a greater distance. ASME B30.2-2022 examines two types of cranes:
Overhead crane: a crane with a single or multiple girder movable bridge carrying a movable or fixed hoisting mechanism and traveling on an overhead fixed runway structure.
Gantry Crane: a crane similar to an overhead crane except the bridge for carrying the trolley or trolleys is rigidly supported on two or more legs running on fixed rails or other runway.
The ASME B30.2-2022 Standard for Overhead And Gantry Cranes
ASME B30.2-2022 provides requirements and testing methods for overhead and gantry cranes. This standard includes provisions that apply to the construction, installation, operation, inspection, and maintenance of hand-operated and power-driven overhead gantry cranes. Specific requirements for the general construction, installation, operation, and supporting structure in ASME B30.2-2022 include:
Markings (warnings, identification, controls, rated load)
Clearances (from obstruction, between parallel cranes)
Crane construction (welded construction)
Construction runways (foundations and anchorages, crane runways)
Cabs (location, lighting, construction, access to crane)
Service platforms (construction, ladders and stairways, egress)
Stops and bumpers (trolley stops and bumpers, bridge and gantry bumpers)
Rail sweeps (gantry, trolley, and rail bridge sweeps)
Brakes and braking (hoist holding brakes and hoist control braking means, trolley and bridge brake provisions)
Electrical equipment (resistors, controllers)
Hoisting equipment (sheaves, drums, ropes, hooks)
Manual (general information, safety personnel)
Besides construction, installation, and operation, this standard describes operational and load tests to examine overhead and gantry cranes prior to their initial use to confirm compliance to ASME B30.2-2022. Tests include performing functions such as lifting and lowering, trolley travel, bridge travel, and hoist limit devices.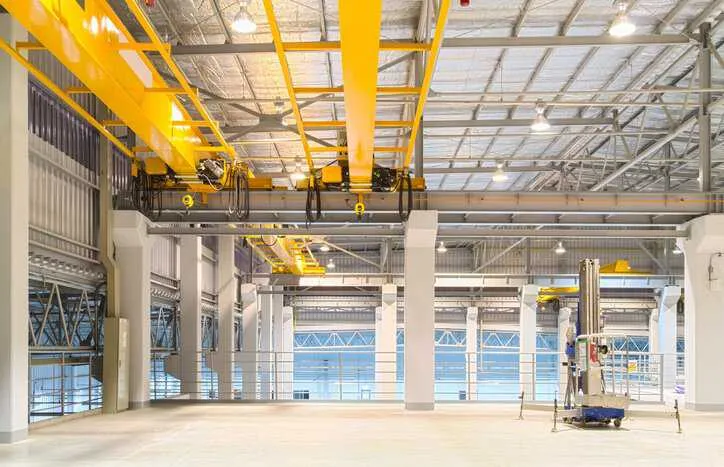 What is the World's Strongest and Tallest Crane?
"Big Carl," also known as Sarens Giant Crane 250 (SGC-250), the world's strongest and tallest land-based crane, is able to carry 5,000 tonnes in a single lift and has a maximum height of 250 meters. It is a ring-based crane, meaning it has a luffing jib, and is distinguished by its slew pivot being in the form of a ring-shaped track, enabling it to carry extremely heavy loads. Sarens, a Belgium-based crane rental service, designed Big Carl. The crane was shipped from Ghent, Belgium on over 250 trucks over a period of months to work on Hinkley Point C (a nuclear power station) in Somerset, England.
ASME B30.2-2022: Overhead And Gantry Cranes (Top Running Bridge, Single Or Multiple Girder, Top Running Trolley Hoist) is available on the ANSI Webstore. All ASME B30 standards are available together as the ASME B30 Construction Package. This standard is also part of the following standards packages:
Hooks Hoist and Cranes Package
ASME B30.2 / ASME B30.11 / ANSI/ASME B30.17 – Cranes Package
Overhead Hoists and Gantry Cranes Package