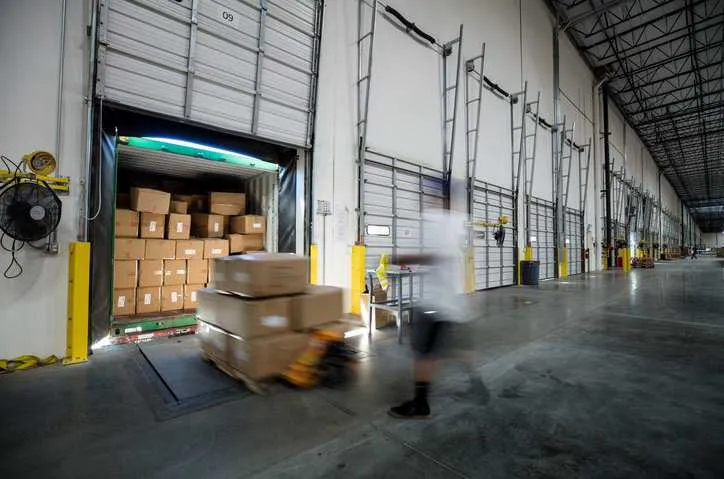 Have you seen a transport vehicle back up to a building? If you have, chances are you saw a dock leveler: a piece of equipment that bridges the gap and overcomes the height difference between a dock or warehouse floor and a transport vehicle, typically trailers. This is the most effective and efficient way to prevent equipment damages and tragic injuries at a loading dock while moving goods and other equipment. Dock levelers therefore are an essential piece of equipment for warehouses and their design, testing, and performance guidelines are specified in ANSI MH30.1-2022 Performance And Testing Requirements For Dock Leveling Devices and ANSI MH30.2-2022 Performance And Testing Of Portable Dock Leveling Devices.
The ANSI MH30.1-2022 Standard for Dock Leveling Devices
ANSI MH30.1-2022 provides guidelines for the design and testing of dock leveling devices for designers, manufacturers, sellers, installers, owners, users and governing bodies. The purpose of this American National Standard is to detail a uniform means of comparison, improve user confidence, and knowledge and to define product requirements for dock leveling devices.
Dock leveling device: designed to be capable of withstanding typical loads imposed by material handling equipment. It is a manufactured structure designed to span and compensate for height differentials between a stationary loading dock and a movable transport vehicle to facilitate effective and efficient freight transfers. Dock leveling devices may be either built-in or portable.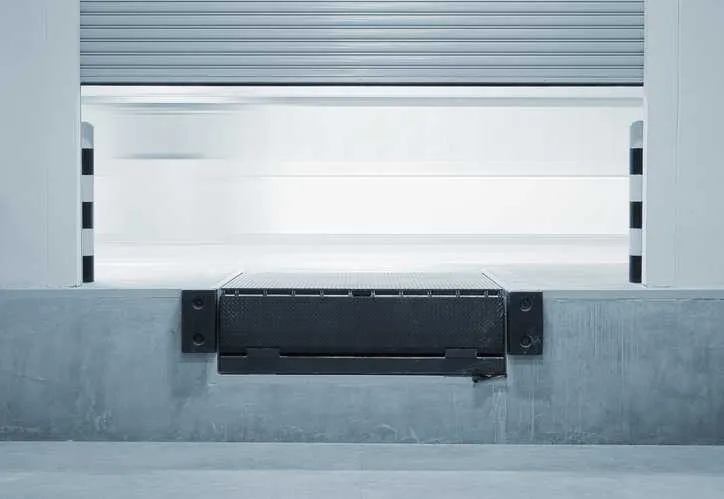 The ANSI MH30.2-2022 Standard for Portable Leveling Devices
The second standard in the ANSI MH30 series is ANSI MH30.2-2022, which defines performance and testing requirements for the design, use, and maintenance of portable dock leveling devices.
Portable dock leveling device: not permanently affixed to either the transport vehicle or the dock structure. It is capable of being moved from one location to another by manual effort or by independently powered equipment. Portable dock leveling devices are commonly referred to as dock boards or dock plates. Dock boards are typically designed to be capable of withstanding heavy-duty loads imposed by material handling equipment, while dock plates are typically used in lighter-duty hand loading or hand truck loading applications.
Parts of a Dock Leveler:
The main components of loading dock levelers are the leveler lip, deck, push bar, dock plate, and bumpers:
Lip: the extension member end of a dock leveling device that supports the leveling device on the transport vehicle bed and provides a transition to the transport vehicle bed.
Deck: the ramp that attaches to the lip to allow for the safe and efficient passage of warehouse vehicles and equipment.
Push bar: the mechanical arm that pushes the deck of the leveler into place.
Dock plate: a plate-like structure designed to carry loads without the assistance of additional supporting members, which is typically used for lighter loads associated with foot traffic and hand truck.
Platform: the main structural body of a dock leveling device.
Bumpers: the cushions fixed to the warehouse wall that prevent transport vehicles from running into the building and causing damages.
Both standards specify structural testing of dock levelers must be carried out. The procedures of ANSI MH30.1-2022 and ANSI MH30.2-2022 detail the following:
The manufacturer shall specify the proposed test load
The load shall be fully removed from the leveler between every load application
The (portable) dock leveling device shall be installed in a fixture in such a way as to provide support equal to that provided in an actual application,
Types of Dock Levelers
There are three types of commonly used dock levelers. Here is an overview of their functionality and pros and cons:
Mechanical Dock Levelers: These are durable and versatile spring levelers equipped with a pull chain that releases the tension of the springs, allowing the platform to rise. The operator must then walk or stand on it to push it back down. Since they are manually operated, they are cost-effective. However, this leveler also relies on more moving parts—lip latches, springs, chains, pulleys, and hold-downs—that require a lot of costly, routine maintenance, lubrication, and replacement over time.
Hydraulic Dock Levelers: They use hydraulic cylinders and pumps to lift and place the leveler with a push of a button on a control panel. These levelers are powered operated and specifically designed for high capacity workloads, which mean they are ideal for heavy loads, high usage, and extreme weather conditions. Although they are more expensive than their mechanical counterparts, they require less routine maintenance and will save you repair costs over time.
Air Dock Levelers: These levelers are activated by pushing a button that causes the air bag to inflate, raising the deck and deploying the lip in an upward motion, and after the button is released, the air bag deflates, allowing the platform to lower onto the bed of truck. These levelers are ideal for application involving extreme temperatures, heavy usage, and exposure to caustic substances. They are an economical alternative to hydraulic levelers.
ANSI MH30.1-2022 Performance And Testing Requirements For Dock Leveling Devices and ANSI MH30.2-2022 Performance And Testing Of Portable Dock Leveling Devices are available on the ANSI Webstore.