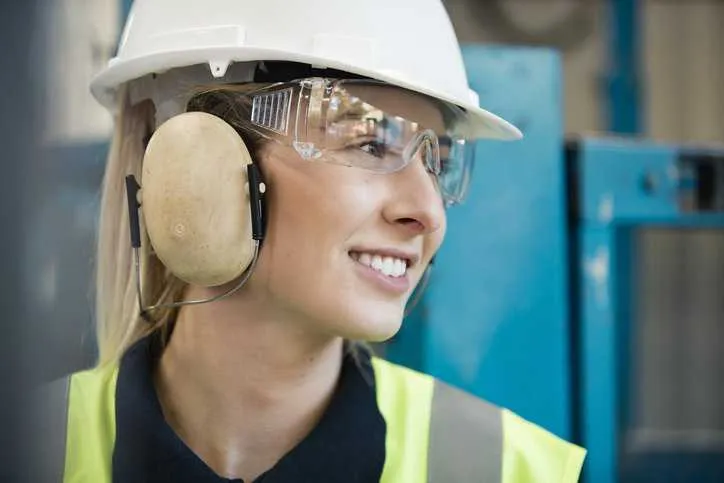 The most recent edition of the American National Standard used for safety glasses, safety goggles, side shields, and other eye and face protection devices is ANSI/ISEA Z87.1-2020: American National Standard For Occupational And Educational Personal Eye And Face Protection Devices.
Protect Your Eyes with Safety Glasses
Our eyes, carrying complexities like the lens, retina, and pupil that were naturally selected over millions of years, are important. In addition to interacting with the world around us, this pair of organs can be essential in how others interpret our emotions.
Unfortunately, according to the Centers for Disease Control and Prevention (CDC), about 2,000 U.S. workers sustain a job-related eye injury each day that requires medical treatment. Due to the sheer importance of the human eye, every effort should be made to eliminate eye and face hazards in occupational and educational settings. Many professionals look to the "Z87" marking on safety glasses and similar eye and face protection apparatus to assure their effectiveness.
ANSI Z87.1 Safety Glasses
Such markings relay adherence to the minimum requirements laid out in the ANSI Z87.1 standard. Marking specifications are outlined in ANSI/ISEA Z87.1-2020, but this document covers a range of information, setting forth criteria related to the requirements, testing, permanent marking, selection, care, and use of protectors to minimize the occurrence and severity or prevention of injuries.
These injuries include impact, non-ionizing radiation and liquid splash exposures in occupational and educational environments such as machinery operations, material welding and cutting, chemical handling, and assembly operations. Please note, however, that ANSI/ISEA Z87.1-2020 does not cover other hazardous exposures like bloodborne pathogens, X-rays, high-energy particulate radiation, microwaves, radio-frequency radiation, lasers, masers, and sports and recreation.
As a performance-oriented standard, ANSI/ISEA Z87.1-2020 requirements apply to protectors when first placed in service. This way, protectors bearing the permanent marking Z87 meet all applicable requirements of this standard in its entirety.
What Are the Z87 Markings?
The standard marking for products in compliance with ANSI Z87.1-2020 is Z87, however, there are other markings addressed in the standard, including:
Z87-2: Rx
H: coverage
+, Z87+, Z87-2+: impact mark
O2: relaxed optical level
W shade: welding filter lens
U scale number: UV filter lens
R scale number: IR filter lens
L scale number: visible light filter lens
V: variable tilt lens
S: special purpose lenses
X: anti-fog
D3: splash/droplet use
D4: dust use
D5: fine dust use
For further detail on this information, please refer to the marking requirements stipulated in Table 3 of ANSI/ISEA Z87.1-2020.
Changes to ANSI/ISEA Z87.1-2020
The standard for eye and face protection effectively protects personnel by remaining current. The 2010 revision of this standard was monumental, and the 2015 revision continued this trend by addressing issues with emerging technologies.
Over the past five years, various innovations in product design needed to be addressed by this standard, which continues to focus on product performance and harmonize with international standards. Due to this, ANSI/ISEA Z87.1-2020 underwent the following changes from the 2015 edition:
Criteria and requisite markings for protectors offering relaxed optics were added as an option to long-standing requirements. This in response to the recognition that certain job tasks and applications, including those of first-responder, firefighting or military personnel, may not need require the stringent optical criteria historically imposed.
Testing, performance, and marking criteria for lenses with anti-fog properties were added, since fogging can impede a wearer's ability to perform work safely.
Transmittance allowances were changed.
Welding filter shades were expanded.
Clarifications were added to provide consistency in testing for applying dark-state tolerances for automatic darkening welding filters and determining the minimum cover-age area with respect to the specified headform.
If you'd like to learn more about the changes made to past revisions of the standard for safety glasses, please refer to our post ANSI Z87.1 Eye and Face Protection Devices Standard.
Get the ANSI/ISEA Z87.1-2020 Standard
ANSI/ISEA Z87.1-2020: American National Standard For Occupational And Educational Personal Eye And Face Protection Devices is available on the ANSI Webstore. For further aid in this area, users can also acquire several standards together via the following standards packages:
ANSI Z80.3 / ANSI/ISEA Z87.1 – Eyewear Requirements Set
ANSI/ISEA Z358.1 / ANSI/ISEA Z87.1 – Eyewash and Eye Protection Package
ANSI/ISEA Z87.1 / ANSI Z80.3 / ANSI Z80.1 – Eyewear Package
Erratum to ANSI/ISEA Z87.1-2020
There is also an erratum document to this standard: ANSI/ISEA Z87.1-2020 Erratum Sheet – American National Standard For Occupational And Educational Personal Eye And Face Protection Devices.
This erratum sheet adds text that was previously omitted to the dust test procedure in 9.18.3. It also provides clarification related to the markings for anti-fog lenses in Table 3.