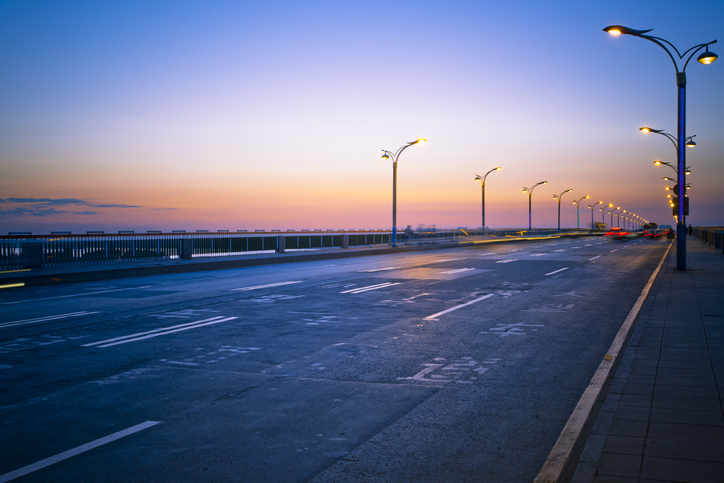 Intended as a basis for the design and installation of roadway lighting and associated systems, ANSI/IES RP-8-21: Lighting Roadway And Parking Facilities is a compilation of numerous previously distinct Illuminating Engineering Society (IES) American National Standards.
The Importance of Road Lighting
The subject of adequate road lighting is relevant to practically everyone, as we have long existed in a 24-hour society. As such, driving at night is a necessity for many. Unfortunately, even though about 25% of travel takes place after the sun has set, throughout North America, over half of all fatal collisions happen during nighttime hours.
The benefits of illumination are as clear as the visibility that roadway lighting provides. There is consensus that roadway lighting substantially decreases nighttime automobile collision rates. Furthermore, pedestrians are made safer by lighting, and roadway illumination can correlate with numerous other benefits not associated with driving, including economic benefits (as lighting may draw more people into a commercial area), aesthetics, and even making people feel safer.
As discussed in the Introduction of ANSI/IES RP-8-21, lighting design criteria needs to carefully consider the following goals:
Improve motorist visual quality
Provide quality light and increased contrast for seeing hazards
Illuminate conflict areas
Minimize environmental impacts of light at night
Employ lighting systems that are easily maintained and minimize energy use
About ANSI/IES RP-8-21
By recommending proper techniques, ANSI/IES RP-8-21 allows motorists, pedestrians, and cyclists within the right of way to benefit from the value of lighting, as, if lights aren't installed or designed properly, their benefits may be reduced.
ANSI/IES RP-8-21 takes an expansive and comprehensive approach toward making roadway lighting suitable to assure public safety. In many respects, the information it details helps users achieve an understanding of various ancillary implications of roadway lighting, as it outlines as an assortment of relevant facts and issues.
For example, Chapter 1 of ANSI/IES RP-8-21, which serves as an introduction to roadway lighting, discusses matters like alternatives to lighting, energy conservation, the need for good design, and environmental factors. Similarly, Chapter 2 addresses vision and fundamental concepts, thereby outlining the visible spectrum, the basic principles of vision, the structure of the eye, and various related topics.
Having users of ANSI/IES RP-8-21 comprehend various implications associated with roadway lighting can be essential. For example, knowing how lighting can impact animal communities and influence plants' abilities to respond to light quantity, spectrum, directionality, timing, and duration by affecting their photoreceptors could aid in the decision making of roadway lighting design and installation.
However, ANSI/IES RP-8-21 covers much more than this background information, addressing numerous matters integral to the design of lighting systems. For example, Chapter 3 covers calculations, Chapter 5 confronts the planning and design process, Chapter 6 deals with system components, and Chapter 9 outlines maintenance and operations. In all, throughout its nearly-500 pages, the ANSI/IES RP-8-21 document contains 19 chapters and 11 annexes for assuring quality roadway lighting solutions.
History of ANSI/IES RP-8
ANSI/IES RP-8-21, like many other standards, is distinguishable by the changes made to it during its revision process. In general, this edition of the recommended practice for design and maintenance of roadway and parking facility lighting was written as a compilation by IES staff and the IES Roadway Lighting Committee's Special Task Group of documents authorized by several lighting organizations and authorities. During review, the committee, while sourcing standards from around the world and applying the most applicable proven practices, revisited practices on the design, installation, and maintenance methods of roadway lighting systems to add new or revised methodologies, design concepts, and procedures.
The previous revision of this standard, which was titled ANSI/IES RP-8-18: Recommended Practice For Design And Maintenance Of Roadway And Parking Facility Lighting, incorporated 12 previously distinct ANSI/IES RP-8 standards. As such, it superseded the following standards:
ANSI/IESNA RP-8-14: Roadway Lighting
IES RP-20-14: Lighting For Parking Facilities
ANSI/IES RP-22-11: Tunnel Lighting
IES DG-4-14: Design Guide For Roadway Lighting Maintenance
IESNA DG-19-08: Design Guide For Roundabout Lighting
IES DG-21-15: Design Guide For Residential Street Lighting
IES DG-23-14: Design Guide For Lighting For Toll Plazas
IES DG-26-16: Design Guide For Lighting The Roadway In Work Zones
ANSI/IES DG-28-15: Guide For Selection, Installation, Operations And Maintenance Of Roadway Lighting Control Systems
IESNA LM-50-13: Photometric Measurement Of Roadway And Street Lighting Installations
IES LM-71-14: IES Approved Guide: Photometric Measurement Of Tunnel Lighting Installations
IESNA TM-10-00: Addressing Obtrusive Light (Urban Sky Glow And Light Trespass) In Conjunction With Roadway Lighting
ANSI/IES RP-8-21: Lighting Roadway And Parking Facilities is available on the ANSI Webstore.