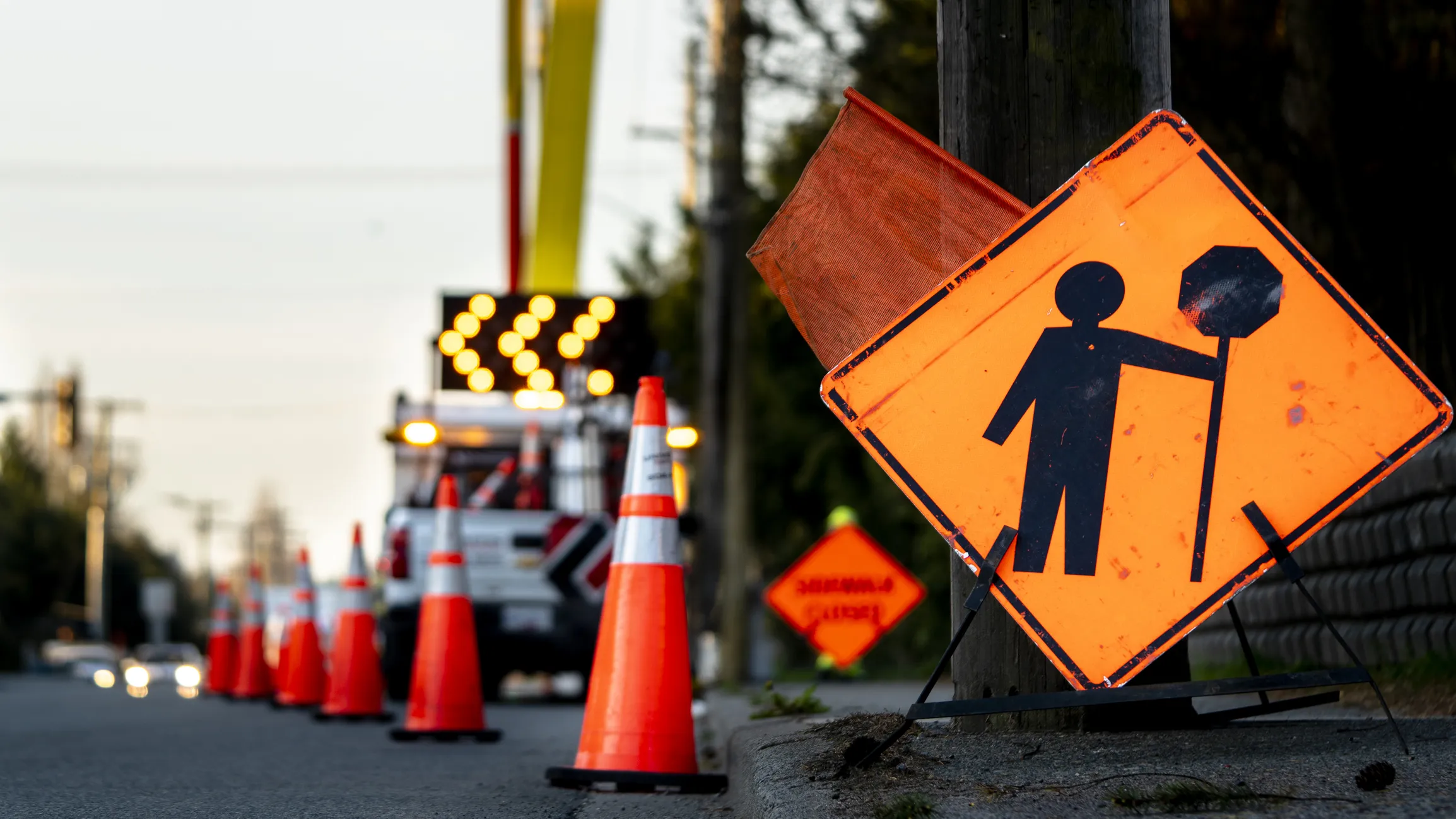 American National Standard ANSI/ASSP A10.47-2021: Work Zone Safety For Roadway Construction covers workers engaged in construction, utility work, maintenance, or repair activities on any area of a roadway.
Roadwork Safety Is a Serious Matter
Any journey can face obstructions. Travelers are so mindful of this that they prepare for these delays as if they are inevitable. While traversing roads, drivers might view work zones as hindrances to their trips, as easing bumper-to-bumper at reduced speeds through a tight space while flanked by signs, workers, and construction machinery can inspire frustration. However, continual work is needed to maintain roads, and proper work zone procedures keep both motorists and workers safe.
To overlook highway work zone safety is to disregard prominent hazards. From 1982 through 2017, 27,037 people lost their lives in work zone crashes. Drivers and passengers account for the majority of those killed in work zone accidents. Leading among the causes of these fatalities are rear-end collisions, commercial motor vehicles, and speeding.
According to the US Department of Transportation (DOT) Federal Highway Administration (FHWA):
"In the US, one work zone fatality occurs for every 4 billion vehicle-miles of travel and for every $112 million worth of roadway construction expenditures."
Federal Requirements for Road Work Zone Safety
Since 1971, the FHWA has administered the Manual on Uniform Traffic Control Devices for Streets and Highways, or MUTCD. This document, which is published under 23 Code of Federal Regulations (CFR), Part 655, Subpart F and adopted by states, maintains traffic control devices on all public streets, highways, bikeways, and private roads open to public travel in the US. This document compiles national standards for a multitude of traffic control devices, including road markings, highway signs, and traffic signals. This includes requirements pertinent to work zones.
Employers making use of the ANSI/ASSP A10.47-2021 American National Standard need to comply with the latest edition of the MUTCD, as well as other applicable federal requirements.
About ANSI/ASSP A10.47-2021
By setting minimum requirements for the construction and maintenance of roadways, ANSI/ASSP A10.47-2021 sets three objectives:
Prevent worker injuries and illnesses resulting from working in roadway work zones.
Establish safe work practices in roadway work zones.
Prevent vehicular crashes in roadway work zones.
To meet these objectives, ANSI/ASSP A10.47-2021 details a range of interests, encompassing considerations like pre-job planning, a transportation management plan, positive protection procedures, speed reductions, set up and removal of traffic control devices, flagger safety, and construction vehicle warning lights.
The standard even touches upon requirements for responding to frustrated motorists.
ANSI/ASSP A10.47-2021: Work Zone Safety For Roadway Construction is available on the ANSI Webstore. It and the many other parts of the ANSI/ASSP A10 series are available together at a 20% discount as the ANSI/ASSE A10 Construction Package.