Whether cleaning out gutters, changing lights, or hanging seasonal decorations, picking the right ladder should not be done lightly. There are a number of considerations. Among the top concerns are height and reach, weight capacity, and, of course, ladder type. Some jobs only require a small step ladder. Others call for a larger extension ladder or telescopic ladder.
Considerations When Choosing a Ladder
David Beauchamp, a senior risk management consultant for Builders Mutual, recommends:
"You must choose a ladder that is suitable for the job. For example, using an undersized step ladder may tempt the worker to stand on the top cap or the top step, which are both unsafe practices. It's better to have more ladder than you need than not enough. Also, check to make sure that your ladder is rated to support the intended load, which is not just the worker's weight, but would also include the weight of any tools and gear on their person."
Selecting the Correct Ladder Length
Choosing the right ladder length is a bit trickier than determining the required vertical height. Simply put, it is unsafe to use a ladder that is either too short or too long whatever the project. Take into account several factors when determining proper ladder length, most notably: the ladder's angle, the highest standing point on the ladder, and extension above the roofline.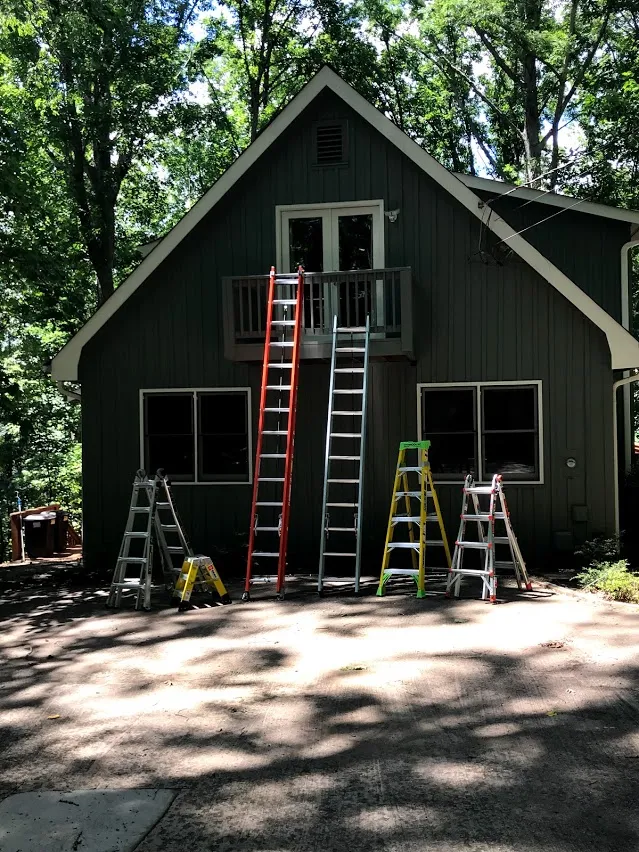 Some like to take the guesswork out completely and go with what's known as a multi-function ladder, which boasts an extension ladder design and lockable hinge joints that provide for a number of functions. These functions range from a step ladder with even or uneven side lengths to a support for scaffolding like a sawhorse.
Consider Appearance and Practicality in Ladder Choice
As with anything, choosing a ladder often involves an element of personal comfort like choosing a sofa or a mattress or even a saddle. Then there are the more practical concerns. When picking a ladder, don't discount the importance of how easy it will be to store and transport it. Some even want a ladder that looks good. Gone are the days of the old wood ladders that would quickly tarnish and even splinter in spots. Modern ladders typically come in fiberglass or aluminum. In addition, they usually have rungs that are serrated not for appearance, but for slip resistance.
Is a Ladder the Best Option?
Finally, consider that you might not need a ladder at all. Beauchamp explains:
"A ladder may not always be the best option. In some cases, a scaffold or scissor lift may be preferable, particularly with tasks that require lateral movement or tasks that require the worker to support tools and materials with their hands."
For more information about what to consider when choosing the right ladder for the task at hand, visit laddersafetymonth.com and laddersafetytraining.org.
National Ladder Safety Month
In addition to promoting safe ladder use in your home and workplace, get involved in National Ladder Safety Month this March – the nationwide initiative focused on increasing awareness of safe ladder use and decreasing ladder accidents. Take advantage of free resources to build awareness and share with your friends or coworkers, including: ladder safety training videos, safety posters, infographics and short videos. Join the online conversation by using #LadderSafetyMonth on your favorite social platforms.
Contributing Author: American Ladder Institute (ALI)
ALI is the American National Standards Institute (ANSI) approved developer of ladder safety Standards. Standards are technical specifications, developed and tested by subject experts, which prescribe rules governing the safety construction, design, testing, care, and use of various types of ladders.