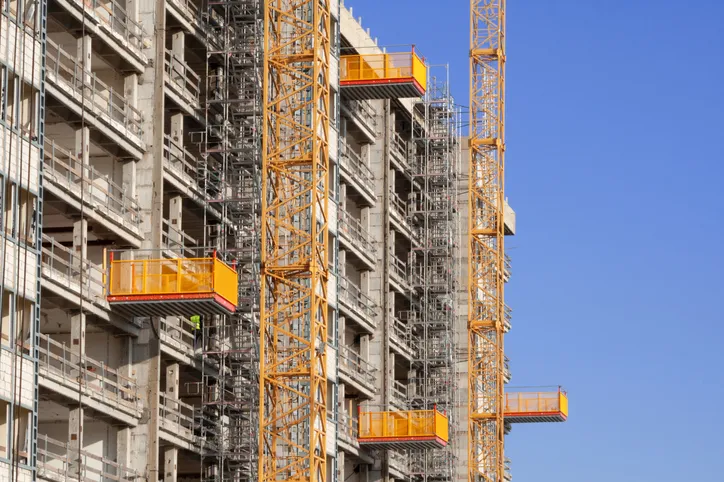 For those of us who are not privy to its secrets, there exist many mysteries surrounding construction sites. For one: how exactly do you transport such heavy equipment, materials, and even personnel up to their eventual positions in the sky? Many systems and devices (guided by standards and personnel competencies) are in play here, including material hoists, as specified in ANSI/ASSP A10.5-2020, which move material up and down a structure.
While the general concept of lowering and raising material at a work site is relatively simple, a multitude of nuances need to be considered with material hoists. The hoist mast design, prohibition of riders, unloading procedures, slip-resistant floors, load rating, inspection procedures, and responsibilities of the owner are essential, and the ANSI/ASSP A10.5-2020 American National Standard addresses these and other interests.
Specifically, this standard sets forth minimum requirements intended to provide the safety of life, limb, and property of those engaged in occupations requiring the use of material hoists, and, in aiding comprehension of these requirements, the document offers support with detailed figures on material hoists with counterweights, the landing restriction area, and many other pertinent factors. ANSI/ASSP A10.5-2020 applies to material hoists used during not only construction but also alteration, maintenance, or demolition.
ANSI/ASSP A10.5-2020 revises the previous edition of the same standard for material hoists, ANSI/ASSE A10.5-2013. Due to the American Society of Safety Engineers (ASSE) changing its name to the American Society of Safety Professionals (ASSP) in 2018, the current standard (like other new ASSP standards) bears ASSP in its new designation.
ANSI/ASSP A10.5-2020: Safety Requirements For Material Hoists is available on the ANSI Webstore. For further compliance in the construction industry, some may benefit from acquiring the ANSI/ASSE A10 Construction Package, which bundles parts 1 to 49 of the ANSI/ASSP 10 series together at a 20% discount.