Today, whether by ship, truck, or train, shipping containers share many traits. The reason for this: they're the same standard. These intermodal shipping containers (series 1 freight containers) are shaped in part by ISO 668:2020, which establishes their classification, dimensions, and ratings.
Historical Troubles with Shipping
For centuries and even millennia, ship travel dominated the world.
However, when transporting cargo by ship, the loading and unloading process was time-consuming and far from easy. Conducting what is known as "break-bulk" shipping, workers loaded and unloaded individual goods in barrels, sacks, and wooden crates on and off their ship. This process was so time-intensive that, on certain voyages, a ship could even spend more time in port than at sea, exacerbating the potential for accident, loss, and theft.
By the mid-Twentieth Century, goods were transported extensively not only by sea but also by rail and road to support the ever-growing population (it approached 3 billion people at the time) and rising globalization of the economy. While shipping containers did exist in some form, few efforts had been made to support the interconnectivity of all shipping practices.
Invention of Intermodal Shipping Containers
This is where Malcom P. McLean makes his mark in history. In 1955, McLean, a trucking entrepreneur from North Carolina, purchased a steamship company with the intention of transporting entire truck trailers with their cargo inside. He later realized that it would be simpler to use a container that could be lifted directly from a vehicle and into a ship.
With this, he birthed the concept of intermodalism—allowing for the same cargo, within the same container, to be transported seamlessly between trains, trucks, and ships.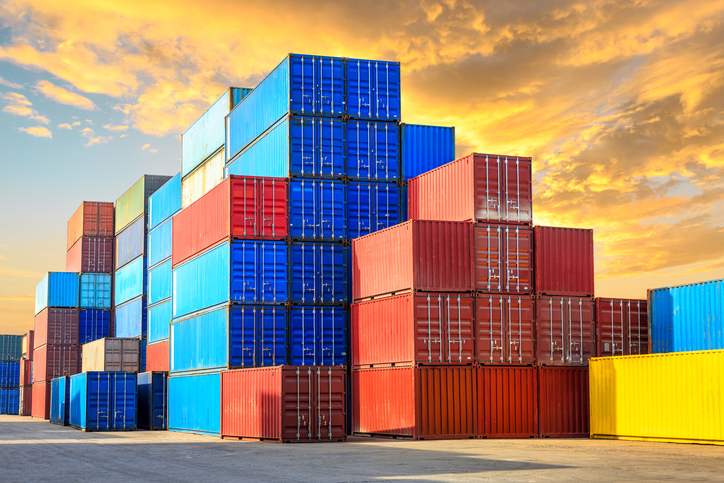 The first container ship, Malcom McLean's converted World War II tanker, the Ideal X, made its maiden voyage in 1956. In the decade that followed, more companies turned to this approach, enhancing the need for, of course, standardization in this sector.
In the early 60s, ISO set standard sizes for these containers, designating them as series 1 freight containers. In 1968, ISO 668 saw its first publication.
What is ISO 668?
ISO 668:2020 is the current edition of the international standard. It revises the sixth edition of the same document from 2013 and incorporates past amendments ISO 668:2013/Amd1:2016 and ISO 668:2013/Amd2:2016 into its content.
ISO 668:2020 classifies series 1 freight containers based on external dimensions, and it further specifies the associated ratings and, where appropriate, the minimum internal and door opening dimensions for certain types of containers.
ISO 668:2020 also summarizes the external and some of the internal dimensions of series 1 freight containers. However, the dimensions for each type of container are defined in the other standard that sets freight containers, ISO 1496. As the authoritative document for internal container dimensions, this standard is broken into several parts, each of which cover a different container type.
Anyone who needs ISO 668:2020, all parts of ISO 1496, and various other ISO documents that pertain to freight containers can acquire ISO Collection – Freight Containers.
ISO 668:2020 – Series 1 Freight Containers – Classification, Dimensions And Ratings is available on the ANSI Webstore.