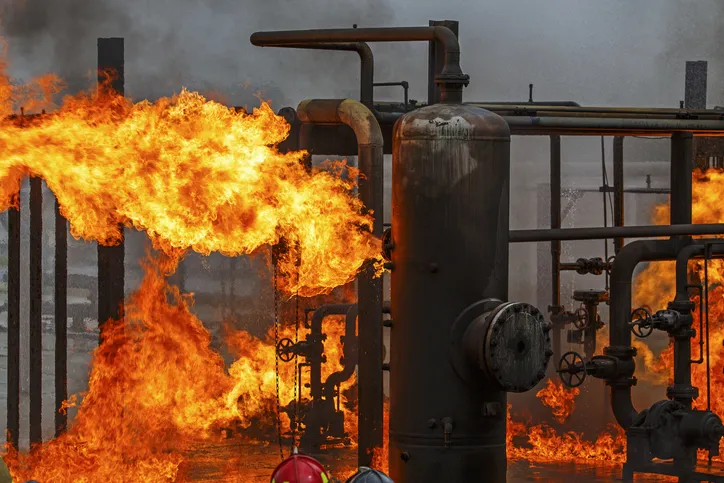 The current standard on explosion prevention systems, NFPA 69-2019, provides effective preventative and control methods for enclosures where there is potential for an explosion to occur.
According to the Bureau of Alcohol, Tobacco, Firearms and Explosives, there were 4,085 explosions in the United States between 2013 and 2017, killing 156 people and injuring 801. Some explosions were detonated on purpose, whether for large-scale civil engineering projects or mining purposes. However, 26 percent of these explosions have been determined as accidental. These accidental explosions are the ones that can cause the most damage. Therefore, methods to control explosions and minimize damages can potentially save lives.
NFPA 69-2019 covers guidelines for installing systems to prevent explosions in enclosures that contain flammable concentrations of flammable gases, vapors, mists, dusts, or hybrid mixtures. It is designed to provide basic information for design engineers, operating personnel, and authorities having jurisdiction (AHJs).
There are many methods of prevention addressed in NFPA 69-2019, including control of oxidant concentration, explosion suppression, and active and passive isolation. Some methods prevent an explosion from ever occurring. Yet, if they are not applicable, there are ways provided by the standard to minimize the probability of threatening explosions and allow for safer operations.
The NFPA 69 standard dates back over 50 years, and it has been revised many times since its first publication. Some of the changes made to the NFPA 69-2019 document that differ it from the previous, 2014, version include:
The adjustment for limiting oxidant concentration (LOC) values has been revised
Guidelines have been added to consider the concentration variation with time and location within the protected enclosure when using the combustible concentration reduction method
A new section on safety instrumented systems (SIS) has been added with new information for prevention systems installed in the future years
New annex material has been added to provide example calculations on how to estimate the LOC for a fuel or fuel mixture
NFPA 69-2019: Standard On Explosion Prevention Systems, 2019 Edition is available on the ANSI Webstore.