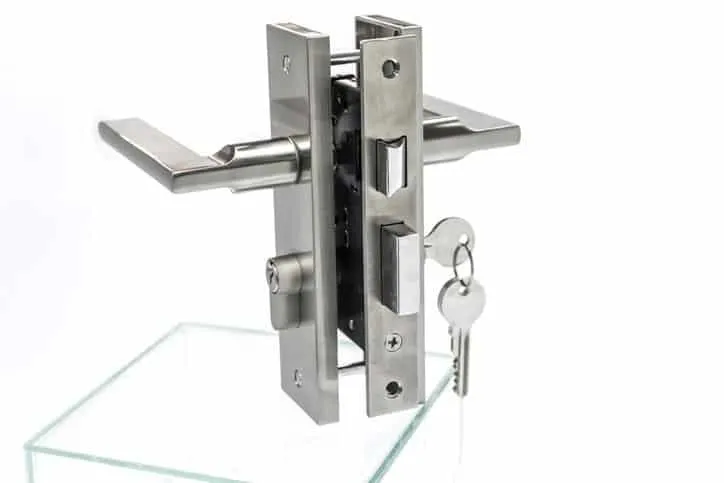 Locks are a universal means of providing security to whatever is beyond the door to which they are affixed. Mortise locks support an especially secure system, as they fit into a mortised cavity prepared in the edge of a door. The lock or latch installed into this pocket contains bolts operated by knobs, levers, turns, thumb pieces, paddles or cylinders, engaging the mortise lock or latch through holes prepared in the faces of the door. It is ideal for any mortise lock to perform reliably, with a level of safety and stability to which an inhabitant is entitled. ANSI/BHMA A156.13-2017 – Mortise Locks and Latches establishes operational, cycle, strength, material evaluation, security, and finish tests for mortise lock performance performance, as well as dimensional criteria.
Specifically, ANSI/BHMA A156.13-2017 deals with series 1000 mortise locks and latches. Functions of locks and latches in this series include, but are not limited to, closet latch, communicating lock, entry lock, classroom lock, holdback lock, storeroom lock, apartment lock, dorm room lock, and hotel guest lock. The descriptions for each of these, as well as the rest of the series 1000 mortise locks, are specified in the standard.
The inherent expectation of locks to provide safety and stability is reflected in the two main classification of grades that are covered in the standard. Manufacturers should indicate separately, under the guidance of ANSI/BHMA A156.13-2017, both an Operational Grade and a Security Grade level of mortise locks and latches. The minimum acceptable grade level for both of these classifications is a grade 3, and assemblies, in the case of cylinders and input devices for locks, take the grade level of the lowest graded component.
Operational Grades are expected to meet the guidelines of Sections 8, 9, 10, 11 and 13. Security Grades should meet those of Section 12 of the standard. Other sections of the document address bolts, cylinders (which are also individually addressed by ANSI/BHMA A156.5-2020 – Cylinders and input devices for locks), door and frame preparation, dimensional characteristics, and different test parameters.
Users of the ANSI/BHMA A156.13-2017 standard should note that local building codes might specify requirements that affect specifications of mortise locks. Some codes may impact the functions of locks used on fire doors and doors within a means of egress, but others are known to add specifications. For example, some communities require the use of exterior door locks having a dead bolt with a 1 inch (25.4 mm) projection for the purpose of providing greater security. For this reason, it is advised that users only adopt functions from ANSI/BHMA A156.13-2017 that are compatible with the requirements of local building codes.
It is also integral to understand that no lock can provide complete security by itself. Locks can be defeated or evaded, and they cannot substitute for caution, awareness of your environment, and common sense.
ANSI/BHMA A156.13-2017 was written and developed by the Builders Hardware Manufacturers Association (BHMA), an ANSI-accredited standards developing organization devoted to testing, dimensional specifications, and other considerations associated with the manufacturing of builder's hardware. BHMA standards are used by over 80% of all the manufacturers in its field in the United States, and they often serve as industry standards.
ANSI/BHMA A156.13-2017 – Mortise Locks and Latches is available on the ANSI Webstore.