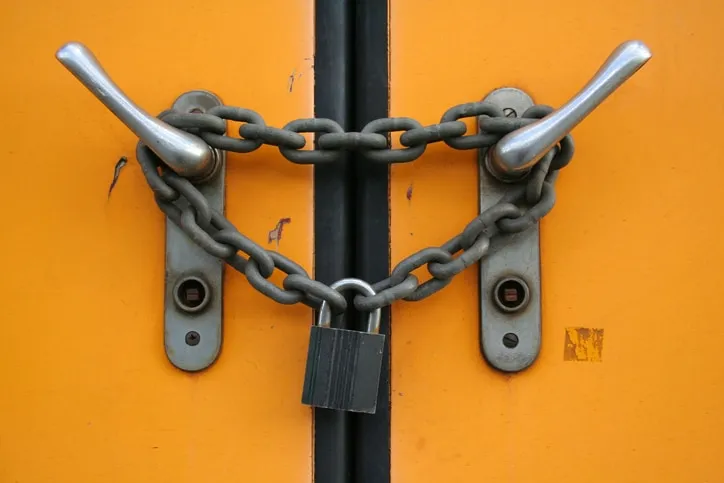 The same situation has unfolded countless times: locked egress doors trapping occupants in a building. A core component of the NFPA 101: Life Safety Code is free egress, which means occupants must be able to exit a building without the use of any keys, tools, special knowledge, or effort. Historical fires like the Triangle Shirtwaist Factory, which occurred in New York City on March 25, 1911 and killed 146 garment workers (many of whom were young immigrant women), tragically demonstrate how locked doors can often thwart safety. Just last month, we were reminded of this when a Guatemala youth shelter fire killed 40 teenage girls that were locked in a small room as a disciplinary measure.
According to the Life Safety Code, egress doors must require no more than one latch and/or lock releasing operation (residential dwelling units can have two operations, or three if existing) to be opened, and the releasing mechanism must be apparent under all lighting conditions (including the dark). Any irregularity found on an egress door should be corrected immediately.
NFPA 101 has only a few exceptions to the free egress rule. One such exemption applies to detention and correctional occupancies (e.g., prisons), which are sub-classified based on five "use conditions." Under certain use conditions, doors in these facilities may be locked contrary to the usual egress regulations. But, supplementary life safety measures must be taken in accordance with these uses. Other occupancies are allowed to have lockups in order to temporarily secure occupants. A holding cell in a police station is an example of a lockup in a business occupancy.
In the case of the youth shelter in Guatemala, which might have been classified as a dormitory, the Code permits lockups subject to additional protection requirements. The staff would have been required to undergo training and have the ability to efficiently release locks. Locked doors might have required detention-grade hardware, smoke alarms might have been needed to be present, and an automatic system for contacting emergency personnel might have been required, depending on the arrangement.
Additionally, egress doors in hospitals, nursing homes, and limited care facilities are permitted to be locked for safety purposes, based on patient clinical needs. For instance, the Code permits locked doors in a psychiatric or dementia care unit. In these properties, staff must be prepared to quickly unlock doors, and partake in training as part of the facility's emergency action plan
In addition, the 2009 edition of the Code introduced the allowance of locked egress doors in health care occupancies for "patient special needs." These provisions allow doors to be locked in newborn nurseries to prevent infant abductions. As noted with the previous scenarios, the Code requires that the locks can be quickly released in the event of an emergency, in addition to other life safety features, such as automatic unlocking upon activation of required automatic sprinkler and smoke detection systems.
Earlier this year, NFPA Journal® looked at locking doors in hospitals to protect patients and staff in the event of an active shooter incident. Hospital officials are wrestling with this issue and talking with NFPA and code enforcement officials.
The Code also reflects a number of special locking arrangements including delayed-egress locking systems, access-controlled egress door assemblies, and locking for elevator lobby exit access doors. In these particular assemblies, additional life safety features are required to accompany the special locking arrangements.
Ensuring that egress doors are not compromised should be a top priority for building owners, facility managers, and AHJs. It is important to remember that security does not take precedence over life safety; instead, the two must be balanced. Security can be effectively strengthened without comprising life safety in the event of a fire.
In response to the unfortunate prevalence of active shooter events in recent years, and to underscore the need for balancing safety and security, the 2018 edition of the Life Safety Code will address locked classroom doors in schools, in addition to door locking to prevent unwanted entry in other occupancies. The role of NFPA's Life Safety Code consensus-based technical committees is to continuously weigh modern-day security concerns with potential fire and life safety hazards that may have catastrophic implications.
Contributing Author: Gregory Harrington, Principal Engineer, National Fire Protection Association.

Gregory Harrington is a Principal Engineer at the National Fire Protection Association (NFPA).