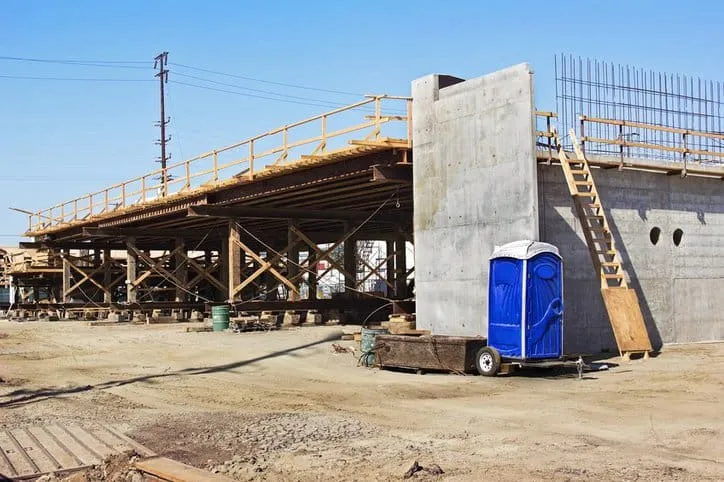 Needing to go to the bathroom is one of our most basic urgencies, but it, of course, is easily remedied by the prevalence of available restrooms connected to local water systems. And, according to OSHA's 29 CFR 1926.51, "lavatories shall be made available in all places of employment." While in most instances, this practically always goes without saying, in mobile and outdoor places of work, such as construction sites, having enough available toilets requires further guidance.
However, portable restrooms meet this need, and the OSHA 29 CFR 1926.51 standard further lists requirements for non-flushing toilets placed outside. Specifically, this regulation sets the minimum number of available lavatories depending on the amount of workers at the site. For example, when there are 20 or less workers, only one is required. When there are more than 20 workers, the manager is required to give his or her employees 1 toilet seat and 1 urinal per every 40 workers, but, when there are more than 200 employees, 1 toilet seat and 1 urinal per 50 workers is required.
Adherence to this OSHA standard is required in the United States, but voluntary consensus standards recommend more stringent guidelines. ANSI/PSAI Z4.3-2016 – Sanitation – Nonsewered Waste-Disposal Systems – Minimum Requirements calls for 1 toilet facility per every 10 employees. However, if the facilities are serviced more than once per week, the recommendations for necessary toilets change, and 1 toilet facility becomes suitable for 15 employees.
These standard restroom amounts are also not inclusive to the total number of employees, as there needs to be different lavatory facilities for male and female employees. So, in accordance with ANSI Z4.3 guidelines, there should be 1 toilet for every 10 males and 1 for every 10 females.
In addition, ANSI/PSAI Z4.3-2016 doesn't specify guidelines for the placement of portable toilet facilities, or even the particular type of facility that should be used. While many construction sites make use of the common plastic portable restrooms ("porta-potties"), the standard broadly allows for "mobile trailers or prefabricated, skid-mounted or otherwise portable structures", as long as they provide adequate internal space, have self-closing doors, and are designed with a finish that can be easily cleaned. In fact, if it is impractical to locate a portable toilet room, toilet facilities can actually be installed without a structure, as long as suitable privacy is provided.
Users of the ANSI/PSAI Z4.3-2016 standard should further note that, while it was originally intended primarily for construction sites, portable restroom facilities have become very common throughout the American scene, such as in parks and playgrounds. Because of their increased use, the later versions of this standard cover more-comprehensive guidelines on the facilities. Adherence to this document is highly important for securing the success of their cleanliness, regardless of the site or location.
ANSI/PSAI Z4.3-2016 – Sanitation – Nonsewered Waste-Disposal Systems – Minimum Requirements is available on the ANSI Webstore