When forklifts were first invented in the early Twentieth Century, they used basic hydraulic lifts for carrying weight loads that would be too difficult for a worker to carry by hand. This technology advanced when it became widespread after World War II, during a time when battery-powered forklifts were used to carry heavier loads to heights of over 50 feet with the use of a standardized pallet. This large-scale usage of forklifts incorporated greater variation in workloads and more personnel, which led to greater workplace hazards and an increased interest in keeping workers safe from them. Despite various strict guidelines for safety today, there is still an occurrence of forklift-related injuries and fatalities every year. These can easily be limited through adherence to worker training, legislation, and standardized practices.
According to OSHA, forklifts domestically cause 85 fatalities every year. However, this does not include all of the accidents associated with forklifts, which are significantly higher. Annually, 34,900 workers are injured, with another 61,800 the victims of incidents classified as non-serious. The Industrial Truck Association estimates that there are about 855,900 forklifts actively used in the United States, making 11 percent of all forklifts nationwide engaging in some kind of accident each year.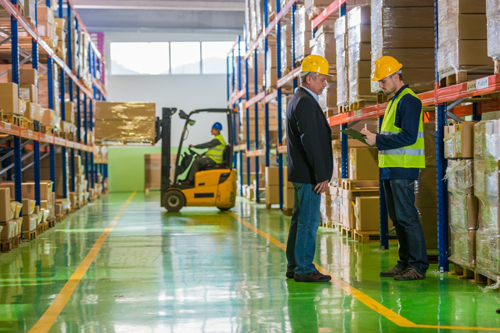 Causes for forklift injuries and fatalities include falling from forklifts, victims being crushed by forklifts, workers being struck by forklifts, and forklift overturns. Of these, forklift overturns is the most common, accounting for 42 percent of total forklift-related deaths. Overturns occur due to the proper imbalance of the forklift's center of gravity. The center of gravity without any mechanical load is in the center of the forklift, but it is closer to the front of the machine when it is carrying a load. To compensate for this change, the forklift has a heavy counterweight on its rear tires, or it raises the operator with the forks. The shift in the center of gravity makes it difficult to turn or stop quickly, and if it is operated in a manner similar to an automobile, it will fall over. This can toss the operator out of the seat of the forklift, just before being crushed by the overloaded tipping machine.
All of these primary causes for accidents and fatalities can be easily reduced through proper training of personnel. OSHA advises this but also acknowledges that it would be impossible to eliminate all accidents. It is also essential that workers abide to the skills and knowledge taught during their training, which is currently an issue. For example, during most overturns, the worker can remain safe by simply staying in the forklift seat as the machine falls onto its side. Despite this, many deaths occur from the workers not wearing seatbelts while operating forklifts and falling out to their deaths when a turnover occurs.
There is also a variety of standards that assure the safety of workers and the efficiency of forklifts. These include:
ANSI/ITSDF B56.14-2020 – Safety Standard for Vehicle Mounted Forklift Trucks
ANSI/ITSDFB56.6-2021 – Safety Standard for Rough Terrain Forklift Trucks
ANSI/ITSDF B56.11.4-2018 – Hook-Type Forks and Fork Carriers for Powered Industrial Forklift Trucks
ASTMD5331-03(2016) – Standard Test Method for Evaluation of Mechanical Handling of Unitized Loads Secured with Stretch Wrap Films