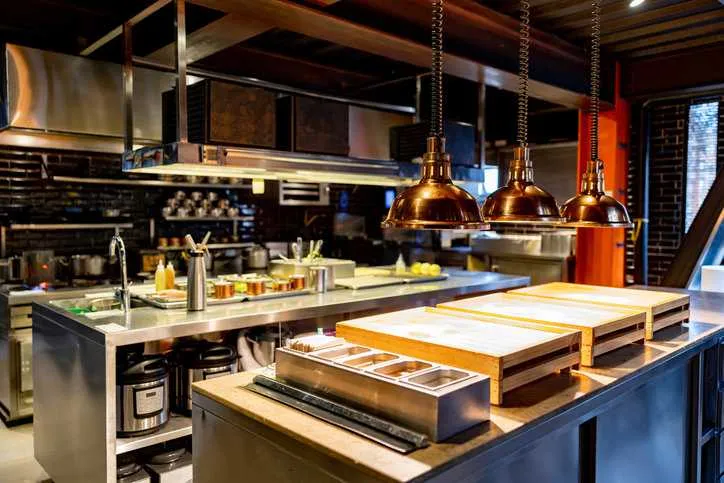 An American National Standard, NSF/ANSI 51-2023, doesn't deal with what's in your food—it focuses on what's in the equipment used to make your food.
Demand for Commercial Food Equipment
Commercial food equipment adds much-needed efficiency to cooking operations. Due to mass urbanization and shifts in lifestyle, restaurants and hotels have become ever more abundant, and, in response, the demand for food equipment is on the rise.
Furthermore, the past few years have seen major growth not only in people dining out but ordering in. Since 2017, the food delivery market has tripled, currently being valued at over $150 billion. The COVID-19 pandemic, particularly during its onset, forced many to isolate, work from home, and practice social distancing, which accelerated this growth.
In meeting this need, manufacturers need to consider not only the reliability of equipment like broilers and beverage dispensers, but also sanitation factors that may detriment taste or even endanger public health.
Federal Requirements for Commercial Food Equipment
One of several federal requirements may need to be complied with while designing commercial food equipment. Food zone materials are expected to be manufactured from or composed of substances that are recognized or sanctioned as safe for their intended use under the definitions found in FD&C Act, Section 201(s) [21 U.S.C. 321 (s)], or they can demonstrate safety for the equipment's intended use under the FD&C Act, Section 409(h)(1) or Section 409(h)(6).
About NSF/ANSI 51-2023
NSF/ANSI 51-2023: Food Equipment Materials sets minimum public health and sanitation requirements for materials used in the construction of commercial food equipment. It is applicable to the materials and finishes used for broilers, beverage dispensers, cutting boards, stock pots, etc. It is also applicable to components like tubing, sealants, gaskets, valves, and other items intended for an assortment of food equipment applications.
Complementing these requirements, NSF/ANSI 51-2023, an American National Standard, establishes limitations on specific types of materials, including stainless steel, aluminum alloys, wrought alloys casting alloys, copper and copper alloys, glass and glass-like materials, and wood. It also establishes cleanability, corrosion resistance, impact resistance, abrasion resistance, heat resistance, and coating adhesion ability specifications and testing methods for food equipment construction materials.
Overall, the guidelines established by NSF/ANSI 51-2023 are intended to assure that a material is not formulated in a manner that may impart deleterious substances to food in its intended end use application in commercial food equipment.
Changes to NSF/ANSI 51-2023
NSF/ANSI 51-2023 revises and supersedes the 2021 edition of the same American National Standard. It underwent one notable change to keep its information current: it affirmed revised and changed language regarding verification of lead content in Section 4, "Material formulation."
NSF/ANSI 51-2023: Food Equipment Materials is available on the ANSI Webstore. It is also part of the following standards packages:
NSF Food Equipment Complete Set
Changes to NSF/ANSI 51-2021
The previous edition of this standard, NSF/ANSI 51-2021, revised the 2019 edition. If you need to know the changes made to the 2021 revision, we've included them below:
Clarifications were added to Section 4.2.4.4 for the thickness, formulation, and temper of the glass used in certain end-use applications in relation to the glass representing compliance to applicable impact criteria.
Language regarding the use of wood was modified in Section 4.2.5.
Normative reference language was updated.
Language was added to Section 4.2.4 to reference NSF/ANSI 2.