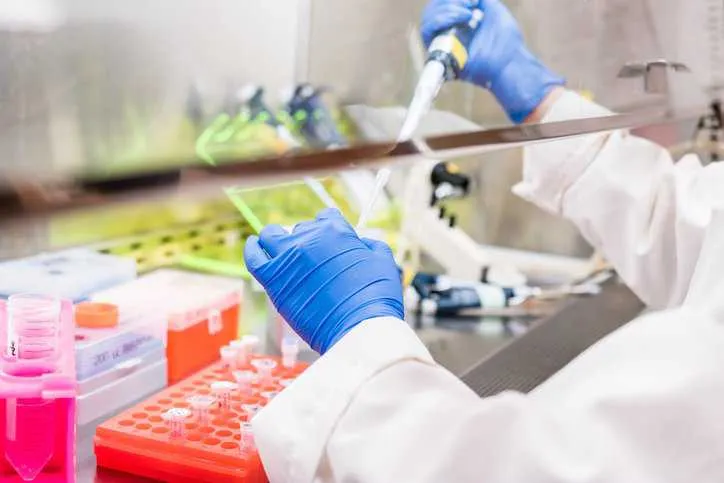 Biosafety Cabinetry and NSF/ANSI 49
Biosafety cabinets (BSCs) come in three classes. The higher the class, the greater the protection afforded to personnel, products, and the surrounding environment from various hazards that can emerge while working with pathogenic agents. Biosafety cabinetry rated Class I provides personnel and environmental protection but no product protection. Class III biosafety cabinets are designed for work with highly infectious microbiological agents and similar hazardous operations, so they provide maximum protection for the environment and worker.
Class II biosafety cabinets are somewhere in-between—specifically, they contain partial barrier systems that rely on the movement of air to provide personnel, environmental, and product protection. These are covered in NSF/ANSI 49-2022: Biosafety Cabinetry – Design, Construction, Performance, And Field Certification.
NSF/ANSI 49-2022 BSC Tests and Requirements
NSF/ANSI 49-2022, an American National Standard, applies to Class II, or laminar flow, biosafety cabinets designed to minimize inherent hazards in work with agents assigned to biosafety levels 1, 2, 3, or 4. It outlines basic guidelines for their design, construction, and performance. BSCs designed and tested under NSF/ANSI 49-2022 guidance are assured reliable operation, durability and structural stability, cleanability, limitations on noise level, illumination, vibration, and motor/blower performance.
Changes to NSF/ANSI 49-2022
NSF/ANSI 49-2022 revises the 2020 edition of the same standard developed by the NSF Joint Committee on Biosafety Cabinetry, and it has undergone several changes that distinguish it from the previous version. These changes are outlined in the foreword of the document, including:
In N-1.13.4.3, "Power failure stability," language was added to note that cabinet blower shall come back on automatically when power is restored, except in the cases of all Type B or those C1 cabinets connected to an exhaust system in which sensors determine when there is insufficient exhaust flow.
N-5.1.3, "Tests related to specific industry use," was added for field tests related to specific industry use of BSCs.
The noise level test methods were expanded.
Language was added to note that Type A1 BSCs are not to be used with volatile chemicals.
The feet per minute tolerance for the airflow velocity testing was adjusted.
Some language was updated regarding the various uses of the term "dedicated."
Language was modified regarding the resistance to tipping, distortion and deflection of work surface
under load tests.
N-1.10.4.2, formerly "View screen retention test," was renamed "Sash retention test."
Definitions for "Class II" and "decontamination" were updated.
A footnote was added regarding HVAC.
NSF/ANSI 49-2022: Biosafety Cabinetry – Design, Construction, Performance, And Field Certification is available on the ANSI Webstore. You can also download NSF/ANSI 49-2022 Annex I-1, "Biosafety Cabinetry: Design, Construction, Performance, And Field Certification."
Changes to Past Editions of NSF/ANSI 49
The standard for Class II biosafety cabinetry is revised periodically, and each revision features numerous significant updates. If you'd like to know more about the specific changes made to past revisions, we've listed some below:
Changes to NSF/ANSI 49-2020
The terms "total work area" and "usable work area," which had previously been added to the standard, were thoroughly used in the document's guidelines.
The center test provisions were expanded to mention that a visible aerosol or mist test may be performed, which allows for unnecessary control plates to be eliminated.
The use of the term "smoke" was updated throughout the standard, being replaced by visible aerosol or mist in many tests.
Clarifications were added for some definitions.
The language regarding air velocity measurements was adjusted in numerous sections of the standard.
The maximum limit for the warm up period after starting the cabinet blowers from a dead stop was removed.
Language was adjusted for the placement of biological test control plates.
Section 6.14, "Electrical safety," was expanded.
Changes to NSF/ANSI 49-2019
New and updated language was added concerning the use of the Secondary method for measuring airflow.
Language was revised regarding canopy field testing, the Certification Label, the data plate, the sash seal smoke test, the range of measurement for vibration frequency, the use of the term "NOTE," accuracy requirements for the manometer used for the pressure decay and motor blower performance tests, filter porosity for filtering impinger water, and confirmation requirements for the Cross Center test.
New language was added for the terms "percent recirculation" and "work area."
The newly-proposed term "plenum" was added.
Inconsistencies of incubation times and temperatures during the various biological tests are now addressed.
As with other NSF International Standard revisions in 2019, the annexes in this document were changed from alpha characters to numeric and preceded by "Normative" or "Informative." For example, "Annex A" in NSF/ANSI 49-2018 is "Normative Annex 1 (N-1)" in NSF/ANSI 49-2019.
Changes to NSF/ANSI 49-2018
In Annex A (Normative Annex 1 in the current edition), the standard recognized that factors outside of the control of the manufacturer can lead to failure, and it included new language regarding confirmation tests. In addition, there were some other revisions to the section on the cross contamination test procedure.
Information on airflow alarm systems was added, including guidelines for testing Type A1, A2, or C1 airflow alarm systems and language regarding integral airflow alarm systems to meet the criteria of the standard in Annex E (Informative Annex 1 in the current edition) figures.
New section in Annex E (Informative Annex 1 in the current standard), "Risk assessment of BSCs exhaust system pressurization in the event of an exhaust system failure," was added. This section reviews the various BSC types' specific reaction to an exhaust system failure, the amount of positive pressure, the duration of operation of the BSC in the alarm state, and factors that should be considered in preforming a risk assessment of the exhaust systems.
The language referring to certification was revised throughout the standard.
New language was added to section 1.3, noting that major modifications to the software of biosafety cabinets can affect the safe use of the cabinet. These effects include, for example, the ability to see, hear, and understand alarms.
Provisions for the optional use of digital plates were added to Section 5.
The minimum inflow average inflow velocity per 1 foot of work area width of Type C1 cabinet volume rate was added, alongside existing data for Type A2, B1, and B2 cabinets from the previous edition of the standard.
The use of "and/or" was updated in use for this version of the standard.
The section on electrical wiring and switches was revised, noting that cabinet wiring diagrams should be accessible by downloadable barcode, permanent label, or sealed plastic pouch attached to a cabinet panel or surface outside of air plenums systems.