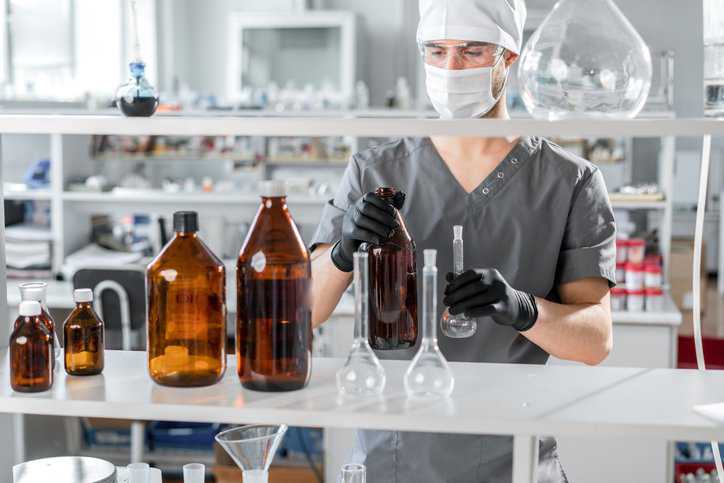 Reagent bottles are most commonly used to store chemical reagents, including acid and alkali solvents that can be safely stored due to anti-corrosion capabilities. These bottles are topped with special caps or stoppers like screw-necks, which provide a secure and tight seal to prevent spills and leaks. ISO 4796-1:2016—Laboratory Glassware – Bottles – Part 1: Screw-Neck Bottles provides specifications of screw-neck bottles for general laboratory use.
What Is ISO 4796?
ISO 4796 consists of the following parts, under the general title Laboratory Glassware — Bottles:
ISO 4796-1:2016—Laboratory Glassware – Bottles – Part 1: Screw-Neck Bottles
ISO 4796-2:2000—Laboratory Glassware – Bottles – Part 3: Conical Neck Bottles
ISO 4796-3:2000—Laboratory Glassware – Bottles – Part 3: Aspirator Bottles
ISO 4796-1:2016 specifies a series of screw-neck bottles suitable for the storage of fluid liquid, solid chemicals, and reagents in general laboratory use. These bottles have nominal volumes ranging from 25 mL to 20,000 mL (1 L to 20 L) and are suitable for the preparation and storage of microbiological growth media. The nominal capacity of a bottle indicates the quantity of liquid, which a bottle of average wall thickness should contain when the bottle is filled to the turn of the shoulder.
What Is the Use of Screw Cap Bottle in A Laboratory?
The screw cap is a type of closure that is used to seal the bottle. It is typically made of plastic, polypropylene, or borosilicate glass, which is among the most common type of glass found in laboratories and is used in beakers, vials, test tubes, flasks etc. This material has a low expansion that makes it suitable for a wide variety of laboratory applications.
Moreover, the screw cap bottle is equipped with a screw thread used to seal the bottle. Screw caps provide a tight seal, which is ideal for storing chemicals, reagents, and other liquids that are sensitive to air and moisture. Screw-neck bottles also make it easy to open and close the bottle multiple times.
Types of Laboratory Bottles
Laboratory bottles are chemically-resistant containers used for holding and dispensing fluids. They are used in chemical storage, labware cleaning, and other laboratory applications. There are over 3000 containers and closures available and a wide variety of shapes, materials, sizes, and cap types to meet a range of needs. Here are common types of laboratory bottles by shape:
Circular
Square
Wide neck
Narrow neck
Sample
Medical
Weighing
Squeeze
Dropper
Wash
Narrow-Mouth
These multi-functional containers are suited for a vast range of scientific functions: media and reagent preparation, media sterilization, liquid handling and dispensing, filtration, shipping and transport, sample collection, sterile media storage, sample storage, frozen storage, long-term archival storage, tissue culturing, microbial culturing, heating and cooling samples, preparation of bulk intermediates, and shipping of APIs (active pharmaceutical ingredients). In sum, all laboratory equipment—ranging from beakers, petri dishes, vials, cylinders, and more— has a unique purpose, which is why it is important to understand the qualities of chemical substances prior to use and the scientific function.
ISO 4796-1:2016—Laboratory Glassware – Bottles – Part 1: Screw-Neck Bottles is available on the ANSI Webstore.