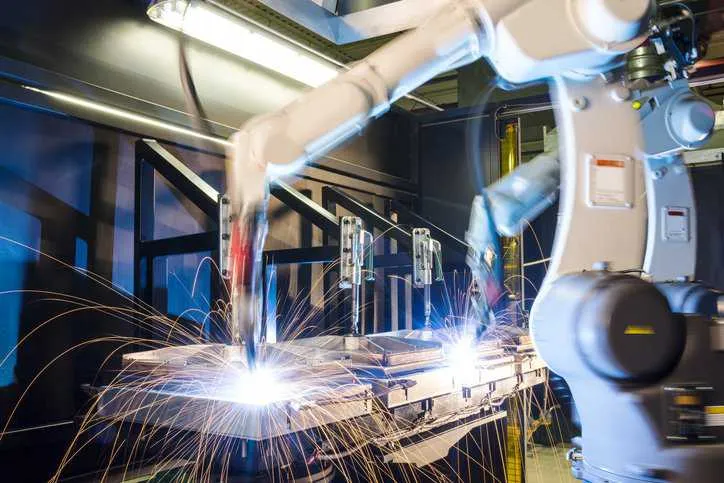 A factory recently replaced 90% of its human workforce with machines, which lead to a 250% increase in productivity and an 80% drop in defects. Further, in manufacturing, automation can increase production efficiency by 30%. This is all to say that machines help improve production efficiency in the workplace. With automation, however, there comes more risks to workplace safety as the moving parts, sharp edges, and hot surfaces of machines can cause serious workplace injuries from crushed fingers or hands, amputations, burns, or blindness. Any machine part, function, or process that might cause injury should be safeguarded. ISO 13849-1:2023—Safety Of Machinery – Safety-Related Parts Of Control Systems – Part 1: General Principles For Design provides requirements and guidance for safety related parts of control systems that perform safety functions.
ISO 13849-1:2023 specifies a methodology and provides related requirements, recommendations, and guidance for the design and integration of safety related parts of control systems (SRP/CS) that perform safety functions, including the design of software. This standard applies to SRP/CS for high demand and continuous modes of operation including their subsystems, regardless of the type of technology and energy (e.g. electrical, hydraulic, pneumatic, and mechanical). It is intended for standardization bodies elaborating type-C standards, as defined in ISO 12100:2010, which is used for risk assessment of the machine. Machinery covered by ISO 13849-1:2023 can range from simple (e.g. small kitchen machines, or automatic doors and gates) to complex (e.g. packaging machines, printing machines, presses and integrated machinery into a system).
ISO 13849-1:2023 is relevant for the SRP/CS safety functions, such as mechanical measures like guarding or interlocking functions, that are used to address risks for cases when an ISO 12100:2010 risk assessment has determined that a risk reduction measure is needed that relies on a safety function (e.g. interlocking guard). In those cases, the safety-related control system performs a safety function. This standard is intended to be used to design and evaluate the SRP/CS. Only the part of the control system that is safety-related falls under the scope of this standard. ISO 13849-1:2023 is particularly useful for machine manufacturers and health and safety bodies.
This standard does not apply to low demand mode of operation, specify the safety functions or required performance levels that are to be used in particular applications, nor provide specific measures for security aspects.
Safety-Related Part of a Control System
ISO 13849-1:2023 defines a 'safety-related part of a control system (SRP/CS)' as a part of a control system that performs a safety function, starting from a safety-related input(s) to generating a safety-related output(s). Safety functions, for instance, may involve the ensuring that the rotor can not start until the guard is closed, opening the guard will cause the rotor to stop, or closing the guard does not restart the machine. The standard further specifies that the safety-related parts of a control system start at the point where the safety-related inputs are initiated (e.g., the actuating cam and the roller of the position switch) and end at the output of the power control elements (e.g., the main contacts of a contactor).
Simply put, the SRP/CS is used to describe the part of a control system that responds to safety-related input signals and generates safety-related output signals. It overall prevents a hazardous condition from occurring via reducing the risk presented by the machine to an acceptable level that is determined by the risk assessment. From the risk assessment, ISO 13849-1:2023 details that the designer should decide the contribution to the risk reduction provided by each relevant safety function carried out by the SRP/CS. This contribution covers the risk reduced by the application of each particular safety function; it does not cover the overall risk of machinery under control. For example, a contribution to risk reduction could include a safety-related stop function on a press initiated by using an electro-sensitive protective device or the door-locking safety function of a washing machine.
What Is the Importance of Machine Guard in Work Safety?
Each piece of machinery has its own unique hazards. Machines can cause a variety of injuries ranging from minor abrasions, burns, cuts, fractures, lacerations, blindness, crushed fingers or hands, or amputation. Machine guards are a worker's first line of defense against injuries caused by machine operation; consequently, safeguards in machinery are critical for protecting operators and other employees. Each machine should have effective safeguards to protect workers in the immediate work area from hazards created by ingoing nip points, rotating parts, sparks and flying debris. Any machine part, function, or process that may cause injury must be safeguarded since machine guarding decreases the likelihood that an accident will occur from mechanical failure, electrical failure, poor design, and/or human error (80-90% of serious injuries are caused by human error).
ISO 13849-1:2023—Safety Of Machinery – Safety-Related Parts Of Control Systems – Part 1: General Principles For Design is available on the ANSI Webstore.
The standard is also available in these packages: