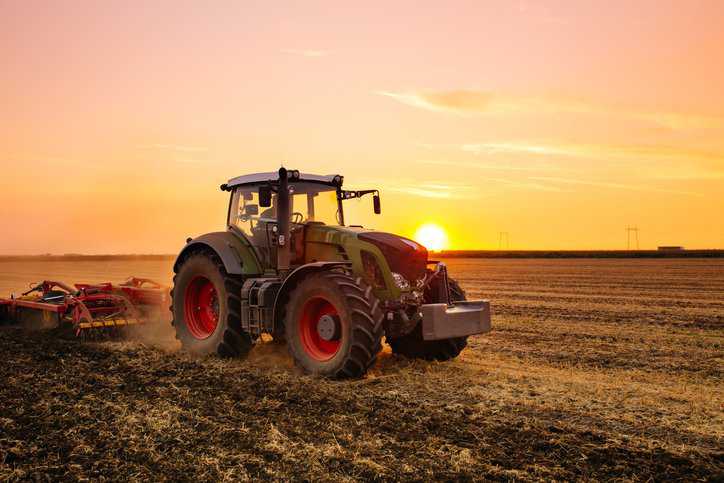 ISO 11783 is a standardized communication protocol, based on the Controller Area Network (CAN), used in agriculture and forestry machinery. It provides standardization of tractors, machines, systems, implements, and their equipment used in agriculture and forestry. The main purpose of ISO 11783 is to enable plug & play integration between vehicles (e.g., tractors) and implements (e.g., sprayers and seeders) across manufacturers. Moreover, with ISO 11783, end users control any implement from a single universal terminal, avoiding cluttering cabins with implement-specific terminals.
ISO 11783 Series for Forestry & Agricultural Tractors
The ISO 11783 series specifies a serial data network for control and communications on forestry or agricultural tractors and mounted, semi-mounted, towed, or self-propelled implements. ISO 11783‑1 to ISO 11783‑14 detail a communications system for agricultural equipment like tractor machines based on the ISO 11898-1 protocol for road vehicles. The standard series defines a tractor machine as the primary source of power in a connected system.
The purpose of ISO 11783 is to provide an open, interconnected system for on-board electronic systems. Additionally, it standardizes the method and format of transfer of data between sensors, actuators, control elements, and information-storage and -display units, whether mounted on, or part of, the tractor or implement. The series enables electronic control units (ECUs), required to connect the tractor network and the implement network, to communicate with each other.
The Networks in ISO 11783
In networks compliant with the ISO 11783 series, many messages are broadcasted. These networks segments include the tractor network and the implement network—both of which can be integrated on-board the tractor.
Tractor network: provides the control and data communications for the drive train and chassis of the tractor or primary power unit in a system.
Implement network: provides the control and data communications between implements and between implements and the tractor or main power unit in the system.
What is the Electronic Control Unit (ECU)?
The electronic control unit (ECU) is the electronic item consisting of a combination of basic parts, subassemblies, and assemblies packaged together as a physically independent entity. Dedicated ECU functions include:
Virtual terminal: provides an operator interface for an implement or tractor using the specified standardized messages of an ISO 11783 network.
Tractor ECU: ensures both electrical and message isolation.
Task controllers: provides scheduled control of implement functions via the ISO 11783 network.
Farm management computer interface: provides data derived from files on a farm management information system (FMIS), the office computer system used by a farmer or contractor that includes the software for farm management like payroll and products, to the FMIS interface
Diagnostics: ISO 11783‑12 specifies the messages to be used to determine the source of any faults that are the cause of malfunctioning of the ISO 11783 serial control and data communications network.
Filer server: ISO 11783‑13 specifies a control function that provides storage for data files and a set of commands that a control function on the ISO 11783 serial control and data communications network will use to access or write data from/to these files.
Sequence control: provides a control system, such as a headland management system. ISO 11783‑14 specifies the messages for the recording of multiple sequences of operator activated functions from tractor or any other control function on the ISO 11783 network and replaying them on operator command.
Process data: used for the transmission of data to one or more control functions from the task controller. The message can also be used for transmitting data to another control function connected to the implement network. Process data message structure is defined in ISO 11783‑10.
Working sets: allows a set of control functions to be identified to the network as being associated with a particular application on the network
Safe mode operation: provides information and controls in messages sent to a virtual terminal, an auxiliary controller or a task controller as specified in this standard. ISO 11783‑9 specifies additional safe mode operations requirements.
Addition of parameters and messages: ISO 11783‑7 specifies implements messages for communications between implements and a tractor, and ISO 11783‑8 specifies the messages for the tractor power train.
Parts of ISO 11783
Here are the fourteen parts of the ISO 11783, Tractors And Machinery For Agriculture And Forestry-Serial Control And Communications Data Network:
1.       ISO 11783-1:2017– Part 1: General Standard For Mobile Data Communication
2.       ISO 11783-2:2019– Part 2: Physical Layer
3.       ISO 11783-3:2018– Part 3: Data Link Layer
4.       ISO 11783-4:2011– Part 4: Network Layer
5.       ISO 11783-5:2019– Part 5: Network Management
6.       ISO 11783-6:2018– Part 6: Virtual Terminal
7.       ISO 11783-7:2022– Part 7: Implement Messages Application Layer
8.       ISO 11783-8:2006– Part 8: Power Train Messages
9.       ISO 11783-9:2012– Part 9: Tractor ECU
10.   ISO 11783-10:2015– Part 10: Task Controller And Management Information System Data Interchange
11.   ISO 11783-11:2011– Part 11: Mobile Data Element Dictionary
12.   ISO 11783-12:2019– Part 12: Diagnostics Services
13.   ISO 11783-13:2022 – Part 13: File Server
14.   ISO 11783-14:2013– Part 14: Sequence Control