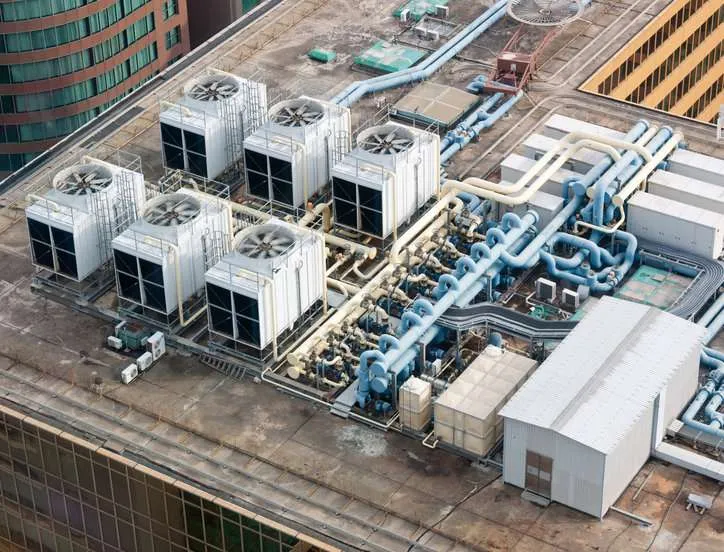 The International Mechanical Code (IMC) is in use or adopted in 46 US states, the District of Columbia, New York City, Guam, Puerto Rico, and the U.S. Virgin Islands, along with other nations. Its current edition is ICC IMC-2021: 2021 International Mechanical Code.
What is the International Mechanical Code (IMC)?
The 2021 International Mechanical Code covers requirements for mechanical systems that control environmental conditions and related processes within buildings. ICC IMC-2021 requirements are for the design, installation, maintenance, alteration, and inspection of these permanently installed systems. The code also regulates related system components, equipment, and appliances.
The systems specified in various chapters of the 2021 International Mechanical Code include ventilation, exhaust systems, duct systems, combustion air, chimneys and vents, fireplaces and solid fuel-burning equipment, refrigeration, hydronic piping, fuel oil piping and storage, solar thermal systems, and boilers, water heaters, and pressure vessels.
By providing broad, prescriptive provisions for building mechanical systems, the 2021 IMC provides a reasonable level of safety, health, property protection, and general welfare.
Who Needs the International Mechanical Code (IMC)?
With the IMC adopted or in use in 46 states, many need to adhere to the document for regulatory compliance, but the code does find further usage in industry. Some make use of the International Mechanical Code for voluntary compliance, such as through programs that promote sustainability, energy efficiency, and disaster resistance.
Furthermore, ICC IMC-2021 can be used in the insurance industry, the certification of buildings and individuals (and further credentialing), facilities management, best practices benchmarks for designers and builders, college textbooks, and building design and construction reference work.
Changes to the 2021 International Mechanical Code (IMC)
According to the International Code Council (ICC), in revising the 2018 edition of the IMC, ICC IMC-2021 underwent the following significant changes:
Clothes dryers exhaust terminals are now required to be at least 3 feet from any opening into a building.
Polyurethane spray-applied foam on the exterior of ducts in attics and crawl spaces is now required to meet specific smoke and flame index limits.
Fire and smoke dampers now must be provided with approved access to inspection and maintenance.
New refrigerants were added to refrigerant tables in the code.
Condensate termination identification markings and discharge restrictions were added.
Approved factory-built combination intake/exhaust terminations are now permitted.
There was a 30% reduction in minimum mechanical ventilation for whole-house balanced ventilation systems.
New requirement was added for the continuous operation of manicure and pedicure station exhaust systems.
Grease duct horizontal cleanup is now required within 3 feet of a horizontal discharge fan.
Any users of past editions of the code can find technical changes from the 2018 IMC clearly marked in the margins of the 2021 IMC document.
ICC IMC-2021: 2021 International Mechanical Code is available on the ANSI Webstore.
IMC Compatibility with Other I-Codes
To help users make use of the International Mechanical Code's prescriptive requirements alongside other codes, ICC IMC-2021 was written to be fully compatible with all other International Codes ("I-Codes") published by the International Code Council (ICC). One can easily follow ICC IMC-2021 principles with those of the 2021 International Building Code, 2021 International Fire Code, and 2021 International Energy Conservation Code, as well as other documents.
Please note that the International Fuel Gas Code, not ICC IMC-2021, regulates fuel gas appliances and systems. Users should also follow the 2021 International Residential Code for "detached one- and two-family dwellings and townhouses not more than three stories above grade plane in height with a separate means of egress and their accessory structures not more than three stories above grade plane in height," since these are an exception to the scope of the 2021 IMC.