International Electrotechnical Commission (IEC) test reports forms (TRFs) help laboratories save time and money. This is because IEC TRFs contain all the required specifications on how to accurately log and structure test results and analyses.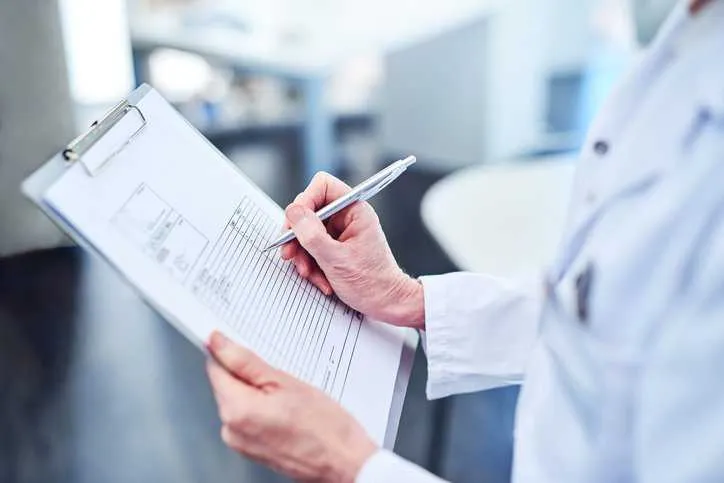 What Is a Test Report Form?
A Test Report Form (TRF) is a document that allows a test laboratory to record the actual test results and analyses made on a product. Aligning with the structure of a specific IEC or ISO standard, the form includes all the required information to correctly report a test or analysis. Its main intent is to support the emission of a Certification Body Certificate.
The National Certification Bodies engaged in IEC System for Conformity Assessment Schemes for Electrotechnical Equipment and Components (IECEE) develop TRFs. One dedicated Certification Body of the IECEE manages the issuance and updates of an IEC TRF. Although there are approximately 2,000 available TRFs that primarily focus on electrical safety standards, TRFs do not exist for every IEC standard.
How Do Laboratories Benefit from an IEC Test Report Form?
Since the National Certification bodies in the IECEE create test report forms, there is no need to create new forms and consequently there are many benefits of using these established documents:
Saving time and money: allows users to focus their attention on higher added value topics and increases the productivity of test laboratory engineers.
Creating efficiency: helps users save time, guarantees the completeness of the document, and satisfies laboratories and stakeholders.
Enabling easy communication: facilitates communication when any problems arise during testing.
Creates a procedure: enables laboratories to perform and evaluate tests step by step or in an individual sequence. Since results can be entered directly into the document, it is easier to see which points have already been processed and which still need to be carried out.
Facilitating international market access: lets users gain access to other countries via an application to their National Certification Body (NCB).
Enabling problem-solving and quality control:  makes it easier to identify and solve problems and to control quality because test reports are fully aligned with the required structure to log information.
What Is the Foundational Criteria Included in a Test Report Form?
Although the specific criteria in a test report form varies, all the forms have the same foundational reporting structure that covers:
Report number
Date of Issue
Total Pages
Applicant name
Name of testing laboratory preparing the report
Test specification (standard, test procedure, and non-standard test method)
Test item description
Manufacturer
Model/Type reference
Ratings
Testing procedure and location(s)
Summary of testing (tests performed)
Summary of compliance with National Differences (list of countries addressed)
Possible test case verdicts
Name and address of factories
General product information and other remarks
What IEC Standards Have Test Report Forms?
To better understand the functionality and purpose of test report forms (TRFs) for IEC standards, here are some examples of IEC TRFs:
IEC 60601-1-10 Ed. 1.0 b:2007 covers the general requirements for basic safety and essential performance for the development of physiologic closed-loop controllers. Its TRF, IECEE TRF 60601-1-10 Ed. 5.0 en:2020, includes acceptance criteria given in IEC 62366.
IEC 60601-1 Ed. 3.0 b:2005 and  IEC 60601-1 Ed. 3.1 b:2012 provide the general requirements for safety and performance of medical electrical equipment and systems. Their, TRF, IECEE TRF 60601-1 Ed. 10.0 en:2014, covers the equipment (identifications, marking, construction, and documents), accessible parts, risks controls/engineering considerations, insulation diagram, overheating, power supply and (voltage, output connectors, battery, conductors, current, and heat shock).
IEC 60601-2-18 Ed. 3.0 b:2009 specifies particular requirements for the basic safety and essential performance of endoscopic equipment. Its TRF, IECEE TRF 60601-2-18 Ed. 4.0 en:2020, covers requirements for energized endotherapy devices, ultrasonic diagnostic equipment, supply units, equipment (system, documents, marking, identification, and parts), protection against electrical shock and hazards, hazardous situations and fault conditions, accuracy of controls, and electromagnetic compatibility.
IEC 60335-2-6 Ed. 5.0 en:2002, IEC 60335-2-102 Ed. 1.0 en:2004, and IEC 60335-1 Ed. 5.0 en 2010 examine safety of household and similar electrical appliances, providing requirements for stationary cooking ranges, hobs, grills, ovens and similar appliances that have electrical connections. Its TRF, IECEE TRF 60335-2-6+102 Ed. 3.0 en:2015, specifies marking and instructions (rated voltage or voltage range, rated current, rated frequency, and rated power input), protection against access to live parts, power input and current, heating, leakage current and electric strength at operating temperature, moisture resistance, transient overvoltages, and overload protection of transformers and associated circuits.
CISPR 14-2 Ed. 1.0 en 1997 specifies electromagnetic compatibility requirements for household appliances, electric tools and similar apparatus. Its TRF, IECEE TRF CISPR 14-2 Ed. 3.0 en:2014, covers equipment (power interface and input/output ports), electrostatic discharge, electromagnetic field, voltage dips and short interruptions, and electrical fast transients/burst.
IEC 60086-1 Ed. 12.0 en:2015 (Twelfth Edition) provides requirements for primary batteries. Its TRF, IECEE TRF 60086-1 Ed. 1.0 en:2016, covers battery dimensions, open circuit voltage testing, leakage and deformation, performance testing, conformance check to a specified minimum average duration, Calculation method of the specified value of a minimum average duration, load resistance, time periods, sampling and quality assurance, and battery packaging.
IEC Test Report Forms (TRFs) are available on the ANSI Webstore.