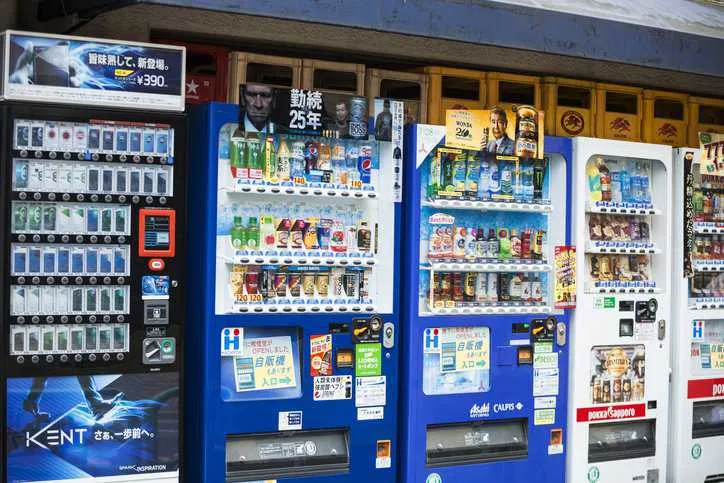 In 215 BC, the Greek mathematician and engineer Hero of Alexandria invented the first vending machine. The device accepted coins that would fall on an empty pan that was linked to a lever, allowing the valve to open and flow water that was deemed holy since it was tantamount to a Greek God. The vending machine dispensed holy water at the temples where citizens worshipped, ensuring that they were not taking more than their fair share of holy water. Now, there are millions of vending machines installed worldwide at schools, malls, offices, hotels, restaurants, airports, and elsewhere, and, as such, safety specifications are crucial. IEC 60335-2-75 Ed. 3.0 b:2012 Household And Similar Electrical Appliances – Safety – Part 2-75: Particular Requirements For Commercial Dispensing Appliances And Vending Machines specifies the electrical safety, common hazards, and hygiene aspects of vending machines.
Economics of Vending Machines
As long as people eat and drink on the go, there will be a need for vending machines. Hence, they can be highly profitable (vending is a multi-billion dollar business) if a business is structured strategically. In the United States there around 5 million operational vending machines that make $7 billion in annual sales for their operators. As far as profits go, the snack niche alone generates $64 million in annual profits for vending machine operators.
Americans spend about $27 per person per year on items on vending machines, and the average transaction is around $1.75. On average, one vending machine can make around $75 of a week, $300 to $600 a month, and $5,000 to $6,000 a year. Some vending machines generate much less than this, while others generate much more. Typically one vending machine will not generate much revenue, but multiple strategically placed vending machines can generate substantial income over time. The more well-placed, well-stocked, and well-priced multi-location machines an owner operates, the greater their profits and revenue.
IEC 60335-1 is Part 1 (the foundational standard) of the IEC 60335 series for the functional safety of household and similar electrical appliances. The standard covers appliances with voltage ratings not more than 250V for single phase appliances, and 480V for other appliances—including direct current (DC) supplied appliances and battery operated appliances. Appliances not intended for normal household use but may be a source of danger to the public, such as appliances intended to be used by laymen in shops, in light industry and on farms, are within the scope of this standard. Essentially, IEC 60335-1 deals with the reasonably foreseeable hazards presented by appliances that are encountered by all persons.
The IEC 60335-2-75 Standard for Vending Machines
IEC 60335-2-75:2012 deals with the safety of electric commercial dispensing appliances and vending machines for preparation or delivery of food, drinks, and consumer products. It specifies that their rated voltage not be more than 250 V for single-phase appliances and 480 V for other appliances and that they are operated by coins, credit cards, or other means of payment. Besides electrical safety, the standard also deals with the hygiene aspects of appliances and with the their common hazards.
Examples of appliances that are within the scope of IEC 60335-2-75:2012 include:
Bulk tea or coffee brewing machines
Cigarette vending machines
Coffee grinders
Commercial liquid heaters
Coffee makers with or without integrated coffee grinder
Coffee makers with cooling systems
Hot and cold beverage vending machines
Hot water dispensers
Ice cream and whipped cream dispensers
Ice dispensers
Newspaper, audio or video tape or disc vending machines
Packaged food and drink vending machines and refrigerated merchandisers
The standard does not apply to appliances used exclusively for household purposes; appliances used exclusively for industrial purposes; appliances used in locations where special conditions prevail, such as the presence of a corrosive or explosive atmosphere (dust, vapor or gas);  commercial electric boiling pans (IEC 60335-2-47); commercial electric bains-marie (IEC 60335-2-50); amusement machines and personal service machines (IEC 60335-2-82);  appliances solely used for dispensing money; display cabinets; and appliances incorporating electrode-type water heaters.
The First Modern Vending Machines
The first-ever commercial (coin-operated) vending machine was invented in London in the early 1880s, dispensing postcards. The idea behind this invention was to help busy and money-hungry entrepreneurs sell quickly and in bulk. Percival Everitt invented the machine in 1883, which soon became a widespread feature at railway stations and post offices. The machine was dispensing envelopes, postcards, and notepaper.
The first modern vending machine in the United States was built in 1888 by Thomas Adams Gums. He was a secretary to the Mexican president Antonio López de Santa Anna (1794-1876), who often chewed gum from the local tree Manilkara Chicle. With Santa Anna's help, Adams started his experiments in the hope of creating some commercially viable product. With his eldest son Tom Jr., Adams made the first batch of modern chewing gums named "Adams New York No.1". He molded them into small gumballs wrapped in different colored tissue papers in a box with a picture of New York's City Hall on the cover. Adam's gum company installed the first vending machine that was located in a New York subway station, and it sold his flavored chewing gums Black Jack and Tutti-Frutti.
IEC 60335-2-75 Ed. 3.0 b:2012 Household And Similar Electrical Appliances – Safety – Part 2-75: Particular Requirements For Commercial Dispensing Appliances And Vending Machines is available on the ANSI Webstore.