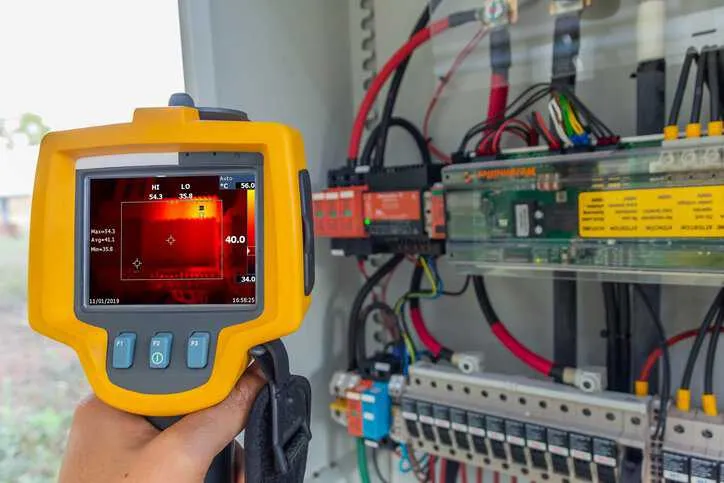 Thermal testing is a method of testing a material's ability to operate safely at different temperatures. Data gathered by thermal tests allow users of products to understand their safe operating limits, general characteristics, and potential lifespan. For example, the recommended temperature limit for electronics is 95° Fahrenheit. IEC 60068-2-14 Ed. 7.0 b:2023—Environmental Testing – Part 2-14: Tests – Test N: Change Of Temperature details requirements for change of temperature testing in electronics.
How Does Temperature Affect Electronics?
Changes in temperature are common in electronic equipment and components. Further, it has been proven by data that in semiconductor and electronic parts, failure rate hugely increases depending upon heat and life shortens. Consistent high temperatures can lead to permanent damage, such as constantly high temperature decreases the expected lifetime of computer parts even if they are not overheating per se. Some devices will power themselves down to avoid this risk. Besides the heat, cold and moisture can negatively affect electronics. If it gets too cold, certain components (e.g., LCD screens, motors, disk drives, servo valves) can suffer sudden failure; electronics that undergo build-up of moisture can have failures related to corrosion.
Parts inside equipment undergo slower changes of temperature than those on an external surface when the equipment is not switched on. IEC 60068-2-14:2023 specifies that rapid changes of temperature can be expected when:
Equipment is transported from warm indoor into cold outdoor environments or vice versa
Equipment is suddenly cooled by rainfall or immersion in cold water
Equipment is artificially cooled or heated
Under certain conditions of transportation and storage
In externally mounted airborne equipment or when equipment is located in unheated aircraft or cargo holds
IEC 60068-2-14:2023 provides tests with specified ambient temperature changes to analyze their impacts on specimens. A change of temperature test is intended to determine the effect on the specimen of a change of temperature or a succession of changes of temperature. It is not intended to show effects that are caused by low or high temperature exposure. For these effects, the cold test or the dry heat test, as specified in IEC 60068-2-1 and IEC 60068-2-2, respectively, should be used.
Determining Temperature Tests
The effect of change of temperature tests in IEC 60068-2-14:2023 is determined by:
Values of high and low conditioning temperature between which the change is to be affected
The conditioning times for which the test specimen is kept at these temperatures
The rate of change between these temperatures
The number of cycles of conditioning
The amount of heat transfer into or from the specimen
The thermal conductivity and the materials of the specimen
The rate of change of the specimen's temperature on its surface (respectively in relevant positions) or in its core
This seventh edition of IEC 60068-2-14 cancels and replaces the sixth edition published in 2009. It constitutes the following technical revisions:
Updated the figures for clarification purposes
Updated specimen temperature(s) and severities as well as tolerances for change of temperature tests
Revised standardized requirements for test reports for Tests Na and Nb
IEC 60068-2-14:2023 is available as S+ IEC 60068-2-14 Ed. 7.0 en:2023 (Redline version), which contains the International Standard and its Redline version, showing all changes of the technical content compared to the previous edition.
IEC 60068-2-14 Ed. 7.0 b:2023—Environmental Testing – Part 2-14: Tests – Test N: Change Of Temperature is available on the ANSI Webstore.