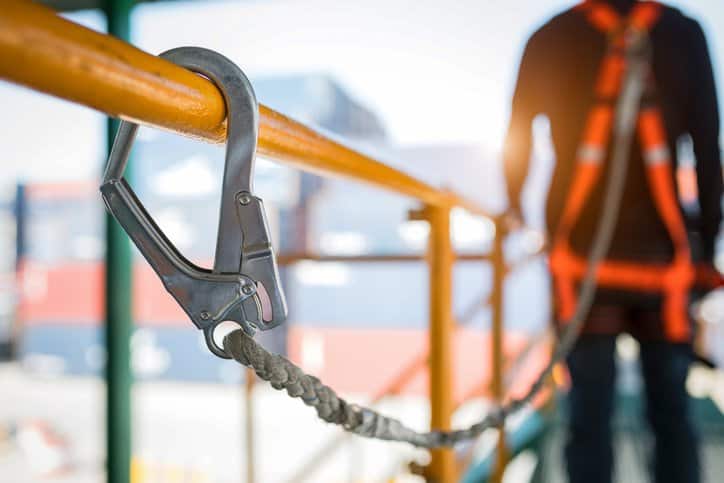 The Guinness World Record maintains that the tallest scaffolding in the world was for the Manhattan Municipal Building, which was erected 1988-1992, and its total height was 198 m (650 ft) and volume 135,900 m³ (4,800,000 ft³). To put this into perspective, the work required 12,000 scaffold frames and 20,000 aluminum planks. Anchorage connectors, as specified in CSA Z259.15-2022, can be critical to ensure worker safety at these great heights.
CSA Z259.15-2022 Standard for Anchorage Connectors
CSA Z259.15-2022 specifies performance, design, testing, marking, and classification requirement for anchorage connectors in travel-restraint, fall-arrest, work-positioning, and suspended component/tie-back line systems. A complete fall protection system, worn at worksites when workers are operating on scaffolding at construction sites, requires an anchorage connector.
The standard does not differentiate between temporary, portable, and permanent anchorage connectors. With the exception of multi-legged frames (e.g., tripods) and personnel davit arms, CSA Z259.15-2022 does not apply to ballasted, friction, counterweight, or vacuum anchorage connectors that rest on but are not fastened to an anchorage.
What is an Anchorage Connector?
CSA Z259.15-2022 defines an anchorage connector as a connector that is secured to an anchorage. In other words, it is a component or a system of components of a fixed support that secures a suspended work platform or boatswain's chair, and its associated suspension lines and lifelines, to the fixed support. Examples of anchorage connectors include the following:
Eyebolt: a bolt or bar with an eye at the end for attaching a hook or ring to.
Beam trolley: a type of conveyor that enables travel, allowing lifting equipment to travel along a beam.
Tripod: a portable stand with three or more legs and an anchor head assembly to which a fall-arrest or descent-control rescue or retrieval system can be attached.
Beam clamp: a device that clamps to a structural member to resist movement along the axis of the member it connects to for support, rigging, and lifting applications
Choker strap: a length of rope, wire rope, chain, or webbing with integral connectors on each end and one connector is able to pass through the other connector and wraps around an anchorage.
Mobile anchorage connector (MAC): an anchorage connector, such as a trolley and rail slider, that uses wheels or low-friction pads and is not rigidly connected to a structural member that allows movement along the axis of the structural member.
Dangers of Scaffolding
According to the U.S. Department of Labor's Occupational Safety and Health Administration, approximately 65% of today's construction workers operate on scaffolds regularly. Perhaps it is not too shocking that year after year, falls from scaffoldings are one of the leading causes of injuries and deaths among construction workers. Some of the most common injuries from scaffolding accidents include broken bones, traumatic brain injuries, mental anguish, emotional distress, punctures, amputation, spinal cord injuries, lacerations, and skull fractures.
Scaffolding: NYC and Hong Kong
Both New York City and Hong Kong contain many large scale, multi-level buildings and construction projects that contain scaffolding. New York scaffolding is made out of steel and aluminum, whereas in Hong Kong scaffolding is composed of bamboo. Steel can be cut into precise pieces and is consistent with quality. Bamboo varies in consistent quality because it is a plant, so bamboo pieces have to manually be tied together, which requires a lot of craft and precision. Compared to scaffolding made of steel, the pros of bamboo are that it is 6 times faster to put and 12 times faster to take down, is cheaper to source, more sustainable, and much lighter than steel. Ultimately, steel and bamboo are appropriate and safe to use among construction sites.
CSA Z259.15-2022: Anchorage Connectors is available on the ANSI Webstore.