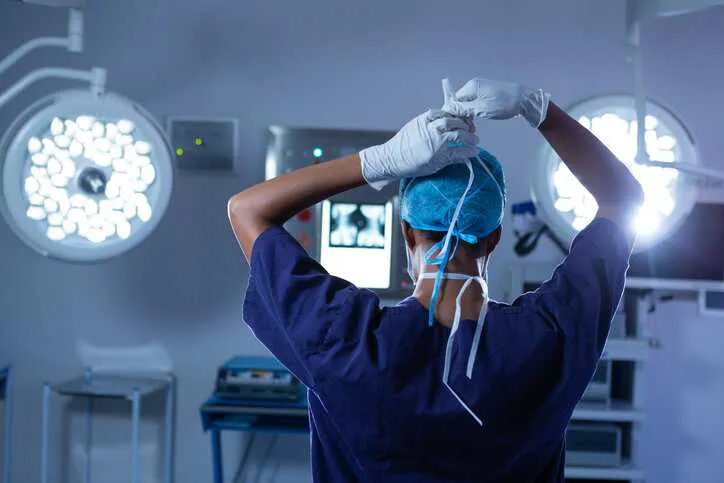 Healthcare personnel can be exposed to biological fluids capable of transmitting disease. Microorganisms cause those diseases, which can pose potent risks to life and health to not only those operating but also patients. This risk and vulnerability is especially prominent with bloodborne pathogens, such as the hepatitis B virus (HBV), hepatitis C virus (HCV), Ebola virus, and human immunodeficiency virus (HIV). Therefore, healthcare workers wear protective clothing (e.g., surgical gowns, isolation gowns, and coveralls) to protect both patients and themselves from the transfer of microorganisms by blood and body fluids. ANSI/AAMI PB70:2022—Liquid Barrier Performance And Classification Of Protective Apparel And Drapes Intended For Use In Health Care Facilities covers the requirements of those fluid resistant, protective gowns and drapes worn by healthcare personnel and includes significant apparel and labeling revisions since its 2012 edition.
The ANSI/AAMI PB70:2022 Standard for Fluid Resistant Health Care Apparel
ANSI/AAMI PB70:2022 establishes minimum barrier performance requirements, a classification system, and associated labeling requirements for protective apparel, surgical drapes, and drape accessories intended for use in health care facilities. This American National Standard sets minimum requirements for the performance of surgical gowns, isolation gowns, other gowns, other protective apparel, surgical drapes, and drape accessories designed to protect healthcare workers during surgery and other healthcare procedures. The performance of these workers is based on the ability of protective barriers to prevent exposure to potentially infectious material: blood, body fluids, and OPIM (other potentially infectious material). Moreover, ANSI/AAMI PB70:2022 is a guidance document containing information for the manufacturers and users of personal protective equipment (PPE) in the healthcare space that aims to keep frontline healthcare workers safe.
Healthcare engineering controls—such as equipment, machinery, and ventilation control—cannot eliminate all possible exposure to blood, body fluids, OPIM, and microorganisms. Attention is consequently placed on the use of protective apparel, drapes, and drape accessories to reduce the potential for contact infectious material. Here is what is and is not included in the scope of protective healthcare apparel in ANSI/AAMI PB70:2022:
Surgical drapes
Drape accessories
Single-use and multiple-use surgical gowns
Isolation gowns
Other decontamination gowns (e.g., other types of open back gowns including over the head gowns)
Aprons
Toga
Protective headwear (e.g., hats/caps, hoods, footwear covers, sleeves, and laboratory attire)
Protective apparel for the hands (e.g., surgical gloves, patient examination gloves, and other medical gloves)
Protective apparel for the face, and eyes (e.g., goggles, non-integrated face shields, surgical masks, and non-integrated respirators)
Types of protective apparel worn by health care personnel that is not intended or labeled as a barrier to liquid or microorganisms
Absorbent operating room or towels
The interfaces between products (e.g., the gown/glove interface)
After a decade, ANSI/AAMI PB70:2022 has revised its 2012 edition. Significant revisions in 2022 edition involve adding additional defined protective apparel and labeling categories.
Revision 1: Additional Defined Protective Apparel Categories
Liquid barrier claims under ANSI/AAMI PB70:2012 were limited to surgical gowns, surgical drapes, and isolation gowns. Since there are many other protective apparel products used in healthcare settings that provide liquid barrier protection, AAMI (Association for the Advancement of Medical Instrumentation) deemed it necessary to add other categories of products for which PB70 barrier level claims could be made. Here are the additional PB70 barrier protective categories included in the 2022 edition:
Surgical Gown–E: A specialized gown which provides extended protection of critical zones—defined as the areas where direct contact with blood, bodily fluids, and OPIM is most likely to happen.
Non-surgical Protective Gowns (i.e., Procedure gowns and decontamination gowns): These include protective full coverage gowns, protective gowns with non-protective backs, and protective gowns with open backs.
Hoods: A type of protective apparel comprised of head and neck covering that contains designated areas of liquid barrier protection and with or without an integrated face shield
Togas: A type of personal protection system used to protect healthcare personnel and patient from the transfer of microorganisms and body fluids, combining the use of a protective gown integrated with a loose-fitting hood with or without an integrated face shield and may incorporate filters or helmet system.
Other protective apparel items: aprons, footwear covers, sleeves, etc.
The rational of this revision was to allow healthcare professionals to have a better understanding of the barrier protection properties of the protective apparel items available.
Revision 2: Additional Labeling Requirements
Additional labeling requirements were included in ANSI/AAMI PB70:2022, as well as to that of FDA labeling regulations (21 CFR 801, which are not repeated in this standard). As protective barrier claims and classifications are being made according to this standard, packages containing products with such are required at a minimum to be labeled with an expiration date. This is to ensure end users are aware of the period during which a product remains suitable for the intended use.
Besides the inclusion of FDA regulations, labeling requirements were also added for each type of non-surgical gown, stating that the gown packaging should inform users of the area of protection:
Full Coverage Gown: has overlap in the back so that when an appropriately sized gown is worn there are no gaps in the back, with no slits, perforations, or holes in any part of the gown
Non-protective Back Gown: the back of the gown contains slits, perforations, or holes, or if the back panels do not meet at least the requirements for Level 1 barrier performance. Non-protective back gowns are only used when exposure to the back is not anticipated
Open Back Gown: the gown leaves portions of the back uncovered
AAMI believes that by making this labeling revision, healthcare professionals will better understand the protective properties that each label of the non-surgical gown contains and hence these professional will make better-informed decisions when selecting appropriate PPE.
ANSI/AAMI PB70:2022—Liquid Barrier Performance And Classification Of Protective Apparel And Drapes Intended For Use In Health Care Facilities is available on the ANSI Webstore. It is also part of the AAMI TIR11 / ANSI/AAMI ST65 / ANSI/AAMI PB70 Protective Barriers Resource Bundle.