The exhaust stack, made out of steel, removes the combustion gases from heat exchangers to be safely vented outside. ASME STS-1-2021: Steel Stacks covers consideration for the design of steel stacks.
Steel is an alloy of iron and other elements. Its high tensile strength enables steel to withstand severe weather events like high winds, corrosion, earthquakes, and hurricanes. The metal is also widely used because it is durable, flexible, low cost, and sustainable. It releases no harsh chemicals and toxins. Steel is the most recycled material in the world because once it is made, it can be used forever.
A Variety of Sectors Use Steel:
Construction (buildings from houses, schools, and skyscrapers)
Infrastructure (bridges, tunnels, parks)
Mechanical equipment (tools, machines, weapons, electrical appliances)
Automotive (cars)
Aerospace (rockets)
Transportation (trains, bridges, tunnels, planes)
ASME STS-1-2021 applies to steel stacks, those stacks where the primary supporting shell is made of steel. Steel stacks are a solution used for releasing combustion gases into the atmosphere, avoiding severe damage to an air pollution control device or other equipment. This standard is intended to provide design guidelines for stacks containing nonflammable gases, such as combustion exhaust gases at low internal pressure. This standard applies to the following types of steel stacks:
Single- and multiple-walled steel stacks, either of which can be lined or unlined.
Steel stacks that are guyed or to certain aspects of tower stacks.
ASME STS-1-2021 Covers Many Facets of the Design Control of Steel Stacks:
Considerations for the mechanical and structural design.
Considerations for wind- and seismic-induced vibrations.
Guidelines for the selection of material, linings, and coatings.
Requirements for lighting and lightning protection based upon existing building and federal codes.
Requirements for climbing and access based upon current Occupational Safety and Health Administration (OSHA) standards.
Areas regarding fabrication and construction.
Outlines for areas requiring maintenance and inspection following initial operation.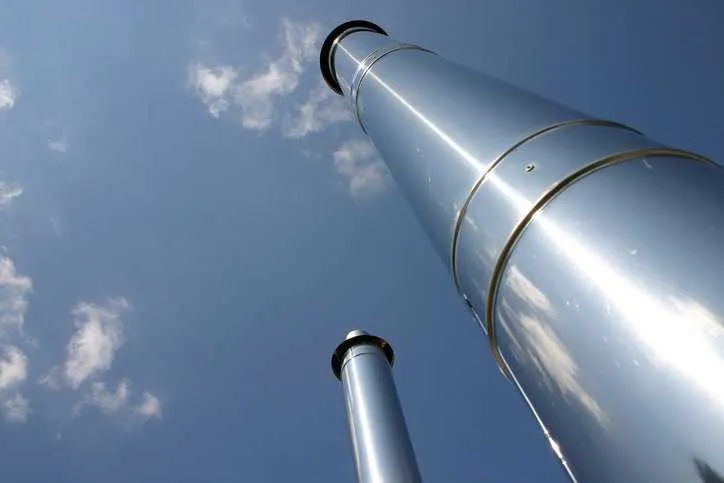 Steel Stack Design and Materials in ASME STS-1-2021
Mechanical Design of Steel Stacks
Size Selection (height, diameter, shape) for the gas passage
Available draft (natural draft, draft losses)
Heat Loss or drop in gas temperature (ambient conditions, insulations and linings, film coefficients, heat loss calculations, thermal expansion, appurtenances) as heat is transferred through the stack wall
Material specifications are intended to cover single or double wall stacks that are free-standing and self-supporting, guy or cable supported, or supported by structural steel braces or framework.
Materials Used in Steels Stacks
Shells and Base Plates
Stiffeners and Structural Bases and/or Frame Work
Guys, Wires, Cables, or Fittings
Coatings (Vinyl Coatings, Phenolic Coating System, Coal-Tar Epoxy Coating)
Anchor Bolts, Washers, or Nuts
Welding Electrodes
Appurtenances (ladders, cages, stairs)
Metallic Linings and Cladding
Organic Linings (refractory concrete, geopolymer concrete)
ASME STS-1-2021: Steel Stacks is available on the ANSI Webstore.