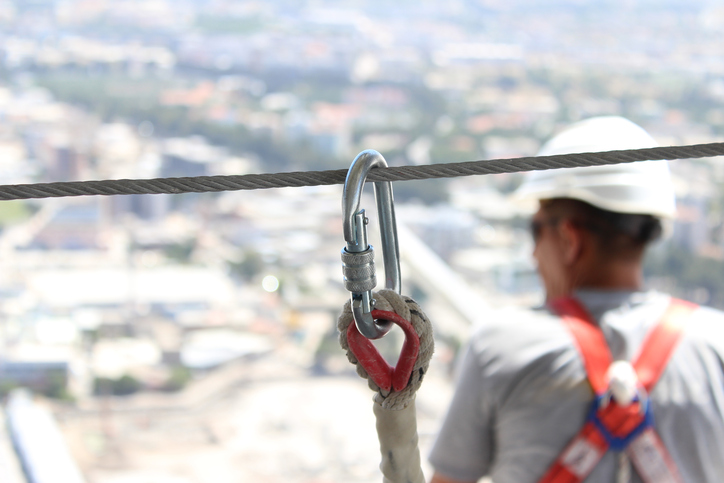 ANSI/ASSP Z359.1-2020 – The Fall Protection Code has been released. This standard specifies minimum guidelines for the processes, systems, and components used in a managed fall protection program, and it establishes roles for the other ANSI/ASSP Z359 (or ANSI/ASSE Z359) standards.
Development of ANSI/ASSE Z359.1 for Fall Protection
The first American National Standard for personal fall arrest systems in non-construction applications was ANSI/ASSE Z359.1, which was initially published in 1992. Since this time, the guidelines from this original document have been expanded upon substantially, necessitating the publication of further standards in the ANSI/ASSE Z359 series. Today, there are ANSI/ASSP Z359 standards for equipment, training, and other compliance concerns, together comprising the Fall Protection Code.
Please note that the newest revisions of standards in this series, including ANSI/ASSP Z359.1-2020, contain ASSP in their designation due to the American Society of Safety Engineers (ASSE) changing its name to the American Society of Safety Professionals (ASSP) in 2018.
The 2016 revision of this standard was substantial. It established "a new standard in regards to technical content, not a simple revision of the requirements in the previous editions." In alignment with the multitude of standards in the Fall Protection Code, after this revision, this document is intended to serve as a key for understanding and applying the standards' guidance. It is a single point of reference for defining compliance with the Code, thus allowing organizations the ability to identify a single document when accepting the Code.
Scope and Use of ANSI/ASSP Z359.1-2020
The Fall Protection Code standards address program management, system design, training, qualification and testing, and equipment for the processes used to protect personnel working at height in a managed fall protection program. The Code addresses several types of systems, including fall restraint systems, work positioning systems, rope access systems, fall arrest systems, and rescue systems.
In compliance with the ANSI/ASSP Z359.1-2020 standard, users are expected to search within the document for fall protection equipment or criteria that is relevant to their particular fall protection system. For example, for those making use to full body harnesses, a referral to the standard indicates that such equipment should meet the guidelines of ANSI/ASSP Z359.11-2021: Safety Requirements for Full Body Harnesses.
Furthermore, ANSI/ASSP Z359.1-2020 includes the sections found in all ANSI/ASSP Z359 component-oriented and system-oriented standards, as well as the first section of each document to simplify compliance for the user.
ANSI/ASSP Z359.1-2020 – The Fall Protection Code is available on the ANSI Webstore. It is available with other ANSI/ASSP Z359 standards and some other relevant documents (with 50% off list prices) as the ANSI/ASSE Z359 Fall Protection and Arrest Standards Package.