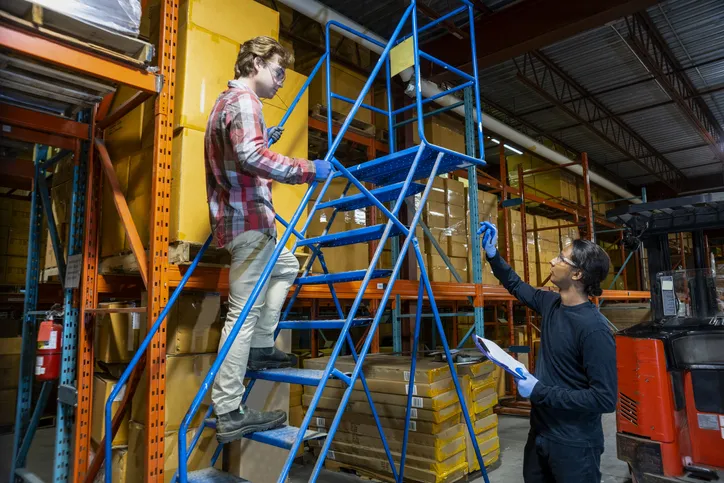 A mobile ladder stand is a movable, fixed height, self-supporting ladder most commonly used in work environments such as warehouses. It consists of wide flat treads in the form of steps that give access to a top step and may include handrails.
Here are some quick tips on how to properly inspect, use, and keep your mobile ladder in safe working condition. For more information on the proper use of mobile ladders, visit American Ladder Institute's Ladder Safety Training Library.
Proper Use of a Mobile Ladder
Like all ladders, mobile ladders should be inspected before each use. Start at the base and check the rubber pads, locking mechanism, missing or worn labels that need to be replaced. Any loose bolts, nuts, or connections should be tightened. Make sure that all threaded fasteners are equipped with locking hardware.
When using a mobile ladder, keep the following safety practices top of mind:
Before taking the first step on a mobile ladder, make sure the castors are locked.
Use handrails, if provided, and always face the steps while climbing.
Do not use any type of extension or object to gain additional height.
Never move a mobile ladder or disengage the locking mechanism when the ladder is in use.
Storage
Proper storage of ladders can improve the longevity and reduce the risk for passers-by. Store ladders out of high traffic areas. Storing a ladder outside can lead to deterioration and rotting and increases the chances of damage. Consider factors such as heat, weather, and corrosive materials.
For more information on the safety requirements for the construction, performance, use, and care of mobile ladders, refer to ANSI-ASC A14.7-2006, American National Standard for Mobile Ladder Stands and Mobile Ladder Stand Platforms.
National Ladder Safety Month
In addition to promoting safe ladder use in your home and workplace, get involved in National Ladder Safety Month—the nationwide initiative focused on increasing awareness of safe ladder use and decreasing ladder accidents—this March. Take advantage of free resources to build awareness and share with your friends or coworkers, including: ladder safety training videos, safety posters, infographics, and short videos. Join the online conversation by using #LadderSafetyMonth on your favorite social platforms.
Contributing Author: American Ladder Institute (ALI)
ALI is the American National Standards Institute (ANSI) approved developer of ladder safety Standards. Standards are technical specifications, developed and tested by subject experts, which prescribe rules governing the safety construction, design, testing, care, and use of various types of ladders.