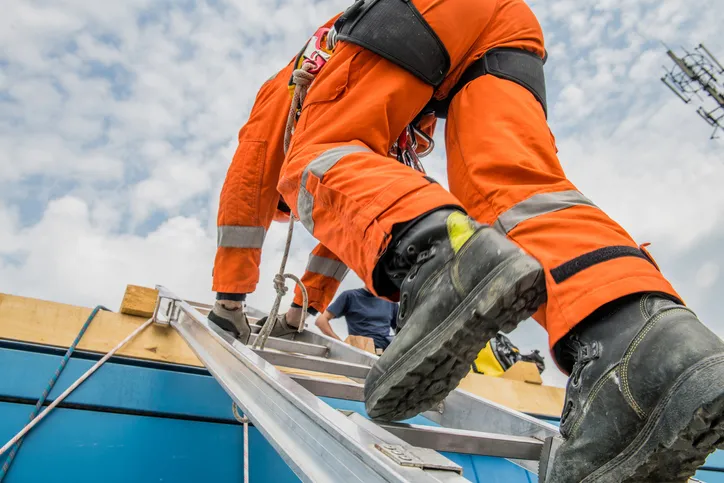 Imagine a ladder. There are two components that anyone will see: side rails and rungs. However, there is so much more to these devices that facilitate upward mobility beyond our basic reach. What about ladder levelers or cable hooks? These are ladder accessories, and providing safety guidelines for their construction and design is ANSI ASC A14.8-2020: Safety Requirements For Ladder Accessories.
About ANSI ASC A14.8-2020
An American National Standard, ANSI ASC A14.8-2020 outlines rules related to the safe design, construction, and testing of accessories used in conjunction with portable wood, metal, or reinforced plastic ladders. In covering widely accepted ladder accessories, the standard's purpose is to provide reasonable safety for life, limb and property.
Ensuring safety with ladder use is essential, since more than 300 people die in ladder-related accidents each year, thousands more are injured. The American Ladder Institute (ALI), an ANSI-accredited standards developing organization (SDO) and Secretariat of the Accredited Standards Committee (ASC) A14, develops standards that encompass the range of ladder safety, including requirements for portable metal ladders, portable plastic ladders, wood ladders, disappearing attic stairways, stepstools, and other devices.
ANSI ASC A14.8-2020, which was developed by the A14.8 Subcommittee, provides general requirements, and it can aid ladder accessory manufacturers with a set of design, performance, and construction requirements to which their products can be compared. Furthermore, the standard can serve as a basis for purchasing requirements, instruction and training of personnel, and preparation of brochures, manuals, etc., regarding safe ladder and ladder accessory use, care, and maintenance.
Ladder Accessories Covered
As noted in its scope, the ANSI ASC A14.8-2020 standard is limited to ladder accessories that it specifically defines. These include:
Bottom End Accessories
Ladder Feet
Spurs and Spur Plates
Ladder Levelers
Top End Accessories
Cable (Strand) Hooks
Roof/Ridge Hooks
V-Rungs
House Pad
Pole Chain and Pole Strap
Pole Lash
Side Rail End Covers
Stabilizers & Standoffs
Step Through Rail Extensions (this is a new addition to the ANSI ASC A14.8-2020 standard)
Miscellaneous Accessories
Stabilizer Strap
Step Bracket
For each of these, ANSI ASC A14.8-2020 outlines relevant testing requirements. The standard also covers requirements for labeling and marking.
Please note that devices which may or may not be an integral part of the ladder, and without which the portable ladder cannot function in its intended manner, such as hinges and hinge brackets, rung or step braces, locks and lock brackets, spreaders, and top caps, are not included in this standard. 
ANSI ASC A14.8-2020: Safety Requirements For Ladder Accessories is available on the ANSI Webstore. Those who need the standard not only for ladder accessories but the various ladder types with which they are paired might want to acquire the ANSI ASC A14 Ladder Standards Package, a comprehensive collection of American National Standards developed by ASC A14.