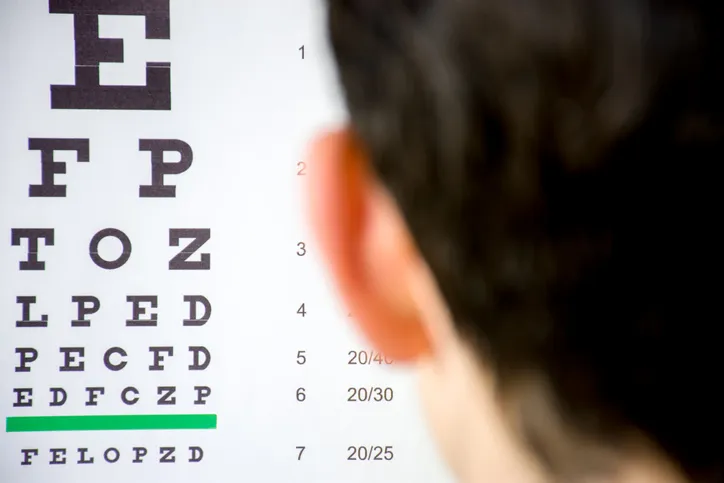 Cover your right eye. Read the letter on the first line. Cover your left eye. Read it again. Now line two, and so on. This is the basics of some eye exams, at the end of which, your visual acuity is determined and, depending on your performance, the landscape of your face might be permanently altered with a new pair of eyeglasses. However, these eye charts, or visual acuity charts, contain a complex arrangement of optotypes—the letters used in testing the acuity of vision. The optotypes you see in an eye chart are designed with the aid of ANSI Z80.21-2020: Ophthalmics – Instruments – General-Purpose Clinical Visual Acuity Charts.
Visual Acuity Charts – The Standard
Many associate visual acuity charts with the Snellen chart, which owes its name to the Dutch ophthalmologist who developed it in the mid-1800s. While in use for long over one century, the newer, more advanced logMAR chart is now also used for acuity testing. With optotypes, one needs to consider contrast, background, and other factors that affect one's ability to read them.
With these factors in mind, ANSI Z80.21-2020 exists to standardize visual acuity charts for general measurement, enabling the measurement of visual acuity over a limited, but clinically useful, range of acuities.
ANSI Z80.21-2020 applies to displays of optotypes for all clinical visual acuity measurement systems that use recognition of optotypes and that are designed for general use. This includes those printed on opaque media, those intended for transillumination, and electronically generated or projected displays. However, it does not apply to special testing of visual acuity, e.g., low-vision, or reverse polarity (e.g., white optotype on a dark background).
Changes to ANSI Z80.21-2020
ANSI Z80.21-2020, an American National Standard written and published by the Vision Council, an ANSI-accredited standards developing organization (SDO), revises the previous edition of the same document from 2015. To remain current in standardizing visual acuity testing, it went through the following changes:
Low contrast acuity charts are now included in the standard's scope, and corresponding specifications were added.
Definitions were added to define contrast, both high and low.
Specifications for electronic displays were added, along with special marking requirements.
A formula for calculating acuity scores when using the Bailey Lovie or EDTRS charts was added.
In normative Annex A, "Method of correlating optotypes," the requirement for the number of Landolt ring orientations to use was changed from 8 to 4.
Informative Annex B was added to specify Sloan and British Standard Institute optotypes.
ANSI Z80.21-2020: Ophthalmics – Instruments – General-Purpose Clinical Visual Acuity Charts is available on the ANSI Webstore.