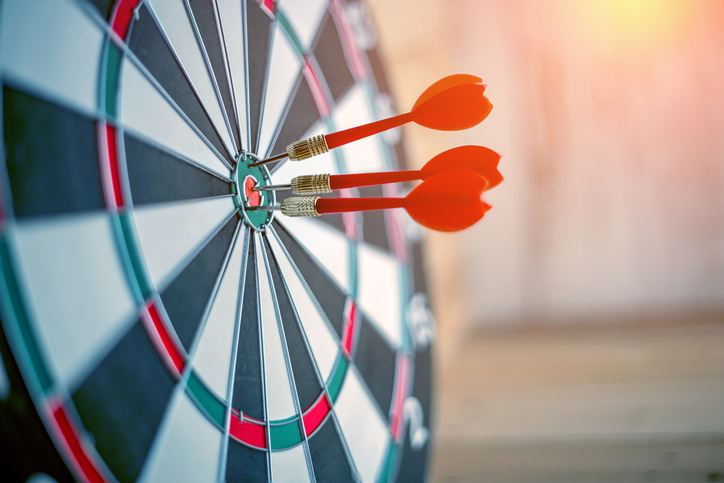 Through the scientific method, repeatability and reproducibility fortify accuracy. Unfortunately, differing operators, equipment, calibration, environment, and time introduce variations and potential inaccuracies in measurements. An international standard, ISO 5725-2:2019 helps determine the repeatability and reproducibility of a standard measurement method.
Accuracy, Precision, and Trueness
ISO 5725 uses two terms to describe accuracy: trueness and precision.
Trueness refers to the "closeness of agreement between the arithmetic mean of a large number of test results and the true or accepted reference value."
Precision, alternatively, deals with the "closeness of agreement between test results."
Accuracy, referring to both trueness and precision, is "the closeness of agreement between a test result and the accepted reference value."
ISO 5725-2:2019
The ISO 5725 series of standards deal with the accuracy of measurement and results. General considerations are provided in ISO 5725-1:1994 for trueness and precision quantities; therefore, Part One of ISO 5725 is intended to be used in conjunction with ISO 5725-2:2019, as well as any other standard in the series.
ISO 5725-2:2019 covers a basic method for estimating the precision of measurement methods. To meet this purpose, the standard details guidance relevant to all personnel concerned with designing, performing or analyzing the results of the tests for estimating precision.
Changes to ISO 5725-2:2019
As the second edition of the international standard, ISO 5725-2:2019 revises the 1994 edition and incorporates a corrigendum from 2002. It has been changed to:
allow the use of alternative scrutiny and outlier detection tests provided that the performance is similar
let the user apply modern statistical methods available for calculations of the relevant precision and trueness characteristics
feature new guidance on the number of laboratories required for a precision study
include new information on the computation of critical values
ISO 5725-2:2019 – Accuracy (Trueness And Precision) Of Measurement Methods And Results – Part 2: Basic Method For The Determination Of Repeatability And Reproducibility Of A Standard Measurement Method is available on the ANSI Webstore.
Other ISO 5725 Standards
Together, the various ISO 5725 standards outline general principles that need to be understood when assessing the accuracy of measurement methods, along with applications and some specific methods. Other than Part Two, these standards include:
ISO 5725-1:1994 – Accuracy (Trueness And Precision) Of Measurement Methods And Results – Part 1: General Principles And Definitions
This standard has a corrigendum: ISO 5725-1/Cor1:1998
ISO 5725-3:1994 – Accuracy (Trueness And Precision) Of Measurement Methods And Results – Part 3: Intermediate Measures Of The Precision Of A Standard Measurement Method
This standard has a corrigendum: ISO 5725-3/Cor1:2001
ISO 5725-4:2020 – Accuracy (Trueness And Precision) Of Measurement Methods And Results – Part 4: Basic Methods For The Determination Of The Trueness Of A Standard Measurement Method
ISO 5725-5:1998 – Accuracy (Trueness And Precision) Of Measurement Methods And Results – Part 5: Alternative Methods For The Determination Of The Precision Of A Standard Measurement Method
This standard has a corrigendum: ISO 5725-5/Cor1:2005
ISO 5725-6:1994 – Accuracy (Trueness And Precision) Of Measurement Methods And Results – Part 6: Use In Practice Of Accuracy Values
This standard has a corrigendum: ISO 5725-6/Cor1:2001
ISO 5725-Accuracy of Measurement Methods and Results Package