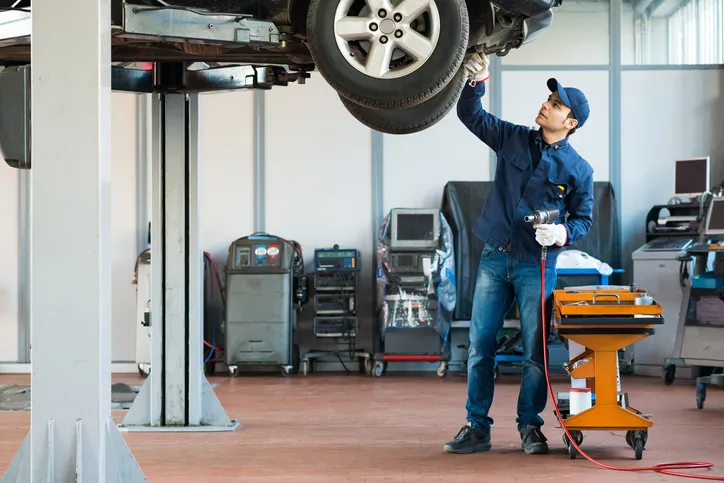 The safety standard for portable automotive service equipment, ASME PASE-2019, specifies the design, maintenance, and other considerations for a range of equipment and tools essential to automotive vehicle service.
The First Vehicle/Automobile
In 1672, Ferdinand Verbiest, a Flemish missionary and accomplished astronomer and scientist, while employed in the court of the Chinese Kangxi Emperor, constructed a small five-wheeled steam-powered cart. His invention was self-propelled. However, as a toy for the emperor, the 2-foot long machine was incapable of carrying a passenger, and therefore might not be considered to be a vehicle today.
Almost one century after the Kangxi Emperor's new toy, you have Nicholas-Joseph Cugnot's artillery tractor, which was the first real self-propelled vehicle. Another century after that, in 1885, Karl Friedrich Benz designed a three-wheeled vehicle, which was the first to combine an internal combustion engine with an integrated chassis.
Each example here influenced what became the modern automobile, but you probably wouldn't trust any for a ride on the highway. Today, according to a Gallup poll from April 2018, 83% of U.S. adults drive a car at least several times a week. Data from the U.S. Federal Highway Administration (FHWA) of the Department of Transportation (DoT) indicates similar insights—about 82% of the average U.S. households 9.5 trips per day are vehicle trips.
As the prime mode of transport, automobile maintenance indirectly fortifies the functions of our society. This places an importance on the safety and reliability of portable automotive service equipment (PASE).
What is portable automotive service equipment (PASE)?
Automotive service equipment is considered portable if it is not permanently fixed in one location and can be moved from one workplace to another. As such, portable automotive service equipment can include any of the following:
attachments, adapters, and accessories
automotive hydraulic jacks
automotive mechanical jacks
automotive standard
automotive ramps
mobile vehicle lifts and jacks
vehicle transport lifts
vehicle-moving dollies
component dollies and jacks
shop cranes
engine standards
shop presses
oil-filter crushes
strut spring compressors
oil and antifreeze handlers
portable hydraulic power kits
engine support tools
ASME PASE-2019: What's covered?
This American National Standard provides performance requirements for portable automotive service equipment. It applies but is not limited to the various types of PASE listed in the above section of this post. ASME PASE-2019 covers the safety, health, design, production, construction, marking operation, maintenance, performance, and owner or operation inspection of electrical, mechanical, hydraulic, or pneumatically powered portable automotive service equipment. It also covers the qualification of personnel. Operation and maintenance instructions found in ASME PASE-2019 are intended for general application.
In providing this guidance, ASME PASE-2019 is designed to guard against and mitigate injury. It can also provide direction to purchasers, owners, employers, supervisors, and other concerned parties, as well as guide governmental and other regulatory bodies in developing or enforcing appropriate safety directives.
Users should note that ASME PASE-2019 does not apply to similar lifting devices designed and manufactuered for other commercial or industrial uses, such as those covered by ASME B30.1, ANSI/ALI ALCTV, ANSI/ALI ALIS, and ANSI/ALI ALOIM.
ASME PASE-2019: Safety Standard For Portable Automotive Service Equipment is available on the ANSI Webstore.