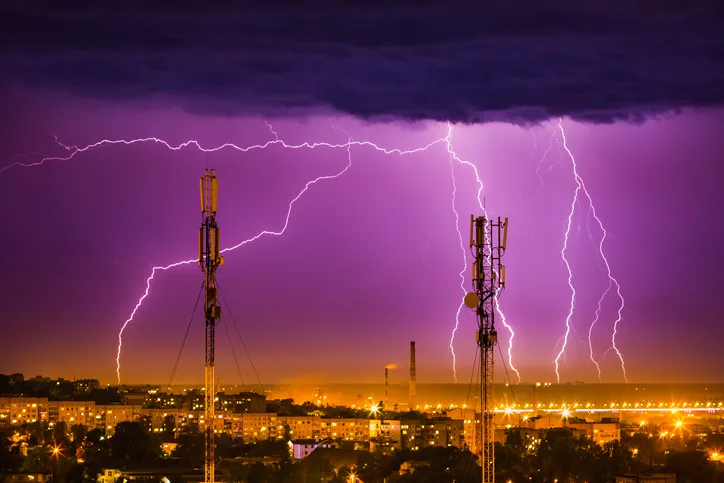 During a storm, witnesses glimpse upon falling rain, ice, or snow. However, their eyes don't catch these same particles clashing within the storm clouds, increasing the imbalance between the clouds and the ground. Objects on the ground become positively charged, allowing for current to pass between them and the negative storm clouds and sending negative charges plummeting to the surface of the earth. These phenomena our eyes do see—lightning bolts can travel up to 200,000 mph, contain up to one billion volts of electricity, and are 5 times hotter than the surface of the sun.
The odds of being a lightning victim are slim, but still about 27 people die annually from being struck, while another 243 are injured. Of course, during thunderstorms, many people seek shelter. Unsurprisingly, buildings and other structures are more likely to be struck. To safeguard people and property from lightning-related hazards, NFPA 780-2020 standardizes the installation of lightning protection systems.
And, these hazards are more likely than an individual being struck by lightning directly. In fact, according to the National Fire Protection Association (NFPA), local fire departments responded to an estimated average of 22,600 fires ignited by lightning annually from 2007-2011. Each year, these fires resulted in an average of 9 civilian deaths and 53 injuries, as well as $451 million in direct property damage.
NFPA 780-2020 helps to mitigate disastrous events like these by addressing the traditional lightning protection system installation for ordinary and miscellaneous structures and special occupancies, as well as the following unique structures: heavy-duty stacks, structures housing explosive materials, wind turbines, watercraft, airfield lighting circuits, solar arrays, and structures containing flammable vapors, flammable gases, or liquids that give off flammable vapors.
For each of these, NFPA 780-2020 outlines unique protection guidelines, covering materials, grounding, bonding, concealed systems, corrosion protection, and various other protective measures.
Changes to NFPA 780-2020
NFPA 780-2020 revises the 2017 edition of the same standard for the installation of lightning protection systems. To keep the information current, the current version has undergone the following changes:
Section 4.9, "Conductors," clarifies main conductors with emphasis on one-way paths, dead ends, and when upward conductor paths are permitted.
Chapter 7, "Protection for Structures Containing Flammable Vapors, Flammable Gases, or Liquids That Can Give Off Flammable Vapors," acknowledges lighting electromagnetic pulse (LEMP) as a source of ignition in classified locations.
In Chapter 11, "Protection for Airfield Lighting Circuits," revisions clarify lightning protection at airfields.
A new Annex N, "Considerations for Nonmetallic Tanks Containing Flammable Vapors or Liquids that Give Off Flammable Vapors," was added.
NFPA 780-2020: Standard For The Installation Of Lightning Protection Systems, 2020 Edition is available on the ANSI Webstore.